Propane Mosquito Foggers have become very important in its role to eradicate the presence of disease-carrying mosquitoes.They provide a safe yet effective means of hindering the transmission of mosquito-borne diseases across the globe.In this article, we will take a look at the Burgess 1443 Propane Insect Fogger and how it fares with our critical hands-on review.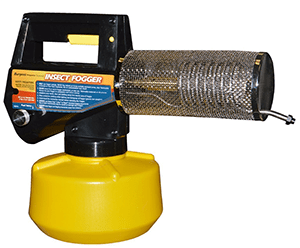 An overview of the manufacturer
The product Burgess 1443 is actually a product of a well-known company known as The Fountainhead Group, Inc. The company prioritizes one the following traits for each of their products: craftsmanship, innovation as well as being committed to their well-beloved consumers.Because of this, it propelled the company to greater heights, being able to accomplish pristine accolades and recognition across the globe.
With each product manufactured by the company, the consumers are met with both premium grade construction, functionality as well as affordability.For 125 years up to the present, they have been churning out high quality liquid applicator solutions as well as devices and machines that center on vector control, especially with mosquitoes. The Burgess 1443 is one of their most prominent and effective product among a wide array of products to choose from…
…at least that's what my research told me about Burgess as a company.
But MY verdict will really come down to how the 1443 will performs. So let's get right to it!
Specifications
Before we get into our review of the Burgess 1443 Propane Insect Fogger, let's discuss first the specifications of the product so that we will be well acquainted with its important features and functions.
The Burgess is typically a thermal fogger which is a propane type. It has a weight of 2.8 pounds (1.27 kg) and has a dimension of 6.9 x 15.5 x 11.2 inches. The material used for the product is plastic.
The capacity of the fogger can reach up to 40 oz or 1.18L.  With a full tank, you can use the Burgess 1443 for 2.5 hours. However, a propane gas cylinder is not provided with the purchase so may have to shell out a few bucks to complete the set. Each purchase comes with 1-year warranty
Taking A Closer Look
Foggers come and go, some of them are fairly effective while some others only want to grab a hold of your hard earned cash, offering cheaply manufactured build with low-quality functionality.
However, the Burgess 1443 Propane Insect Fogger is one of the best foggers we have tested thus far.
It comes with a price tag that will not break your bank but surprisingly does very well with its purpose, offering a long-lasting solution to get rid of those pesky mosquitoes in your surroundings.
To start up the Burgess 1443, it needs to be done manually with the use of a lighter. This is one of the drawbacks of the product since most of the foggers nowadays have their own built-in igniter. However, this is only a small setback for the product.
After warming up the product a few minutes after its ignition, it will later produce a fog that can reach up to a height of 10 feet. This height is enough to penetrate through bushes and foliage that surround the area. With this, you are assured that even the smallest cracks and holes possibly served as breeding sitesof mosquitoes are within reach.
For a duration of 5 to 10 minutes, the fog starts to settle and after this time, you can immediately go back to the area and go on with your activities. No longer is the air toxic or unsafe for breathing after at most 10 minutes. If you want a more long-lasting effect, you can extend the contact time to more than 10 minutes.
Being a propane fogger, the Burgess 1443 is very portable. With this, there is no need for any electric cables that only limit your reach whenever you use them.With a full tank of propane, you can basically use it for a whopping 2.5 hours. It is very practical and cost-effective.
The liquid tank can withhold 40 ounces of liquid insecticide. Once the contents are used up fully, refilling will be a breeze with its dedicated compartment. To make everything secure and to avoid any leakage when using the fogger, it is equipped with a trigger lock.
Another drawback of the Burgess 1443 Propane Insect Fogger is probably the fact that it does not come with a separate propane cylinder. With this, you need to purchase another one. Thankfully, you can buy the taller and thinner cylinders with capacities of 14.1 oz and 16.4 oz respectively.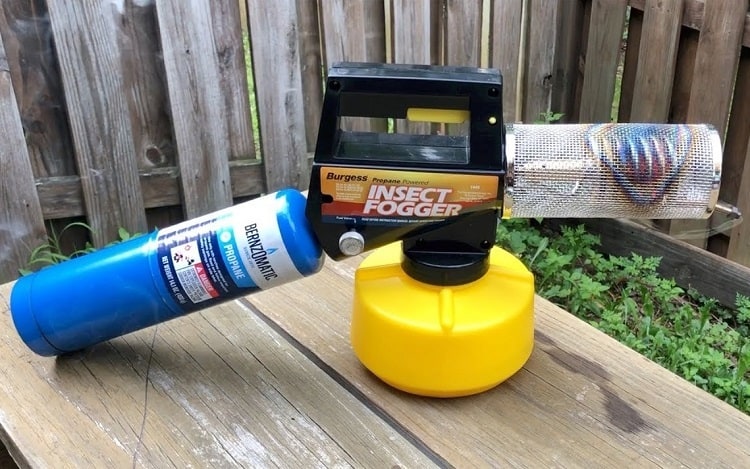 Pros and Cons
Pros
Highly portable for travel or large areas
No need for electric cords and wires
Elicits long-lasting effects with only minimal contact time
Has a secure lock to avoid accidental leakage with use
Cost-effective price range for its features
Cons
Does not come with an automatic ignition feature
Does not come with a separate propane cylinder
Can be too much for small areas or rooms
Where Can We Use The Burgess 1443?
The Burgess 1443 can be used in a variety of conditions and situations. It is, however, only applicable in outdoor areas. With the product, you can eradicate mosquitoes that may live in your backyard, garden, and even the playground.
With this, it is a suitable companion when hiking or doing camping in the outdoors. Because it is a propane fogger, no electrical wires are needed making it very portable and light to carry around.
Final Words
Foggers have been a staple remedy when it comes to vector control. Foggers are easy and affordable means of getting rid of mosquitoes in a safe and cost-effective way. In this light, the Burgess 1443 is basically one of the best foggers we have reviewed for our site.
With its 40-ounce capacity tank, you are sure to have 2.5 hours of effective eradication of mosquitoes without the hassle of constantly spraying the area from time to time. The next time you are bothered by those pesky mosquitoes, you can consider having the Burgess 1443 to answer your problem.