Bed bugs are the most difficult bugs to remove from your home. If you see them you will need to get the best bed bug killer. Since there are many in the market, making a decision can be a daunting task. One of the best bed bug killers available in the market today is the Harris Bed Bug Killer.
zonguldak bayan escort
We have compiled everything you need to know about this bed bug killer. The following information also gives you a bed bug killer buying guide and how the product compares to others. This way, you can determine whether or not it will suit your needs. 
About the Company 
Started in 1922, Harris is a brand that has been in the market for a century. In the United States, they are among the oldest pest brands to be registered by EPA.
Harris has registered more than 55 of the brand's products. The brand has various types of natural insecticides you can use to deal with other pests such as roaches and flies. 
Reputation
Harris is a well-known company in the United States. It has been making its products since it started operations. This may be the reason it is highly recommended by other pest control websites.
The same sites have rated the bed bug killer as one of the best in the market. With this in mind, the company is reputable and their products should be considered for pest control. 
Customer Service
Customer service is above average. Contacting them can be done by dialing a 1-800 number. They usually answer and deal with questions and issues quickly. One of the things that make the company's customer service good is they try and help you deal with your problem. 
For example, you can get video tutorials to help you use their products. The products have clear labeling with easy to follow instructions. If you are stranded, you can contact them and they can advise you on the way forward. 
Free shipping and full refunds are offered. However, bed bug products, including this one, are not covered by refunds. Their website states that their bed bug products do not guarantee a perfect solution to the problem.  
Key Features
Just like any other product, the Harris Bed Bug Killer has its unique features. Knowing about them can help you understand the product.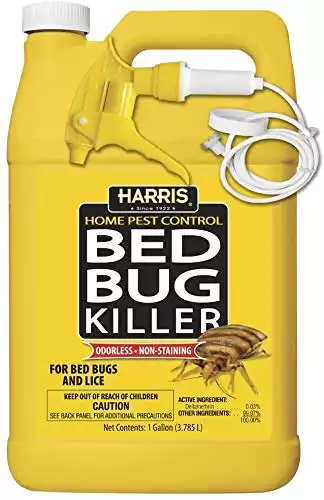 Non-staining
One of the great features of Harris Bed Bug Killer is you will not have to worry about stains on your furniture. When you use this product, it will only leave a fine film. It is relevant for the residual effects of the bed bug killer, and it is relatively safe. Some similar products are known to stain furniture, which can become a problem for the user. 
Odorless
According to the manufacturer, Harris Bed Bug Killer is safe and odorless. It is a great feature as it will not leave lingering smells especially if you use it indoors. Some users have said they experienced a faint chemical smell that lingers for a few hours after use. 
Compared to other products in the market, the smell dissipates quickly and it is less pungent. If the smell affects you, leave the house for a few hours after spraying. 
yenimahalle bayan escort
Liquid Spray
Using the spray is easy. All you need is to spray directly in the areas you suspect bed bugs reside. The container has a nozzle you can use to directly spray your bed, mattress, sofa, and any other furniture affected by the bugs. Harris Bed Bug Killer dries within minutes allowing you to use the room. 
Outdoor and Indoor Use
The product has been designed to allow you to use it indoors or outdoors. If your outdoors has been infested by bed bugs, feel free to use this product outdoors.
Long-Lasting Residual Effects
One of the key characters of this product is the long-lasting residual effects. The manufacturer guarantees it can continue killing bed bugs for up to ten days after the first application. This makes it a great product for stopping the spread of bed bugs. 
Take note you will be required to use it regularly because one application will not get rid of all the bed bugs. Ideally, you should spray for two to three days consecutively. After the first few days, you can reduce the application to three times a week. With time you can spray once a week as you notice your bed bug infestation dying down.
Buy Harris Bed Bug Killere here on Amazon
Active Ingredient
Deltamethrin is the active ingredient in Harris Bed Bug Killer. It is a pyrethroid insecticide. The active ingredient destroys the bugs' nervous system and causes paralysis. Better results can be achieved by combining the product with others that are similarly good. 
Research has shown that bed bugs have developed a resistance to deltamethrin. According to this study, more than 80% of bugs exposed to normal doses of deltamethrin survived. It may be the reason why a combination of two products is the most effective way of getting rid of bed bugs. 
yalova bayan escort
Ease of Use
The ease of use varies with the user. Some dislike the setup while others state it is easy to use. The bottle has a nozzle for spraying the insecticide. Some people find the spray difficult to aim, while others find it releases too much liquid before you learn how to use it. 
Pet and Child Safety
The EPA has certified the product as safe to use in your house, around pets, and people. However, it is toxic to aquatic life such as fish. There haven't been reports of people getting health complications as a result of using Harris Bed Bug Killer.  
All the same, you should know deltamethrin irritates the skin. In high doses, it can be neurotoxic to humans. It can also stimulate asthma attacks, and some people may develop allergic reactions. 
Sodium lauryl sulfate is one of the ingredients of the product. When in contact for long durations, the ingredient can cause dermatitis. Keep this in mind when you apply the bed bug killer to your beddings. The good news is the product is safe to use around pets and people. 
Pros
Versatile against other pests such as roaches

Safe to use around children and pets

Doesn't stain

Works well as a prevention for the spread of bed bugs

Long residual effects contact killer
Cons
Residuals may not be as strong as marketed by the manufacturer

The bulky container makes it hard to use
Comparison with other Bed Bug Killers
Now that you know the limitations and features of Harris Bed Bug Killer, let us take a look at how it compares to other high-quality products in the market. The two main products we compared with Harris are:
Bed Bug Buddy

Deep Reach Fogger
Harris vs Bed Bug Buddy
Bed Bug Buddy was originally called Bed Bug Bully. It uses a non-toxic and odorless liquid spray. Using a combination of essential oils, the product boasts it can kill bed bugs at every stage of their life cycle. 
Bed Bug Buddy is popular because it has very small adverse effects on animal and human health. The good news is you can use it around fish and other aquatic life. The downside is essential oils are not very effective against bed bugs, and they have short residuals. 
Check out the latest price here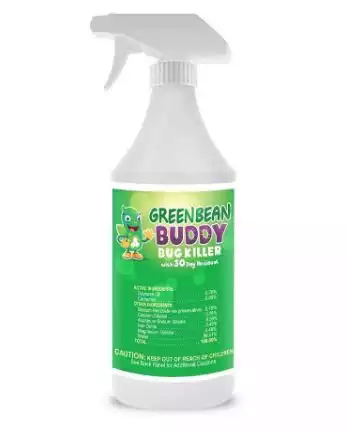 Green Bean Buddy Bed Bug Killer | Amazon
The American Academy of Entomological Sciences successfully completed a 12-month real-world field study in a multi-story government facility and multi-room health facility to ensure the Green Bean Buddy residual formulation not only kills pests but continually eradicated pests for a subsequent of 12 months.
Buy at Amazon.com
We earn a commission if you make a purchase, at no additional cost to you.
11/29/2023 01:27 am GMT
Harris vs Deep Reach Fogger
Unlike Harris, Deep Reach Fogger uses an aerosol. You can spray it around the room as it claims to disrupt bed bugs' breed habits.
van bayan escort
According to the manufacturer, the mist of the product is effective in getting to hard to reach areas where the bugs may hide.
With residuals of up to two months, it is more effective for bed bug infestation in such areas.
Deep Reach has a pungent smell but doesn't stain. The product may sound good, but foggers and bombs are not the best arsenals for a war against bed bugs.
Mist from the product may scatter the bed bugs. This either makes them bury deeper or increases the infestation. The residual effects at this point will be redundant. 
Harris Bed Bug Killer is odorless meaning you don't have to leave your home unless you are very sensitive or allergic.
Although bugs may develop a resistance to Harris, its residual effects are higher than Deep Reach making it a better choice. 
Check out the latest price here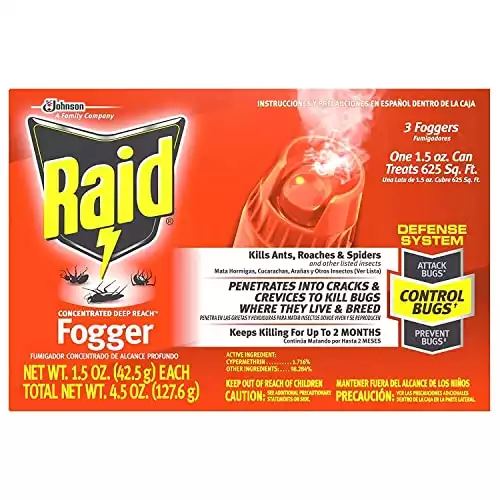 Raid Concentrated Deep Reach Fogger | Amazon
Raid Concentrated deep reach Fogger kills bugs where they hide and keeps killing with residual action for up to two months. Treat an entire room (25' x 25' with an 8' ceiling) with their penetrating bug-killing fog that reaches deep into hard-to-reach areas, cracks, and crevices.
Buy at Amazon.com
We earn a commission if you make a purchase, at no additional cost to you.
11/29/2023 08:20 pm GMT
Bed Bug Killer Buying Guide
Bed bugs are very resilient. This is why it is not easy to find an insecticide that will get rid of them completely. Bed Bugs have a cunning ability to hide until the insecticide wears off. Sometimes they move to nearby rooms or apartments to run away from the insecticide. 
You need to buy an insecticide that is labeled for use in the area you want to use it. For instance, use an indoor insecticide for getting rid of bed bugs in your home. If you use a product labeled for agricultural, outdoor, or garden use, you will cause serious health problems for your family and pets. 
Before you use a bed bug killer, you should understand the types available and how they work. Most of the bed bug killers you will find are labeled "kill on contact". It sounds good, right? The only problem is you have to ensure the product is sprayed directly onto the bugs or they will not work.
Such products will not work on bugs that are hiding and will not kill any eggs. For sprays, they are only effective when they have not dried down.  
Pyrethroid Products
The majority of bug killers labeled for indoor use are made using an insecticide from the pyrethroid family. Unfortunately, bed bugs can highly resist pyrethroid. Studies have shown the bugs can protect themselves from such insecticides. Unless they are mixed with other insecticides, pyrethroids are not strong enough to combat bed bugs. 
The best solution is going for a bed bug killer with ingredients such as dinotefuran, acetamiprid, imidacloprid, or piperonyl butoxide. When combined with pyrethroids, you get an effective bug killer. 
Insecticide Dust
Few dust products are effective against bed bugs despite the high number of various types of these products. Insecticide dust is dangerous to humans and animals especially if it is inhaled. Application of these products should be done keenly. Dust needs to be applied in crevices and cracks or other protected areas. 
For starters, bed bugs like hiding in small spaces. There is a better chance of your product working if you use it there. Secondly, there is a lower risk of coming in contact with the dust. This means the chances of people or pets inhaling it are minimal.  
Dusts are great for application in locations such as under baseboards, along the bed frame, or behind headboards. They can also be puffed behind switch plates and electrical outlets. Using them on the empty spaces behind walls will prevent them from moving from one room to another. 
Application only requires a thin layer. The bugs need to walk through the layer of dust for them to be killed. These bugs are small and will avoid thick layers of dust. Additionally, too much dust tends to get airborne, which could be unhealthy. 
Foggers (Bug Bombs)
Several foggers or "bug bombs" are designed to get rid of bed bugs. However, studies show these types of bed bug killers present several dangers. The majority of foggers use pyrethroids, which we have seen are not that effective. Unfortunately, they cannot reach crevices and cracks where the bugs love to hide.  
Foggers may not kill bed bugs. However, the bugs do not like the residue left by the "bug bombs". This means they will move away from an area that has been fogged. They may move to the next room or apartment making it hard to control an infestation.
There are house fires and explosions that have been caused by foggers. Fogging will scatter insecticides in your living area. As such, you, people in your home, and pets risk exposure to the insecticide. 
uşak bayan escort
Insecticide Strips
These should only be used when you notice a small infestation in areas such as books, pillows, or luggage. Place such items in an airtight container together with the strips. An odorless vapor will be released and they will build up in the container. Within several days, the bed bugs will be killed.
FAQs
Question: How do you get a bed bug infestation?
Answer: These bugs do not fly or jump. They need to be introduced to an environment. Since they can attach themselves to used furniture, luggage, clothes, and other items, they are excellent hitchhikers.
The following are scenarios where you increase the risk of a bed bug infestation:
• Kids coming home from summer camp
• Staying in boarding schools, college dormitories, and hotels
• Entertaining or sleeping over at a person's house
• Using or purchasing second-hand mattresses and furniture
Question: How do I prevent an infestation?
Answer: There are some steps you can take to minimize the risk of an infestation:
1. Encase your beddings with bed bug proof encasements like Protect-A-Bed
2. Periodically inspect your bag and luggage when you travel
3. When staying in a hotel, avoid placing your luggage on furniture, headboards, and mattresses until you have inspected them
4. Avoid or carefully inspect second-hand bedding, mattresses, and furniture
5. Keep your furniture and beddings clean
Question: Do bed bugs transmit diseases?
Answer: No! Bed bugs are known to carry almost 30 human pathogens. However, there have been no reports about them transmitting diseases. The medical concerns associated with bed bugs are inflammation and itching associated with their bite.
Effects of a bite are similar to what you would see in allergic reactions. They can be anything from painful and severe rashes requiring medical attention to non-severe itchy welts.
Question: What do bed bugs look like?
Answer: Adult bed bugs are usually brownish and small insects, just less than ¼ inches long, and somewhat flat. They are oval in shape and have almost the same length and width. Nymphs or immature bed bugs are lighter in color and smaller, and they resemble the adults. Newly hatched bugs are no longer than a pinhead and translucent.
Bottom Line
Studies have shown bed bugs have developed some resistance to the insecticides used in the product. However, some users state that it works miracles over and over. There are benefits of using Harris Bed Bug Killer.
From the above information, you can effectively use the product to kill bed bugs or prevent an infestation. However, it is wise to use it with another product using different active ingredients.