Cockroaches seem to be the most enduring of all insects. Studies suggest that they have been existent since the time of dinosaurs and survived whatever catastrophe that banished the terrible lizards.
These insects are also highly adaptable in any condition and environment. They can also easily evolve to survive. Cockroaches can dwell in any corner of the Earth. But prefer warm and dark places and places close to food such us our homes and our favorite restaurants.
They are known to carry several types of bacteria and their droppings can cause allergies and asthma attacks. The greatest challenge in exterminating cockroaches is choosing the best cockroach killer for your need.
10 Best Roach Killer Reviews
Cockroaches reproduce rapidly with 400 eggs in each female cockroach's lifetime and cockroach infestation is a problem that every household or an office has to deal with in one instance of another. We have compiled a list of the best cockroach killers in the market today :
| ​Name | ​Type | ​Weight | ​Rating |
| --- | --- | --- | --- |
| | ​Spray | ​11 oz. | 4.3 / 5 |
| | ​Electronic | ​0.2 lbs. | 3.2 / 5 |
| | ​Trap | ​2.35 lbs | 4.6 / 5 |
| | ​Gel Bait | ​1.25 oz. | 4.6 / 5 |
| | ​Gel Bait | ​1.06 oz. | 4.5 / 5 |
| | ​Liquid Bait | ​0.45 oz. | 4.2 / 5 |
| | ​Electronic | ​4.5 oz. | 3.5 / 5 |
| | ​Powder | ​16 oz. | 4 / 5 |
| | ​Trap | ​2.88 oz. | 4.3 / 5 |
| | ​Gel Bait | ​1.06 oz. | 4.3 / 5 |
After reviewing our summary, take a look at what each product has to offer:
​1. Bengal Chemical Roach Spray
cockroach repellent
Insect spray is probably the top of mind option in driving insects, most especially cockroaches away. Bengal Chemical Roach Spray is a best-selling dry spray that you can use to eliminate cockroaches. It is suitable to exterminate them and prevent them from multiplying.
Its active ingredient Nylar, is a known insect growth regulator (IGR) that eliminates and prevents the growth of cockroaches and even fleas. This is not a contact spray so spraying it on surfaces and crevices can get the job done.
It can address the cockroaches and its breeding ground.
Check out our guide of the Best Roach Bombs here.
Pros
​Proven potency across different insects and cockroach species
​Close to a professional-grade eliminator
​Lasts up to 4-6 months
​Odor-free
Cons
​Price
​Pet safety not guaranteed
Bottom line:
Living in a roach-free environment comes with a price. Although at a little high price point, re-application is not necessary for the next 4 to 6 months which makes it a great deal. Likewise, the 2-pack and 4-pack options can save you $2 to $4 per bottle.
​2. Neatmaster Ultrasonic Pest Repellent
This electronic device is plugged to emit ultrasonic waves. These sound waves drive the pests like cockroaches, rats, mice, spiders, ants and snakes away from your home in as early as two weeks.
There are three modes to operate this device depending on the level of infestation in your room or home. For light infestation, the sound waves are inaudible to humans and pets, while mild and severe infestations will emit sounds that are not recommended for humans and pets.
​It does not emit fumes or chemicals and has a pretty decent coverage of 800 to 1200 sq. ft. It has a discreet design and works as long as its plugged. It is advisable to get one unit per room or enclosed area since the ultrasonic waves do not travel through walls.
Pros
​Chemical-free
​Discreet design
​Can drive other pests away
Cons
​Ultrasonic waves can't travel through walls and you will need 1 device for every room
​It takes a while to see the effects
​Not suitable to operate on mild to severe infestations when humans and pets are around
​Not suitable for outdoor use
Bottom line:
This device is environment-friendly because it is chemical-free in nature. It is also nice that it offers various settings for different severities of insect infestation. However, it can be costly since you will need a different device per room. But a lifetime guarantee can be a perfect deal-closer for those who are interested to try it out.
​3. Black Flag Roach Motel Insect Trap
With a catchy tagline "Roaches check in… But they don't check out", it traps and kills cockroaches, water bugs, palmetto bugs, spiders and scorpions pretty neatly. It has a scent that lures insects and a glue that keeps them inside until they die.
The Black FLag Roach Motel Insect Trap has a discreet wood design than can camouflage on your floorings, corners and behind the doors. It is pesticide-free yet it can attract creepy-crawlers such as bugs, scorpions and spiders.
It is suitable for light cockroach infestations because of the small capacity of the box which can emit a rancid smell as the insects accumulate inside.
Pros
​Discreet design
​Lasts up to 4 months
​No messy cleanup
​Pesticide-free
Cons
​Not suitable for mild to severe infestation
​It will smell if it accumulated a lot
Bottom line:
This insect trap is perfect for those who are looking for an out-of-the-box remedy without the need for complicated setup. It works best for light infestations and can be easily transferred to another location after a couple of days observation in an area. It also costs lower when you buy a 12-pack bundle.
Here's a list of home remedies you can use to eliminate cockroaches.
​4. Invict Gold Cockroach Gel
The Invict Gold Cockroach Gel is specifically formulated to target German cockroaches. It can be used standalone or can be combined with your existing cockroach killer.
German cockroaches are smaller species, can squeeze through small cracks and crevices and reproduce rapidly. They usually leave a "musty" smell and love to hide under the sink, in your shoe cabinet and storage bins.
Despite their claim that it only works on German cockroaches, product users reveal that it works even on Palmetto bugs and outdoor insects.
Pros
​Works fast
​Suitable for indoor and outdoor use
​Can be combined with other roach killers
Cons
​Targets one species only (German cockroaches)
​At a high price point
Bottom line:
Some household may only suffer an infestation of a single species like German cockroaches and since they reproduce fast, finding a targetted solution is a huge help. The great user reviews of this product may make you want to combine it with your current cockroach killers.
​5. Advion Cockroach Gel Bait
Advion Cockroach Gel Bait seems to be a household name when it comes to cockroach killers in the gel bait category. It is fast-acting and can be used to kill and control a great number of cockroach species, bugs and other small insects.
Users can attest that it can it works fast as 30 minutes and dead roaches multiply overnight. The gel bait hardens eventually but roaches and insects still nibble on it and end up dead days after. The product still works even after 6 months.
Pros
​Kills and controls a wide population and species of cockroaches and other insects
​Suitable for home, office and industrial use
Cons
​Unclear claims if it can be used in food-handling areas
​Messy cleanup
Bottom line:
In the battle of gel baits, Advion is the most-reviewed and covers more species of cockroaches and insects to exterminate. Like other gel bait methods, it can be combined with other cockroach killer formula to make it more effective.
​6. Hot Shot Ultra Liquid Roach Bait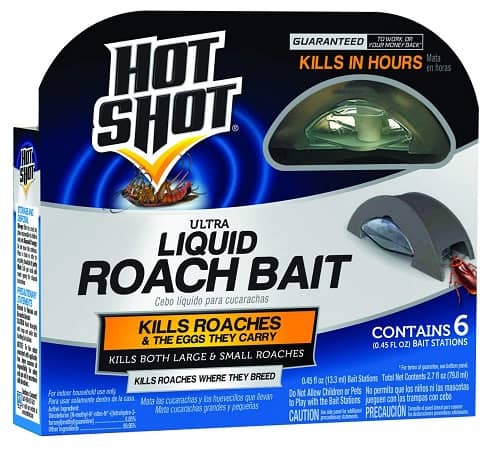 The rationale behind this product is simple. It attracts cockroaches by leading them to a source of food and water which is the bait. It can kill roaches and kills the eggs carried by female roaches as well. Unlike gel baits, Hot Shot Liquid Roach Bait guarantees to mess and no spills.
Roaches are attracted immediately and the bait formula kills in just a couple of hours. It comes cheaper in a bundle of 3 packs with 6 baits in every box.
Pros
​Fast acting
​Lasts up to 3 months
​Affordable
​Kills roaches and eggs
Cons
​Suitable for indoors only
​Tricky setup
Bottom line :
It is smart to get a bait that resembles the food of your target pests like cockroaches. Hot Shot Ultra Liquid Roach Bait can be placed in every corner of the house and not worry about the residue like glue baits have.
​7. MaxMoxie Ultrasonic Pest Repeller
Ultrasonic Pest Repeller brands seem to be becoming a popular choice as cockroach  killer. MaxMoxie Ultrasonic Pest Repeller is among the well-reviewed brands in the market today.
The ultrasonic waves rattle the insects to come out of their homes inside your home during the first week. On the second week, the waves penetrate their nervous system and during the third and fourth week, they will slowly die or leave the premises of your home.
Buyers are advised to get one for every room since it cannot penetrate walls and even furniture. It is also expected for cockroaches, rodents and other insects to come out of their hiding places during the first week due to the quick impact of the ultrasonic waves. The use of the product is safe for adults, children and pets.
A box comes in two units of the device that works as soon as its plugged. It guarantees a cockroach and pest-free home in 3 to 4 weeks. The brand offers a risk-free trial for 60 days and a 1-year satisfaction guarantee.
Pros
​Ease of use
​Variety of target pests
​Value for money
​Risk-free trial and money back guarantee
Cons
​The need for traps once the pests come out of their shelter
​Messy clean up once the pests come out and die
​Not suitable for outdoor use
Bottom line:
Unlike other brands, this ultrasonic repeller does not emit audible sounds regardless of the frequency. It is also affordable for a pack of two. The only downside would probably the unsightly appearance of pests coming out of their dwelling places. But since it gets the job done, it's definitely worth giving a try.
​8. HARRIS Boric Acid Roach and Silverfish Killer Powder w/Lure
Boric acid is a known to be an effective cockroach killer for several decades now. Harris, a household brand since 1922 formulated a Boric Acid Roach Powder with Food Grade Lure to make it more attractive to cockroaches.
This product is Environmental Protection Agency (EPA) registered and is relatively safe for home-use as long as usage instructions are followed accordingly. It can kill cockroaches as fast as 3 days.
Powder cockroach killers like this can easily be applied on narrow spaces and tiny holes throw its built-in applicator. A bigger variant also comes with a duster.
Pros
​Proven ingredient to kill and prevent cockroaches
​Fast-acting
​Ease of use even on hard to reach areas
​No known harm for humans, pets and the environment
Cons
​The "lure" has a distinct smell
​Not suitable for outdoor use
Bottom line:
Buying a cockroach killer with boric acid as the main ingredient is a practical solution for killing cockroaches and other pests. However, since this is in powder form, it must be used with caution and must be stored properly. The powder also sticks on the body of the insect and it is necessary to keep food covered at all times during treatment, despite non-toxic claims.
​9. Alazco Glue Traps
This product comes in a 6-pack, 12-pack, and 24-pack of versatile glue traps. The Alazco Glue Traps can be used laid flat or you can fold it into a tunnel-like trap that will attract cockroaches and other insects to come in.
It does not have any active ingredient on the trap itself but it uses a powerful glue that can hold a 2 lb. brick and that ensures that when insects get stuck, there's no escape.
Users are advised that trapped insects and rodents will die slowly from the lack of energy and lack of food. Checking the traps frequently is advised as it might smell once the captives start to die.
Pros
​Ease of use
​Versatile and folded design can really attract insects and rodents
​No chemicals
Cons
​Might be disgusting to look at all the trapped insects and rodents
​Might smell if left unchecked for days
​A potential hazard for playful pets
Bottom line:
Flat glue traps can be messy to deal with, it occupies space, might trap your pets or you might step on it. But this foldable glue trap is definitely a smart buy. It is not for the faint-hearted though, as it works perfectly, users are advised to be prepared to get really close with the trapped pests.
​10. Vendetta Roach Gel Bait Insecticide
With a very assertive brand name, Vendetta Roach Gel Bait Insecticide reclaim your home from cockroaches, bugs and other insects. It has Abamectin as its main ingredient which is used an agricultural pesticide for mites and later on for other pests as well.
It comes in a box of 4 syringes that applies smoothly even on hard-to-reach spots. The gel bait can attract averse breeds on cockroaches The product can be stored at room temperature for up to 3 years.
Pros
​Proven effective main ingredient Abamectin
​Cheaper than most gel bait brands
​Long shelf life
Cons
​Messy cleanup
​Pet safety not guaranteed
Bottom line:
There are a lot of gel bait options in the market but Vendetta seems to have won the users votes in terms of price and potency against cockroaches. The product also remains potent up to 3 months for the first application.
How To Choose The Best Roach Killer For Your Home
With the wide variety of cockroach killers in the market, which one should you pick? We've shared that they commonly come in sprays, traps, baits and ultrasonic repellers. Each one functions differently and has their own strengths weaknesses.
​1. Location 
Cockroaches like to lodge in dark, moist and unreachable places. In the kitchen, they are normally under the sink and in the cabinets. In the living room and bedroom, they love dwelling behind hanged wall arts, in the closet and under the bed.
Sprays, gel baits, powder and electronic roach killers can ward off cockroaches even in the narrowest passages. While traps and baits in casing must be strategically located in infested areas. Traps will also work best if you are trying to identify the breeding ground of pests and can be easily transferred to a different location in case who have not attracted any in a day or two.
There are cockroach killers that can be used indoors only like some gel baits, traps and ultrasonic repellers.
2. Severity of Infestation 
Not all cockroach killers have the same formulation. Just like medicines, the degree of potency will address the severity of the infestation in your home. Traps, baits, sprays and insect growth regulators in different forms can be used standalone or it can be combined for optimum results on heavily infested locations.
3. Ease of Use 
Sprays, baits and electronic roach killers are the easiest to use among the cockroach killers in the market and can be used instantly fresh off the box. Some gel and liquid baits will require a little effort to prepare and dispense.
4. Duration of the Effect 
The need for re-application is an overlooked characteristic of a roach killer. It can contribute to the price and ease of use factor if it needs frequent re-application. Sprays normally have a 4 to 6 months effect, gel baits are reliable from 6 months to 1 year and most traps have a 12-month efficacy although it will surely look nasty over time.
5. Environmental and Health Hazards 
This is the most important consideration in choosing a cockroach killer. Cockroach droppings are known allergy and asthma triggers. But the fumes from the sprays and gel baits do not fall short as an environmental and health hazards. Read the labels and make sure to follow the directions to use.
6. User Reviews 
These are very important sources of information. Check out the pros and cons thoroughly, watch unboxing videos, and check out photos of the actual results. User reviews would surely tell you bits and pieces of information similar to this guide to let you assess which one works best for your need.
7. Price
Efficacy comes with a price even in finding the best cockroach killer. After evaluating the environmental and health hazards, ease of use and duration of effect, that's the only time you should consider the price. Always remember that it is more expensive to pay for hospital bills for cockroach-borne diseases.
Conclusion
Pest control and extermination need a lot of work and money. But you don't have to spend so much if you are willing to do a little legwork by doing it yourself. There are plenty of roach killers in the market and we have just given you a list of the best cockroach killers plus the factors to consider in choosing what's best for you.
To further guide you in choosing, we have narrowed down the Best Cockroach Killer for every category:
Best Cockroach Killer – Overall
Bengal Roach Spray is our runaway winner here. With the potency comparable to commercial pest control chemicals and services, without the odor and similar downtime, this is a must-have for every household. The 6-month re-application is also a bonus, giving every user a great value for their money.
Best Cockroach Killer – Trap
Black Flag Roach Motel Insect Trap wins this category because of its affordability and discreet design. Other traps may come a close second in terms of its trapping capabilities but nothing beats how neat it keeps all the insects that "checked in" as hidden as possible.
Best Cockroach Killer – Bait
Advion Cockroach Gel Bait wins for simply beating other gel bait brands in the variety of species it can exterminate. It also works fast, has a long-lasting effect and can be used indoors and outdoors. With a pack of 4 syringes, it is also the most affordable gel bait in this review.
Best Cockroach Killer – Ultrasonic Repeller
MaxMoxie Ultrasonic Pest Repeller is a new player in the market but it is very promising. It delivers a clear expectation for every week of use and combats a wide array of cockroach species, bugs, rodents and even snakes. The ultrasonic waves it produces is also inaudible to human and pet's ears in its multiple frequencies which takes it ahead of its competitors.