Termites are household pests that every homeowner does not wish to encounter. It may not have any directly implications to humans but the damage it can cause your properly will be dreadful.
Once they reach any part of your home it has already become a part of their food network. It's bound to camp in your home and cause destruction to the parts of the house where there is wood – jambs, doors and furniture. You have to make sure that your house is protected. It's not easy to get rid of them but it is possible if you have your house chemically treated or have termite baits lying around. With that, here are five termite-control products that will help you get the job done.
​Top 5 Termite Killer Reviews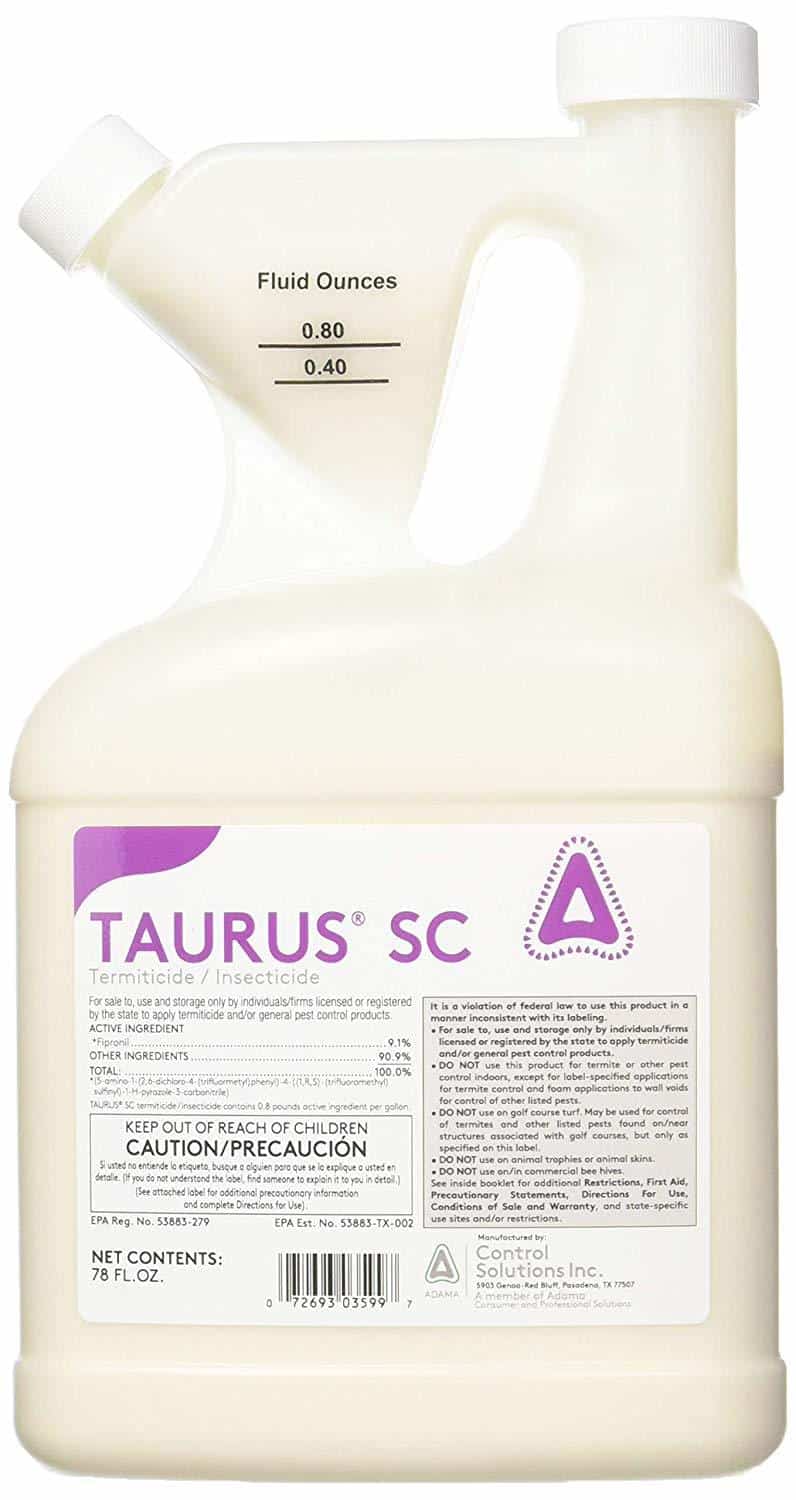 The Control Solutions Taurus SC is a termiticide and insecticide in one. With the whole 78 ounces of liquid chemical in a bottle, this will be more than enough to protect your home against termites, ants, black widow spiders, beetles, centipedes, cockroaches, and many more pests that could live in your home.
This termicide is explicitly labeled for barrier applications. The Taurus SC is a non-repellent insecticide. This means that insects and termites will not notice the use or the termicide. You can use this to your advantage by spraying the chemicals to the most frequented place in your home. This way, it can trap the termites, allowing them to come in contact with the solution which will eventually kill the pests.
This is a fast-acting termicide  which get things done within one to three days. For other household pests, the results can be seen within the first week of use. With all these considered, it can be said that the Control Solutions CSI termicide is one of the most effective and fast-acting chemicals available in the market for the exterminating termites.
PROS
​Non-repellent insecticide
​Controls and can exterminate termite population
​Professional grade
CONS
​Not allowed to be used in some States
Bottom line:
This will surely eliminate the termite population in your home and those that are within the colony. It is professional grade, fast-acting and does not drive away the termites but let them munch on treated wood for a direct effect.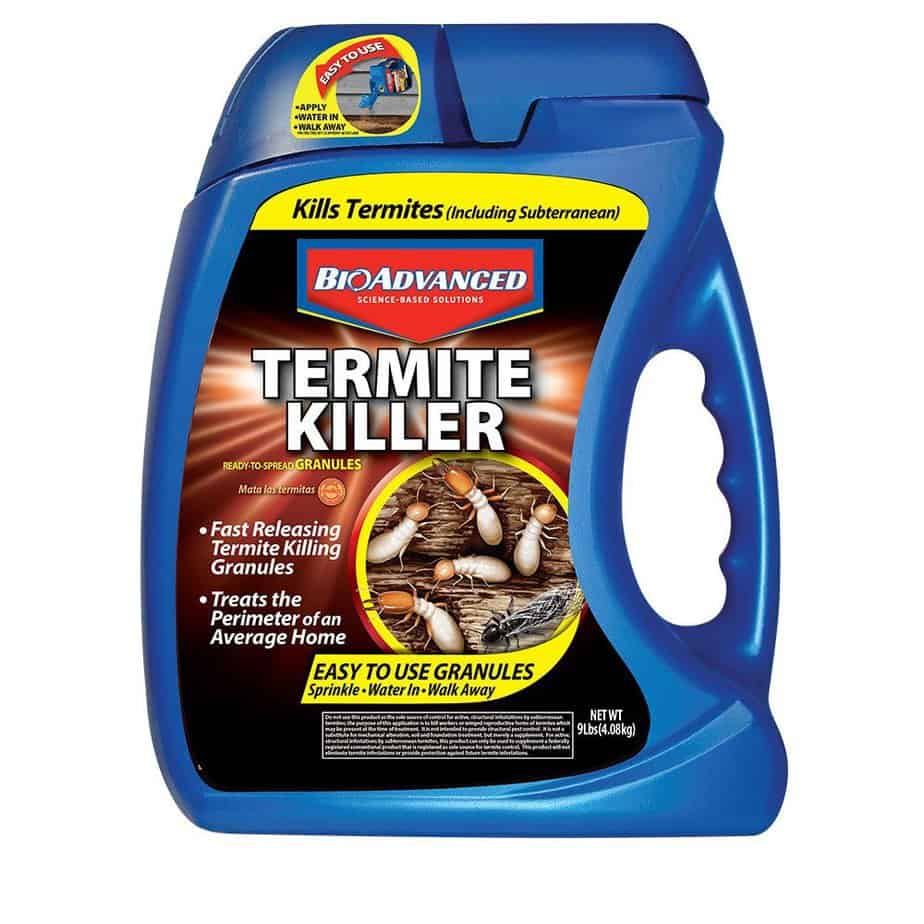 Bayer's Diy Termite Killer is filled with 9 pounds of fast releasing termite killing granules. Proven to be effective as a termicide, its heavy and industrial action makes it applicable to large spaces such as buildings, fence posts, and other wooden constructions that are susceptible to the growth of termites and other unwanted pests. The Bayer DIY Termite killer is also proven to be effective against Subterranean termites, a type of termite that is known for its strength.
Although this is a particularly strong chemical, it is safe and easy to use at home by just sprinkling the granules on the ground. In the process of doing so, you have to make sure that the band is 6 inches wide around the part of the house you are planning to treat. Water the area until it's moist enough, but not to the point where water starts to run off. It is important to note that you should not disrupt the treated soil to get maximum results. Bayer DIY Termite Killer is one of the most reliable termite killers in the market because its industrial-grade formula can take care of Subterranean termites.
PROS
​It kills even subterranean termites
​Easy to use
CONS
Bottom line:
The main selling point of this product is that it does not require digging, installation of stakes or spraying. All you have to do is apply, put some water and let it do its job.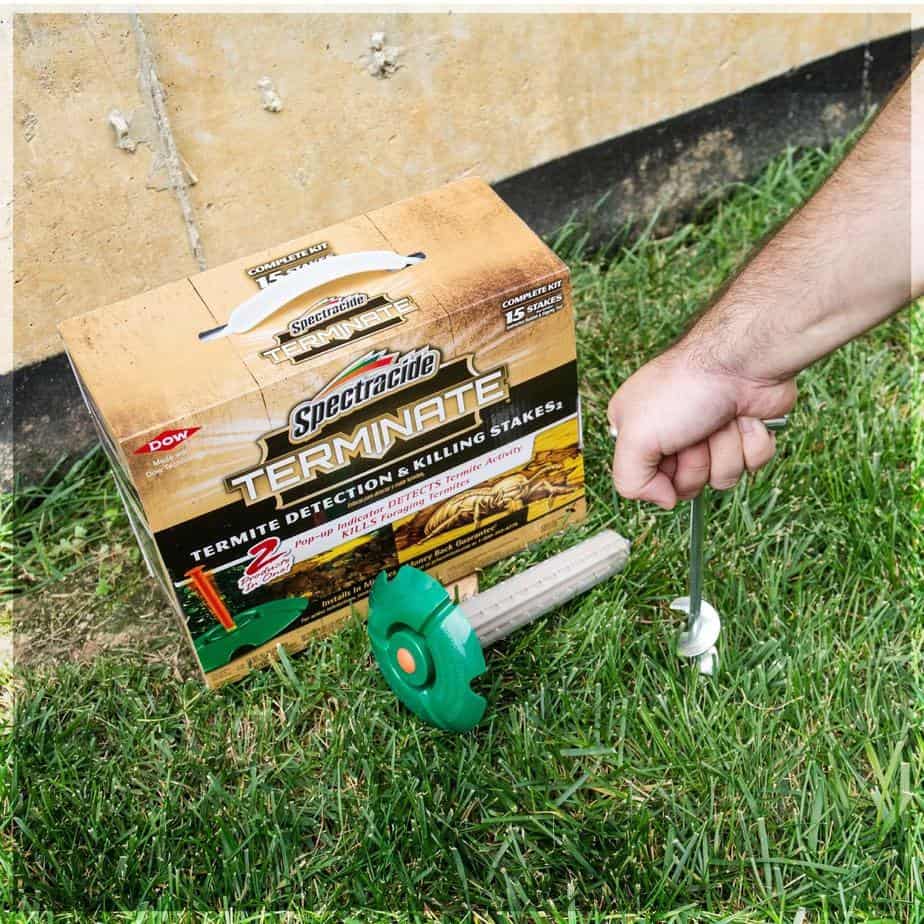 The Spectracide Terminate Termite Detection and Killing Stakes help reduce the presence of any termite damage in the perimeter. With that, one whole box is enough for the treatment and prevention of any pests. To make sure that the area is cleared, the treatment must be monitored and repeated for a year to ensure that there will be no other termites infesting your home. The number of stakes you will need will depend on the perimeter you are planning to cover. For a typical one-story or two-story home with about 1,2000 square feet, ten stakes are sufficient. For a much larger property, you can adjust the number of stakes to use as needed.
This product is really easy to install. No other tools needed. You will just need a few minutes to set this up and you're good to go. The chemicals kill the foraging termites. Aside from that, this includes technology that has a pop-up termite indicator with easy-to-find locator shields. This is just one of the termicides that's made with Dow(R) technology, a trademark of The Dow Chemical Company.
PROS
​Non-repellent trap
​Can become part of the termite network as a food source
CONS
​Installation requirements must be followed
Bottom line:
Although the concept behind termite stakes is proven effective in eliminating termites, this will require proper installation, right number of stakes around the perimeter and constant monitoring for it to be effective.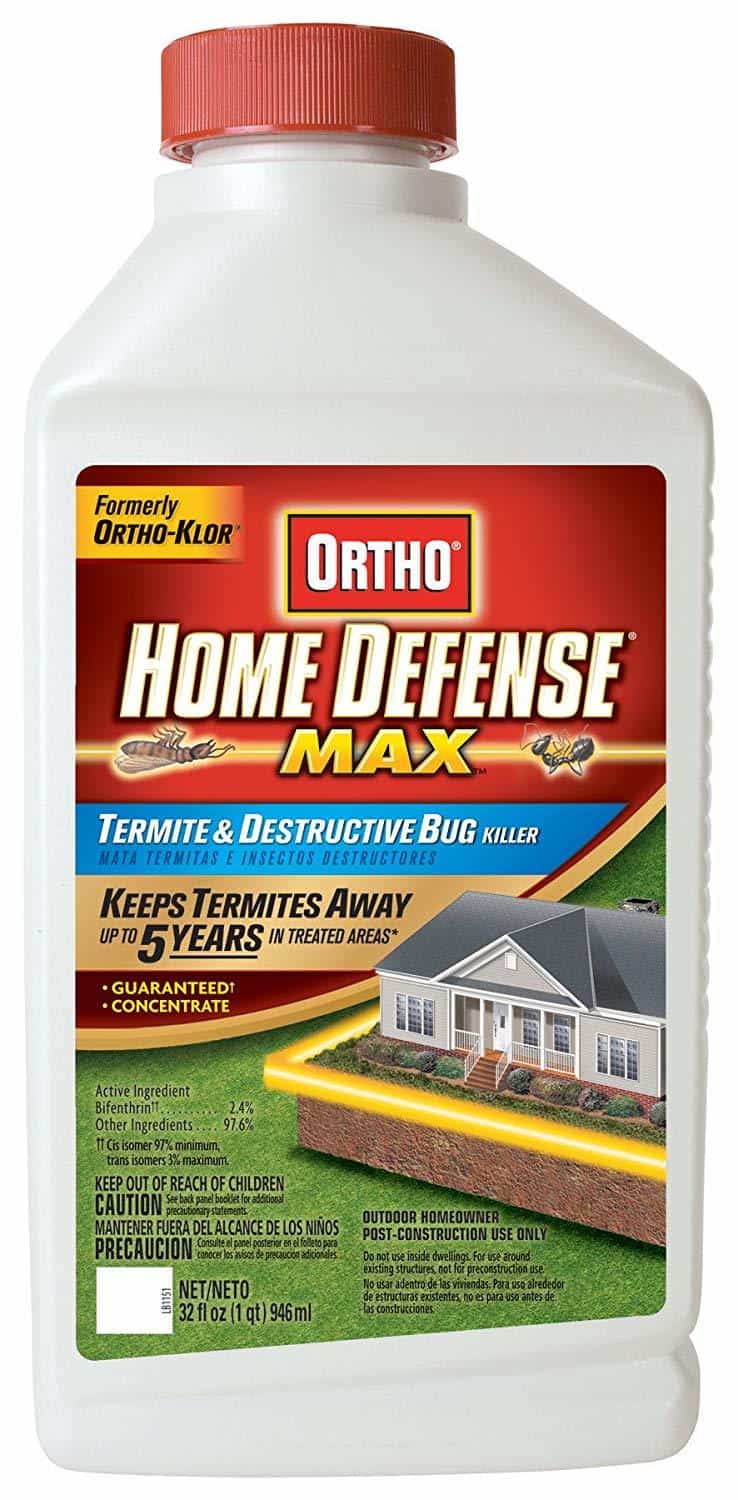 Ortho is known to be the brand homeowners trust when it comes to dealing with pesky and unwanted pests that might co-habit your home. The Ortho Home Defense killer is Ortho's most powerful insect killer in its whole product line. It kills any wood-destroying pests and other home-invading insects that might be present in your home. It is proven to be effective against any Subterranean termites, carpenter ants, and bases aside from controlling general termites. You can use this chemical around the foundation of any structure – wooden structures, piles, fences, mailboxes, tree stumps and any stored lumber in your home.
Take caution when you deal with any Subterranean termites. You will only need to reapply once you see them invading your home. Reapplying the formulation for maintenance is only needed for those general termites and cockroaches. This is powerful enough to be used in trenching treatments that will cover the areas for about 5 years from application. One whole bottle of the Ortho Home Defense Killer contains about 32 ounces of the formula which will be more than enough to kill and keep pests and termites away from your home.
PROS
​Can be used directly on wood, foundation
​Works on subterranean termites
​Keeps termites away for up to 5 years
CONS
Bottom line:
Ortho Home Defense Max is an termite killer concentrate which works best when termite activity has been confirmed and protect your home for up to five years to prevent them.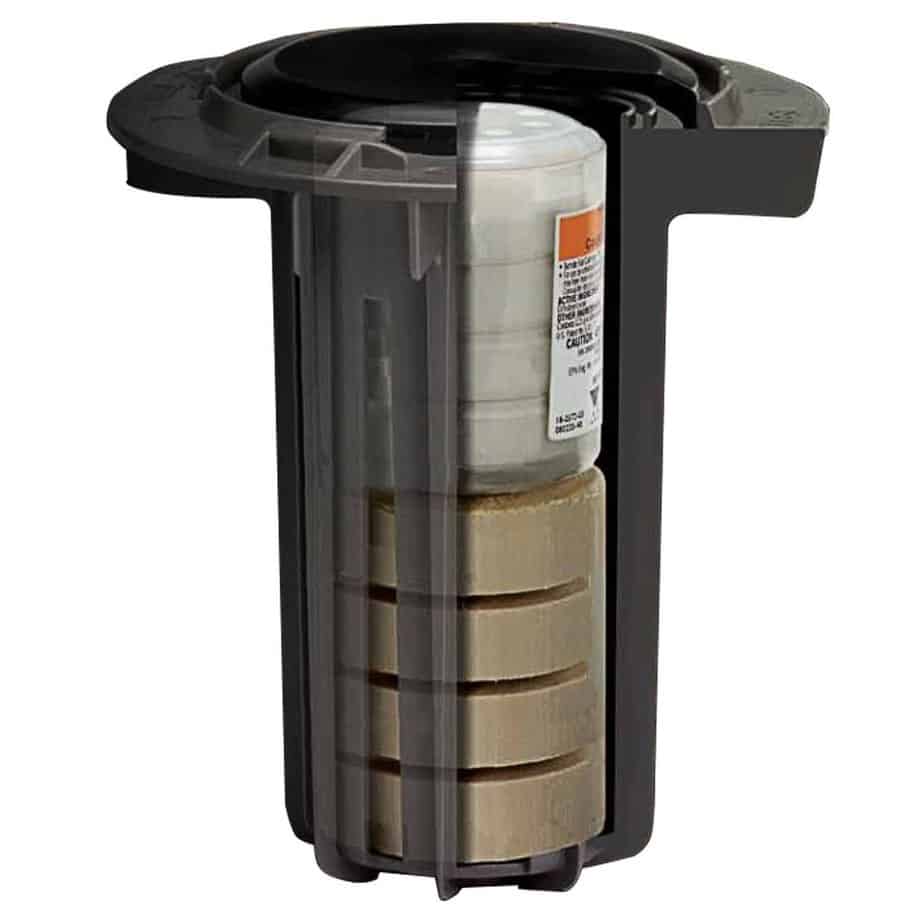 The Advance Termite Bait Stations comes in a capsule which makes it easier to bait the termites present in your home with low disturbance. The capsule features a dual stage interior and the capsule is to be placed at corners of your home. When talking about termites, the less disturbance, the greater the bait load there is for the colony. Higher bait load would mean fewer termites present in your home.
It comes with a termite monitoring base or TMB which remains in place. Only the Termite Inspection Cartridge or TIC is removed which makes managing the bait station easy. With the capsule already in place, you can remove and refill the TIC with ease. Once any termite activity is confirmed with the Termite Inspection Cartridge, it should be replaced with a bait cartridge that has termite poison. The poison is used for the treatment of termites.
This product is not ideal for use with termites inside your home as it is designed specifically to be used against the termites infecting your home's outside perimeter. Installing this would entail the proper calculation of the area to be covered.
PROS
​Non-repellent trap
​Can become part of the termite network as a food source
​Can remain in the perimeter for a very long time
CONS
​Might not work if it gets soaked in ground water
Bottom line:
Advance Termite Bait Station can be a long term investment if installed properly and if it will not get soaked in ground water. All you have to do is monitor and replace the cartridge for continuous protection.
Dangers of Termites
To Humans
When you have termites in your home, they are most likely to bite and sting you. Although their sting isn't toxic, it can be really itchy and could pose several health problems. Some people develop severe allergic reactions after a termite infestation. Some are even sensitive to the point that the mere presence of the termites trigger the allergic reactions.
To You Property
Aside from the possible health hazards, termites can and will destroy your home. They feed on wood that make up almost any American home. After they have chewed everything off, the wooden parts of your home like the walls, posts, beams and the foundation would have holes in them and may even be hollowed-out. This kind of damage will obviously lead to the weakening to your home. If not properly treated, it can definitely destroy your home. Renovation costs a fortune. Also, think of all the hassle induced by these pests. These are just some of the dangers of having termites. You can, however, prevent all of these from happening by simply buying termicides which are widely available.
Conclusion:
Termites are pests that may slowly infest your home. These are unwanted organisms that only feed off the heart and soul of your house. Protect your home and be free from termites with the proven and tested, safe and efective termicides we have in the market.