Not all insects are considered pests. There are insects like butterflies and bees which help in the reproduction of plants and help them multiply. But there are also those that are actually stuck to the identity of being parasites. Fungus gnats or gnats are one of the most common pests that dwell around houseplants. They do not bite humans but can be bothersome when they grow in numbers inside our home and around the garden.
Gnats are flies that resemble mosquitoes more than flies. They are grayish-black, with long legs and a pair of translucent wings. They inhabit plants and usually get disturbed when watering. They lay eggs in damp soil and feed on the nutrients from the plant roots, fungi, and the ground itself.
When plants are heavily infested by gnats, they are prone to malnutrition, slow growth, yellowing and wilting. From eggs to adults, gnats have proven to be damaging to seedlings, herbs, flowing plants, and shrubs. The best way to get rid of gnats is to install traps, and we have narrowed down the list of the best gnat traps today.
Top 5 Best Gnat Traps 2022
1. BioCare Superior Gnat Stix
BioCare Gnat Stix is a dedicated solution for fungus gnats and other small insects that attack houseplants like plant lice and aphids. The concept behind this product is easy. The bright yellow color will attract plant pests and the sticky substance on the trap will be the end of these pesky gnats and flies. Insects are usually attracted to the color yellow because of their response to light or a source of light.
These Gnat Stix are easy to use, simply place the wooden stakes between the plants where there is suspected insect activity or gnat infestation. Peel the release paper from the sticky traps and set the traps on top of the stakes. Each trap can last for up to 3 months. Once the trap attracts more than the usual number of pests or is crowded with trapped and dead gnats, replace it immediately.
The BioCare Gnat Traps work even on severe infestations, but users are advised to use at least one trap for every plant in case the population is dense. These can also prevent gnats from -spreading to other plants when placed in non-affected plants.
BioCare Superior Gnat Superior Traps comes in a box with 48 traps and stakes. It is non-toxic and has no pesticides and using this around kids and pets is safe. The traps are made with paper and vegetable-based adhesive. The whole set is fully compostable and biodegradable.
Pros
​Specifically-made for gnats
​Bright yellow color attracts insects
​Simple to use
​Safe for children and pets
​Non-toxic and biodegradable
Cons
​May not help with gnat larvae
Bottom line:
For a very affordable price, you will get a lot of traps that are easy to set up and use. However, since the traps are small, you might need more for severe infestations. It is perfect for those who are looking for a non-pesticide solution for gnats and similar insects. It is safe to use around kids and pets too.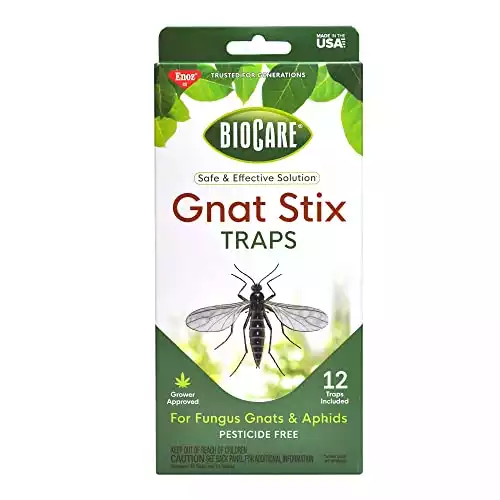 BioCare Superior Gnat Stix | Amazon
Control even the worst gnat and aphid infestations in your home and greenhouse with BioCare Gnat Stix Traps for Fugus Gnats and Aphids (Model S5333). Fungus gnats, aphids, plant lice, and other small insects are attracted to the bright yellow color of the sticky traps and the UV dye in the glue.
Buy at Amazon.com
We earn a commission if you make a purchase, at no additional cost to you.
11/29/2023 11:38 am GMT
2. Safer Brand 5025 Houseplant Sticky Stakes Insect Trap, 7 Traps​
Safer Brand Houseplant Sticky Stakes is another brand that made a dedicated trap for fungus gnats. It attracts and eventually traps houseplant insects such as whiteflies, blackflies, thrips, fruit fly, and other flying insects. This trap has a smart design and camouflages in potted plants like a stem with bright yellow flowers.
Each pack comes with 7 plastic stakes and easy to peel sticky traps. Setting up the stakes is easy, just peel off the plastic sheets from the trap, bend the traps with the adhesives out and stick both ends on the stakes. You may place up to four (4) traps per stake and place the stakes on potted plants in varying height.
The traps attract insects through its color and its scent. A trap can draw a lot of insects in just a week. The stakes are disposable and the traps do not contain pesticides nor insecticides. Safer Brand products comply with the organic gardening standards, so it is guaranteed safe for your plants, children and pets.
Pros
​Attracts through its color and scent
​Ornamental and does not affect the garden aesthetically
​Chemical and pesticide-free
Cons
​Users hands touch the adhesive on the traps
​Plastic stakes
Bottom line:
Trapping fungus gnats on Safer Brand Sticky Stakes will not be an accident. The color and the glue really attract the insects and these make the trap really effective. It also looks like an ornament and is not an eyesore. It is chemical-free and pesticide-free which means it can be used in an environment with kids, pets and suitable for organic farming.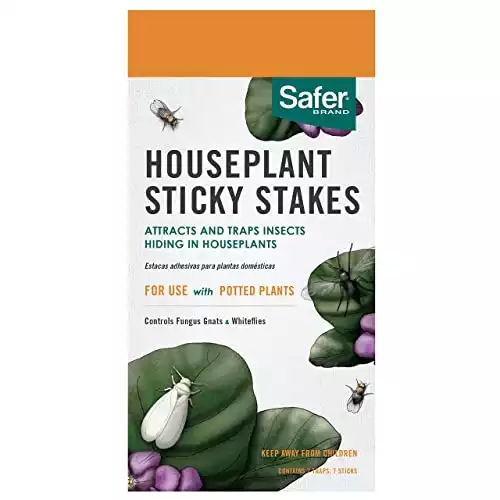 Safer Brand SF5026 Houseplant Sticky Stakes Insect Traps | Amazon
These sticky stakes help you reduce the flying insect population as well as those found crawling on your plants by attracting them with their poison-free formula. Once trapped, the Sticky Stakes securely hold them on the traps until the time of disposal.
Buy at Amazon.com
We earn a commission if you make a purchase, at no additional cost to you.
3. Garsum 20-Pack Dual-Sided Yellow Sticky Traps for ​Gnats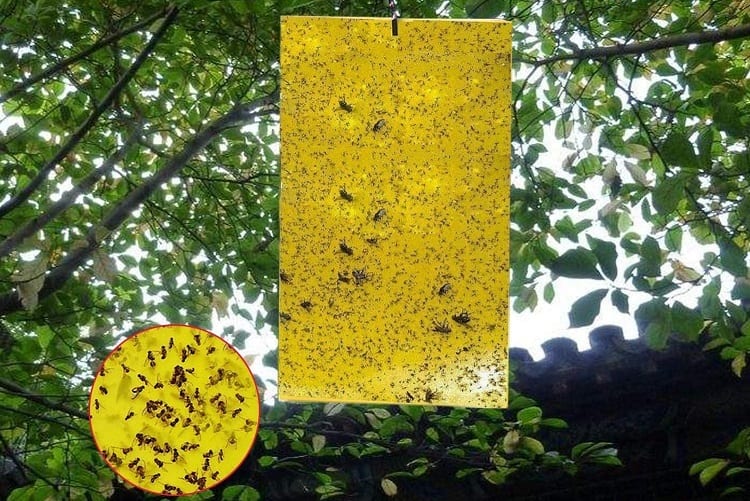 These Yellow Sticky Traps From Garsum is not necessarily a pleasant-looking trap for humans, but it surely is for insects like gnats, aphids, and plant-dwelling insects. It is a high-capacity trap perfect for heavy infestations.
It is a 6-inch x 8-inch durable PVC sheet with non-toxic, strong glue on both sides. It is also waterproof and sunproof so you can place it almost anywhere in your garden. It has a hole in the middle and comes with twist ties so you can use it on hanging plants, branches of trees and shrubs, and pin it on a stand or stakes for potted plants. Each box comes with 20 sheets which makes it more economical than other traps in the market.
You may also cut it into smaller pieces or strips for application on smaller pots and plant boxes. Each sheet can be used for several months and can be easily disposed of. The brand recommends at least 1 sheet for every 200 square feet space in your garden or greenhouse.
Pros
​Wide trapping space
​Dual-sided trap
​Suitable even for hanging plants
​Non-toxic
​Economical
Cons
​Sheets are made with PVC and are non-biodegradable
Bottom line:
If gnats and flying insects are your problems not just for potted plants, you can rely on Garsum Dual-Sided Yellow Sticky Traps. It offers a wide and dual-sided trapping coverage and can be used on potted plants, trees, and hanging plants. It just needs a little creativity in the installation aspect.
4. ​Save A Garden Yellow Dual Sticky Fly Traps
​Preventing and getting rid of houseplant insects need some flexibility and creativity too. And 21 Century Solutions Butterfly-shaped Traps respond to that call. The bright yellow color together with the attractive glue will drive flying insects to the trap and keep the pests trapped. It will not only control the population of fungus gnats, but it will also stop them from breeding in your garden.
Users don't have to worry about harmful chemicals because the glue used in the traps is total odor- and pesticide-free. It will also not melt under extreme heat. It is UV resistant and waterproof too. You can use this product as long as there as still gaps of glue in between trapped insects.
You can choose between hanging the traps or sticking them on the ground. It has an arrow that you can stick on the ground or twist ties to secure them on branches and hanging pots. Each set comes with ten pieces of sticky traps and ten pieces of ties.
Pros
​Ornamental and does not affect the garden aesthetically
​Easy to use
​Suitable even for hanging plants
​Non-toxic
Cons
​Might be too low to attract insects
Bottom line:
If you can get rid of insects in your garden while keeping it free from noticeable insect traps, why not? These butterfly-shaped traps are not only cute, but it gets the job done too. It is suitable for those who love flowering plants.
5. Viagrow Traps Dual-Sided Yellow Sticky Traps for ​Gnats​
If you need to stock up on fungus gnat trap for various applications, Viagrow Traps are really versatile and the traps come in a value pack. It uses a yellow sticky trap which people can use hanging on stakes or wrapping the traps around the pot itself to ensure that even larvae are killed.
Aside from fungus gnats, it can also attract and trap aphids, mosquitoes, leafminers, and other indoor and outdoor insects. It is available in packs of 5, 15, 25, 50 and 500. Traps work best when placed 7 ft. away from each other.
Pros
​Easy to use
​Suitable even for hanging plants
​Can be placed around the pots
Cons
​Not aesthetically appealing
​Does not have enough information on the composition of the traps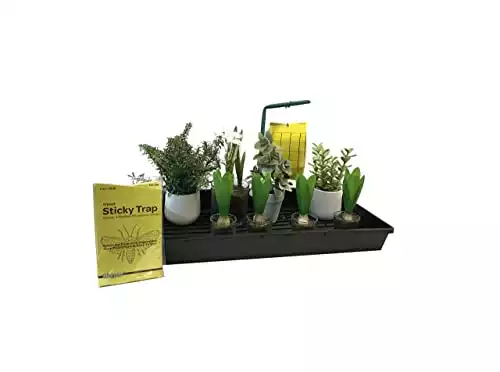 FAQs
Are gnats and fruit flies the same?
No. Fruit flies and gnats are both flying insects, they are bugs from different families. The common fruit fly is in the Drosophilidae family, whereas the types of gnats come from different families, including Sciaridae, Anisopodidae, etc.
Are there any DIY remedies to get rid of gnats?
There are many popular methods used to get rid of gnat infestation here's some of them:
•Dish soap and cider vinegar; By mixing a cup of warm water 2 tbs of vinegar, sugar, and a few drops of the liquid dish soap. You can add this mix to a spray bottle and spray it on indoor plants, potting soil, or other places to attract gnats. This homemade gnat trap will lure the biting gnats that want to dip in and they'll get entrapped. This can also be used as a fruit fly trap to get rid of fruit flies.
•Baking soda; This one is not particularly a gnat killer, but a homemade gnat repellent. By combining baking soda with water and liquid soap, you'll have an amazing destructive weapon against these pests and be in charge of the gnat control.
•Red Wine; This works similarly to the vinegar trap. The only difference would be that to attract the gnats you'll use the scent of red wine instead of sugar.  For the ultimate pest control effect, you can also mix liquid dish soap which will disable them from flying further.
Bottom line
Insects that prevent plants from growing and producing flowers and fruit are not the only enemy, larvae are a real pain too. This product can attract and trap both and its versatility gives it an extra point. However, the brand needs to provide more information about product composition.