Scorpions are one of the toughest arachnids or 8-legged insects there is. They don't succumb to their death with just a mere insect killer that you use for mosquitoes, cockroaches, and other crawling insects. It will take something much more potent than those.
Scorpions are also venomous. The sting is from this insect is moderate to severe and can cause burning to numbing sensation. Some scorpions found in the US can be fatal especially when they sting children.
The best way to get rid of scorpions is to prevent them and once you have spotted them, eliminate them. There are no specific seasons for scorpions, unlike other insects and they can be lurking around. But one important knowledge is that scorpions prey on other insects like crickets, cockroaches, and ants. If these insects are out of control in your home and garden, your place is also an easy target of scorpions. Read on to get a list of the best scorpion killers today:
​Top 5 Scorpion Killers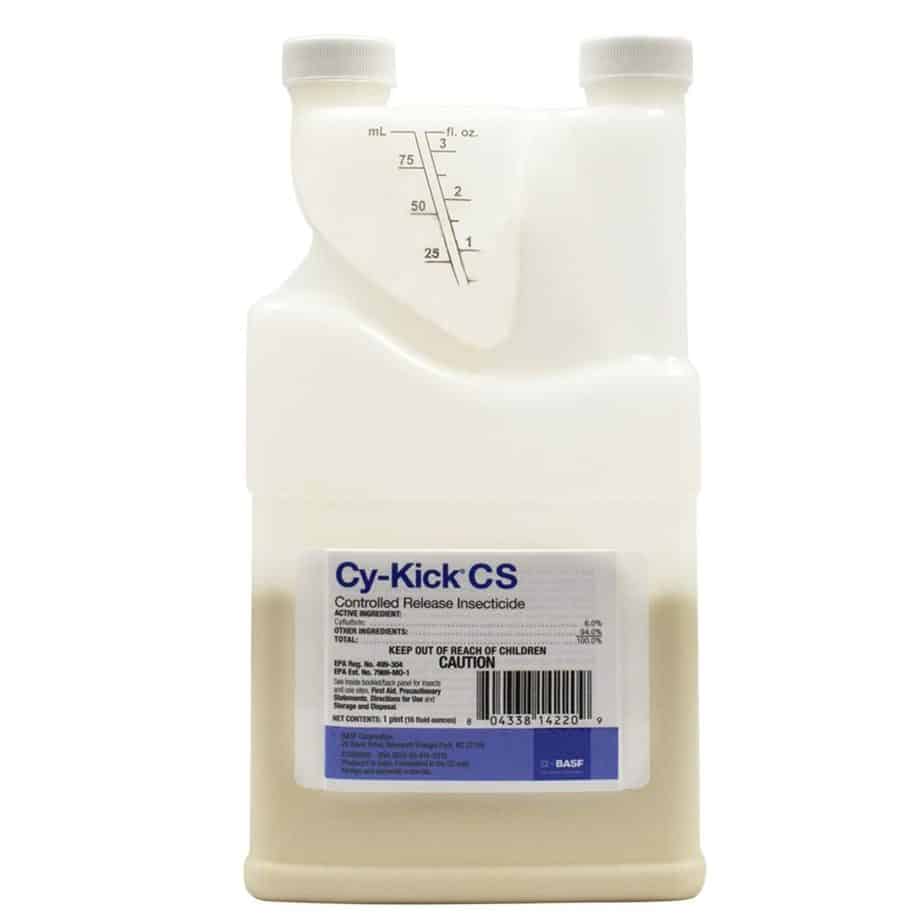 The Cy-Kick CS pest control insecticide does not only target the common pests in your home. It is also formulated to deal with black scorpions that may be invading your home. Some of the common pests that this insecticide can also eradicate are tarantulas, ants, and bugs. That's just how powerful this is. It also kills right on contact.
However, this product must be applied before it rains. Otherwise, you will have to spray it again after the rain spell. This is perfect to be sprayed on your lawn and the perimeter of your home. This is also suited for indoor applications. This product is highly potent and toxic and users are advised to take caution when mixing and applying. The residual effect lasts for up to 90 days and keeps killing pests.
Pros
​This product can be used indoors and outdoors
​There's no need to dilute this product
​Fast acting and kills on contact
Cons
​Highly toxic especially when diluted
Bottom Line
This is the best way to completely eradicate scorpions and other types of pests inside and outside of your home. Without other insects lurking around, you can be sure that scorpions will not be interested in your home and garden as well.
Cy-Kick CS Pest Control Insecticide | Amazon
Cy-kick CS liquid concentrate insecticide provides 90 days of full-throttle killing power, controlling insects indoors and outdoors. With a broad spectrum label including spiders, ants, mosquitoes, bees, cockroaches, crickets, fleas, flies, bed bugs, silverfish, ticks, wasps, wood infesting borers and more.
Buy at Amazon.com
We earn a commission if you make a purchase, at no additional cost to you.
03/25/2023 03:57 pm GMT

The Terro Scorpion Killer Aerosol Spray effectively kills scorpions. This will also kill the spiders, ants, cockroaches, and crickets on contact. Once you have sprayed this, the residual spray of this contains up to six weeks.
Scorpions can climb up walls and squeeze themselves in the tiniest cracks. What sets this apart is its nozzle. It is equipped with a two-way precision spray nozzle that can be applied as a wide spray or into these cracks and crevices. It can reach any place where scorpions are possibly hiding. This spray can also be used indoors or outdoors.
Pros
​Kills scorpions and other common household pests
​Residual control for up to six weeks
​Comes with a two-way precision nozzle
Cons
​Does not kill on contact
Bottom Line
It may appear as just another multi-insect spray. But once you have sprayed this product, you are guaranteed to have a scorpion-free home in no time as it kills on contact. You'll also appreciate the nozzle that comes with it. It ensures that you can protect the hard to reach places.
Terro Scorpion Killer Aerosol Spray | Amazon
Defend your home from scorpions, spiders, and insects with TERRO Scorpion Killer Spray. Apply indoors and outdoors to kill scorpions on contact and to provide protection for up to six weeks.
Buy at Amazon.com
We earn a commission if you make a purchase, at no additional cost to you.
03/25/2023 07:43 pm GMT
The Onslaught FastCap spider and scorpion insecticide is the best way for you to end any scorpion infestation in your home. The formulation is one of a kind. It is a specially patented combination of Esfenvalerate 6.40%, Prallethrin 1.60%, and Piperonyl butoxide 8.00% and came up as an effective and quick insect killer.
The formula is also easy to use. No need for you to dilute it with water. This provides a quick knockdown of the scorpions and other pests in your home. You can use this product both for indoor and outdoor spaces.
Pros
​It can be used on food spaces
​Safe to use around animals and kids
​Can be used in indoor and outdoor spaces
Cons
​Can be harmful when it gets in contact with the skin
Bottom Line
Now, you have an insecticide option that can be used in the most delicate spaces like food stations. It is potent and effective yet it is safe to use even if you have pets and children around. However, caution must always be practiced no matter how safe the product is.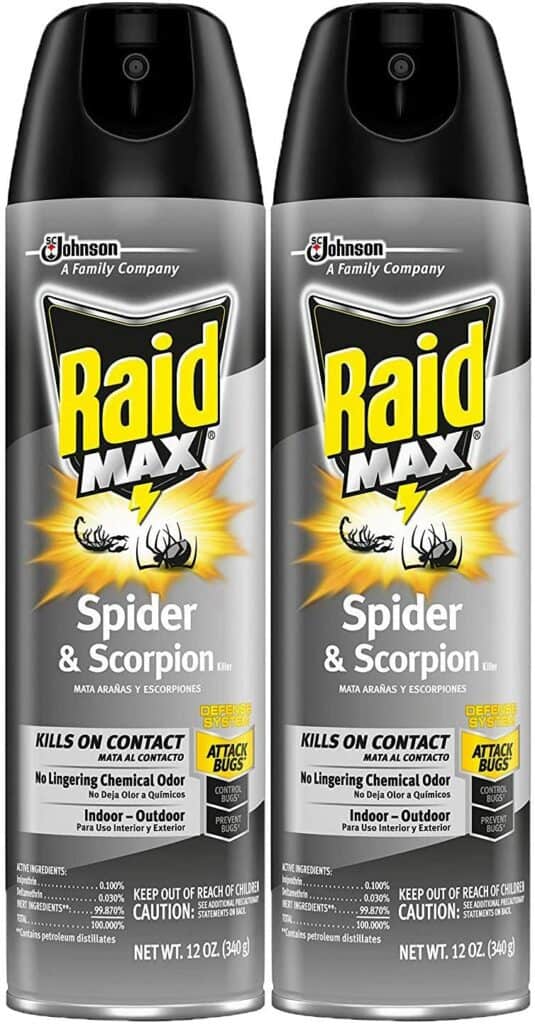 Raid is one of the globally known commercial insect killer brands. The Raid Max Spider and Scorpion killer is an insecticide that will surely get the nod of many consumers. It kills any insect the fine mists come in contact with. It can kill scorpions and 30 other species of spiders. With its powerful formulation, this can also kill black widow spiders.
You can safely use this indoors and outdoors. You also won't have to worry about it containing any harmful chemicals since this does not contain any CFC's which are known to damage the ozone layer.
Pros
​Kills right on contact
​Can be used indoors and outdoors
​Does not contain any CFCs
Cons
​It is more effective in killing pests on contact than its residual effect
Bottom Line
When it comes to scorpions, this is, without a doubt, an effective product. You may want to give it some time to work against different kinds of spiders effectively. Nonetheless, this is a great product to use, especially if you are the one who looks forward to using products that are guaranteed chlorofluorocarbon (CFC)-free.
The Spectracide bug home barrier is a surface treatment product that can also kill right on contact. One full bottle of it will last up to a year of control for pesky bugs and insects. That's how long-lasting this product is!
It practically targets ants, cockroaches, and spiders. But it is also an effective way to combat scorpions in your home. You can use this both for indoor and outdoor spaces and is best applied on cracks, crevices, lawns and turf, and patio. It does not stain, nor does it leave any smell. You also don't have to dilute I, just pour it in the applicator or sprayer tank and you're good to go.
Pros
​Kills on contact
​The formulation lasts for 12 months for the control of most insects
​Can be used for indoors and outdoors
Cons
​Does not work on all types of insect
Bottom Line
With a good quality sprayer, the Spectracide Bug Stop Home Barrier can really provide an invisible layer of protection at your home all-year-round. It is most suitable for outdoor applications but it can be used indoors with caution.
Conclusion
There are a lot of different scorpion killers you can choose from in the market. Choosing one that will be effective for your home can ensure that you can immediately get rid of them and prevent them come back. You should also consider the one which formulation can kill other types of insects too. This guarantees that scorpions won't get back for food. Lastly, cleaning your surroundings is the most important factor of all.