Squirrels are cute, little furry animals. They belong to the same family as chipmunks and prairie dogs. Most squirrels build their nests on trees or tree holes. While some will dig underground to store food and hibernate.
These animals are very territorial, especially mothers. They feed on fruits, nuts, insects, and other animals smaller than them. Just like other rodents, their two front teeth will constantly grow, and they need to actively munch. That's where they start becoming pests. The can destroy plants and trees or worse, they can sneak inside your house and find something else to munch on.
We are sharing with you the best squirrel traps that you can use both indoors and outdoors to keep your precious home and garden safe from squirrel invasion and destruction.
Indoor and Outdoor Squirrel Traps
1. Havahart 632 Medium 2-Door Safe Release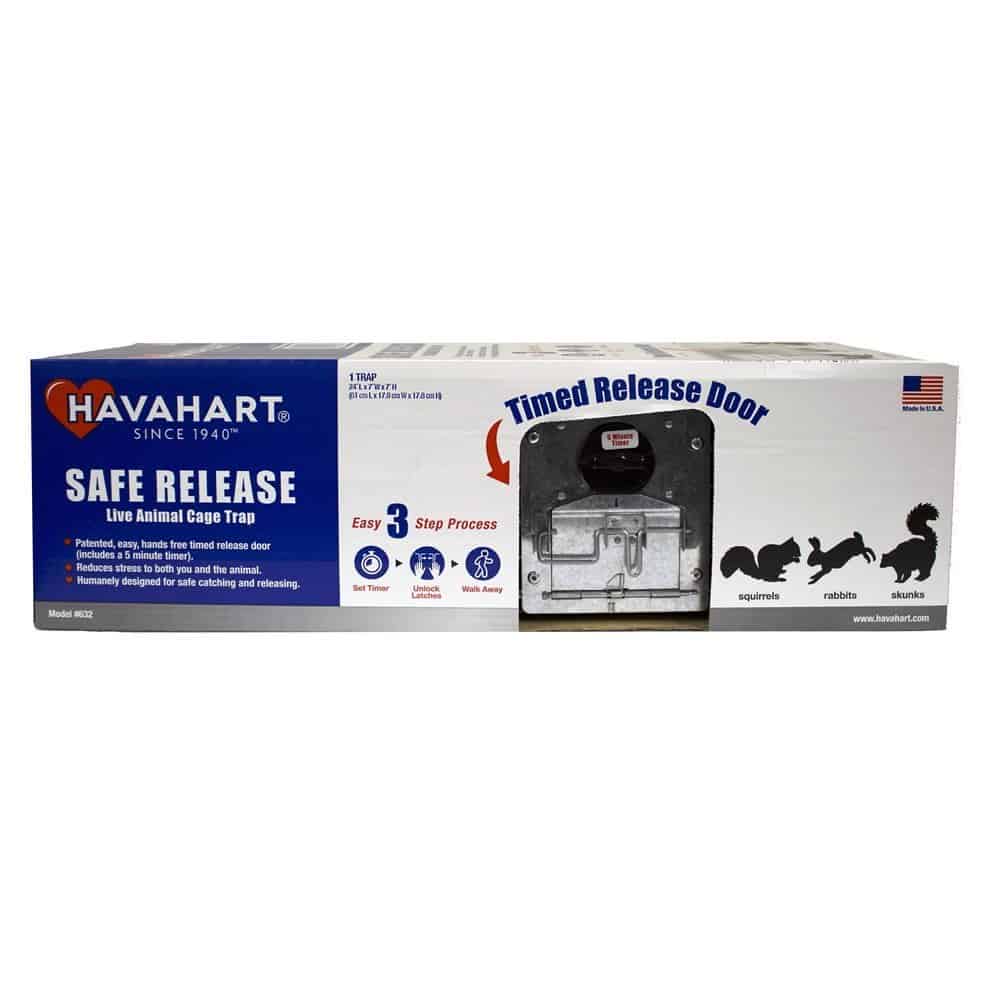 The ​Havahart Medium 2-Door Safe Release is one of the best squirrel traps that you can use for your home and garden. It has patented hands-free time release door. This would mean less stress for you when releasing the captured animal.
Setting this up is a 3-step release process. Set the timer, unlock the latches, and walk away. That's how easy it is! What's even better is that it's designed for a more humane way to catch squirrels. This could also be used to trap rabbits and skunks.
The cage is constructed from rust-resistant wire mesh with steel reinforcements. It also has a precaution for transport purposes. The solid doors and handle guards will make it easier for you to lug the caught squirrel out.
PROS
​Easy to use
​A more humane way to catch and release squirrels
​Has solid doors and handle guards for easy transport
CONS
​The release mechanism  might easily break
​The size of the trap is not big enough
Bottom Line:
There are some complaints as to how this squirrel trap doesn't shut fast enough to catch squirrels. The best way to address this problem is for you to set a shorter time interval. In any case, you can still consider this trap for home and garden use.
2. Faicuk Heavy Duty Squirrel Trap
This is a heavy-duty squirrel trap. You don't have to worry about the squirrels getting out of their cages. What you have is a secure cage to lock the squirrels in place. It is constructed with sturdy galvanized steel. This alone would make the trap resistant to rust and corrosion. It also includes a 12-gauge wire mesh that prevents the animals from breaking it. It has an ultra-sensitive locking system. Once the pedal is touched lightly, the gravity-action door will drop down in a flash.
The design of this squirrel trap is one of a kind. The trigger bar is easily accessible outside of the trap to prevent the captured animals from damaging it. No need to assemble this to make it work. Just leave it and set the trap in place. This trap cage will also work for any unwanted animals in your yards such as chipmunks, rats, and weasels.
PROS
​Constructed from heavy-duty materials
​Rust and corrosion-resistant
​Comes with an ultra-sensitive pedal
CONS
​Not a humane trap as the mechanism tends to trap and kill squirrels
​Sturdy but the design is faulty
Bottom Line:
Squirrel traps are supposed to just work in a way that it will trap the squirrels and other animals. But this particular cage goes beyond that. Some household users would prefer to have the squirrels terminated, so this would be a perfect solution for them. However, if you are looking for a squirrel trap that traps alone, this is not the best choice for you.
3. Kensizer Animal Humane Live Cage Trap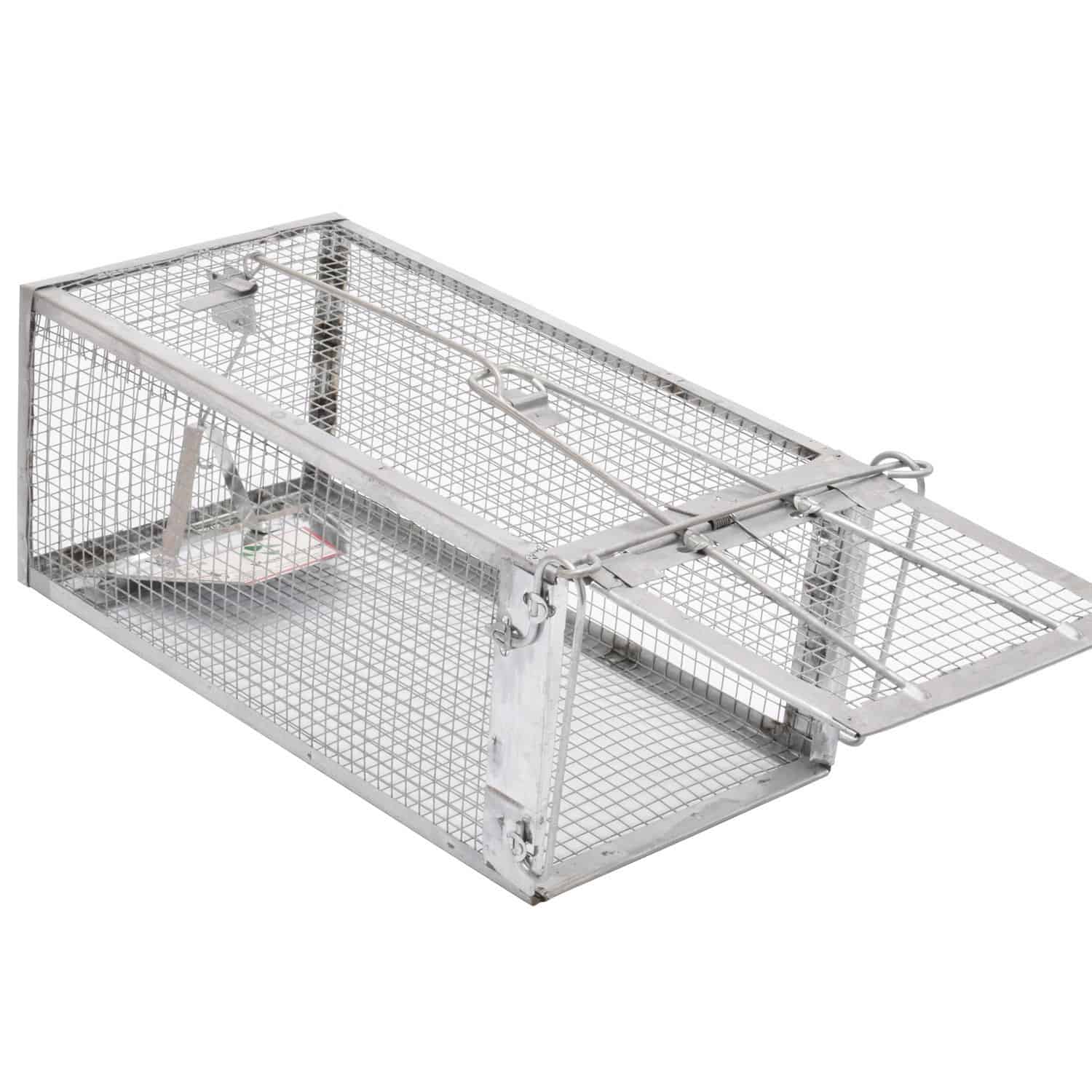 Squirrels are cute and all. But sometimes, they could just be a nuisance to your yard. What's worst is that they might even feed off from the plants that keep your outdoor space lively. Hence, the best way to eradicate them from your backyard is by trapping them.
The Kensizer Animal is a Humane Lve Cage Trap. This squirrel cage ensures that the animals caught are not harmed or killed. It traps them securely in place until it's time for you to release them. It's safe for people and pets alike.
Its lightweight aluminum structure makes it a lot easier for you to transport and release the trapped squirrels. At the same time, it has a highly sensitive trigger mechanism which will be auto-locked immediately once the trigger has been set into place.
PROS
​The design of the cage is exclusively patented
​It can be used with any sweet-smelling and tasty baits
​Constructed with a lightweight aluminum structure for easier transport and release
CONS
​The cage is not sturdy enough to hold the animals in place
​There are some very sharp corners and steel wires poking from the inside of the trap
Bottom Line:
Some users are not that impressed by this trap. But it will ultimately depend on how you're going to use it. Before keeping it in place, make sure that the wires are intact to avoid harming the trapped animals. Above all, the design of the cage is perfect for trapping any kind of backyard animal.
4. Trapro Humane Rat Cage Trap
The Trapro Human Rat Cage Trap is a non-toxic solution to catch squirrels in your yard. It's extremely easy to set up. Just place it in your outdoor living space and wait for the squirrel to get trapped in it.
The trap is constructed durably. With its galvanized steel, you are guaranteed that it has maximum resistance to rust and corrosion. It is also ultra-sensitive. Once the pedal is touched slightly in this cage, the trap will easily be triggered, and the door will shut as soon as possible to trap squirrels and other likely rodents in place. There's no way that the trapped animals would escape this cage!
PROS
​Provides a non-toxic solution
​Made from sturdy galvanized steel
​Immediately shuts down when the pedal is triggered
CONS
​The cage is flimsy and is not durable enough to hold trapped squirrels in place
​Not suitable for larger animals
Bottom Line:
If you see squirrels have multiplied in your home and garden, then this is the perfect squirrel trap for you. It can also be used to trap other small animals such as rats, mice, and chipmunks. This, however, is not advisable to be used for larger animals of the same kind.
5. Rugged Ranch Products SQO Squirrelinator with Basin
This is a Unique Multi-Catch Squirrel Trap that can catch not just one squirrel. This is advisable to use, especially if you don't have much time in releasing these animals. This squirrel trap is also recommended to especially if you notice there's a lot of activity in your yard.
What sets this apart is that it comes with a basin. This also has two trap doors wherein squirrels can enter from both sides.
PROS
​Can be used to trap multiple squirrels
​Has two trap doors so that squirrels can enter from both directions
​Comes with a basin
CONS
​The basin does not help in catching the squirrels
Bottom Line:
This is a great squirrel trap to use when you notice a lot of squirrel activity in your home! At least now, you don't have to buy multiple squirrel traps to keep your yard squirrel-free.
6. Aspectek Electronic Rat Trap Rodent Mice and Squirrels Exterminator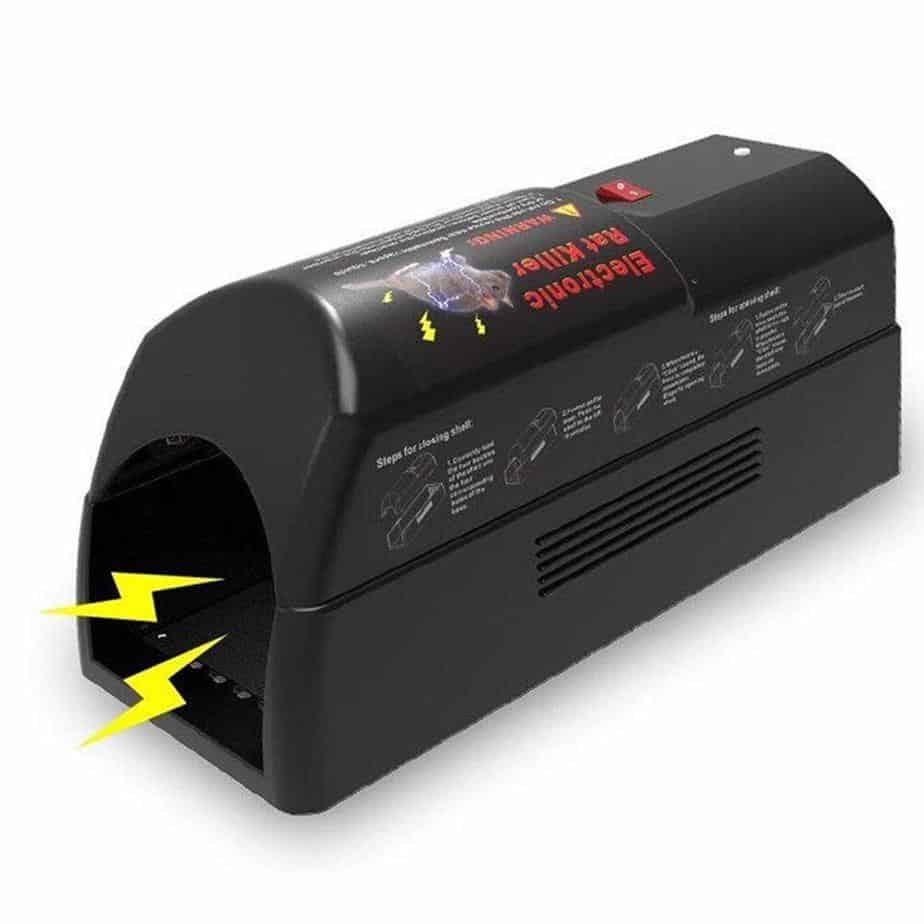 ​This Electronic Squirrel Trap is recommended for you to purchase. It has a professional strength which ensures that the rodent will not be able to escape the cage. It's reusable and can be used for other pests, as well. It's safe to use, sanitary, and non-toxic.
PROS
​The rodents won't be able to escape
​Foldable design for narrow spaces
​It can be used for other animals
CONS
Bottom Line:
Keep the squirrels in place with this cage. With its foldable design, it can be guaranteed that it can fit into even the narrowest places.
7. Victor Electronic Rat Trap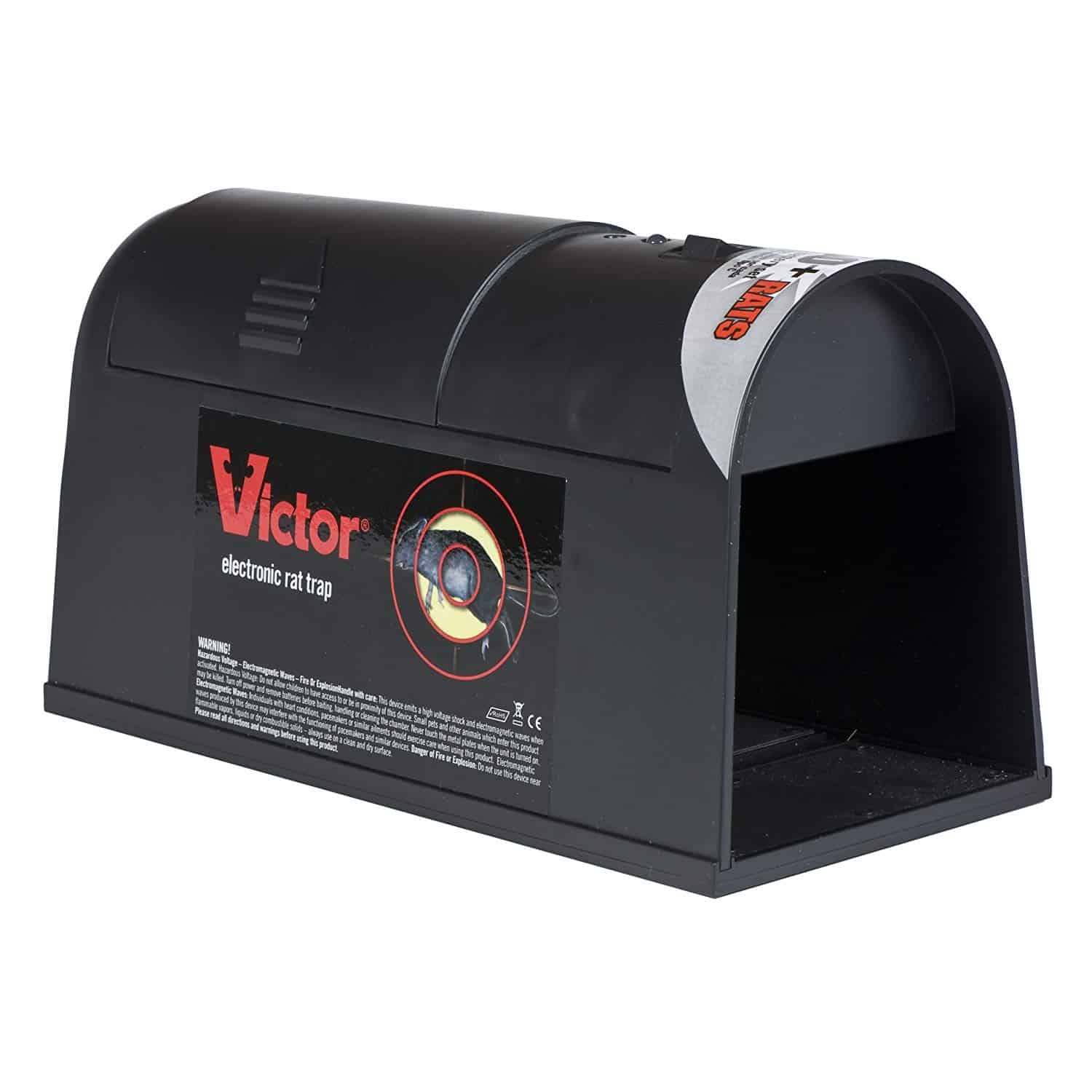 The Victor Electronic Rat Trap is a device that you can rely on to eliminate rodents in your home. However, this could also be used to terminate squirrels. It's designed specifically for indoor use. It's not to be used outdoors or for exposure to any kind of weather. It also has an auto reset feature which allows the trap to be ready to kill at all times.
PROS
​A non-toxic solution to terminate rodents
​Easy to use
​Comes with an auto reset feature
CONS
​Not intended for outdoor use
​This device is not weatherproof
Bottom Line:
For long-lasting trapping purposes, this would be the perfect squirrel trap that you can use. Thanks to its powerful design, it can kill about 50 animals per set of 4C batteries.
8. Hoont Powerful Electronic Rodent Trap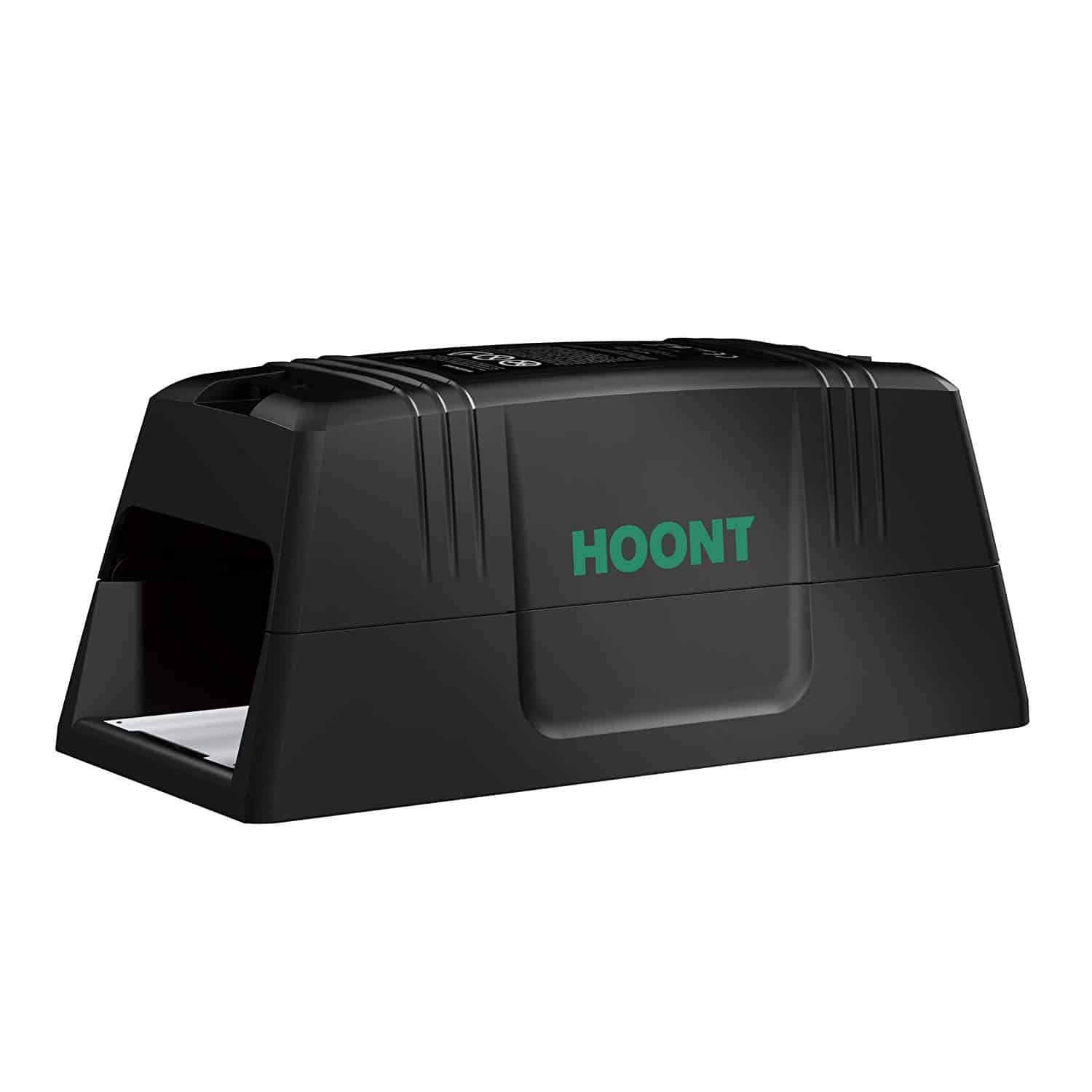 The Hoont Electronic Trap is an excellent way of trapping squirrels. Equipped with the most advanced rodent detection technology, you are guaranteed to have a squirrel-free home in no time. It's easy to use. Simply plug it in and let it do its job. It is guaranteed to be safe and will not leave any mess behind.
PROS
Very easy to use
Produces no chemical smell
Dissipates quickly
Covers 5,000 sq. ft. of land quickly
Can penetrate deep into mosquitoes' hiding places
CONS
Effective for flying insects only
Clogs up when other insecticide products are used
Needs to be at the right temperature
Bottom Line:
With this electronic squirrel trap, you can either choose to trap them by simply plugging the device in or by putting batteries in it. Either way, you are guaranteed to have a squirrel and rodent-free home.
9. Eliminator Robust Electronic Rat and Rodent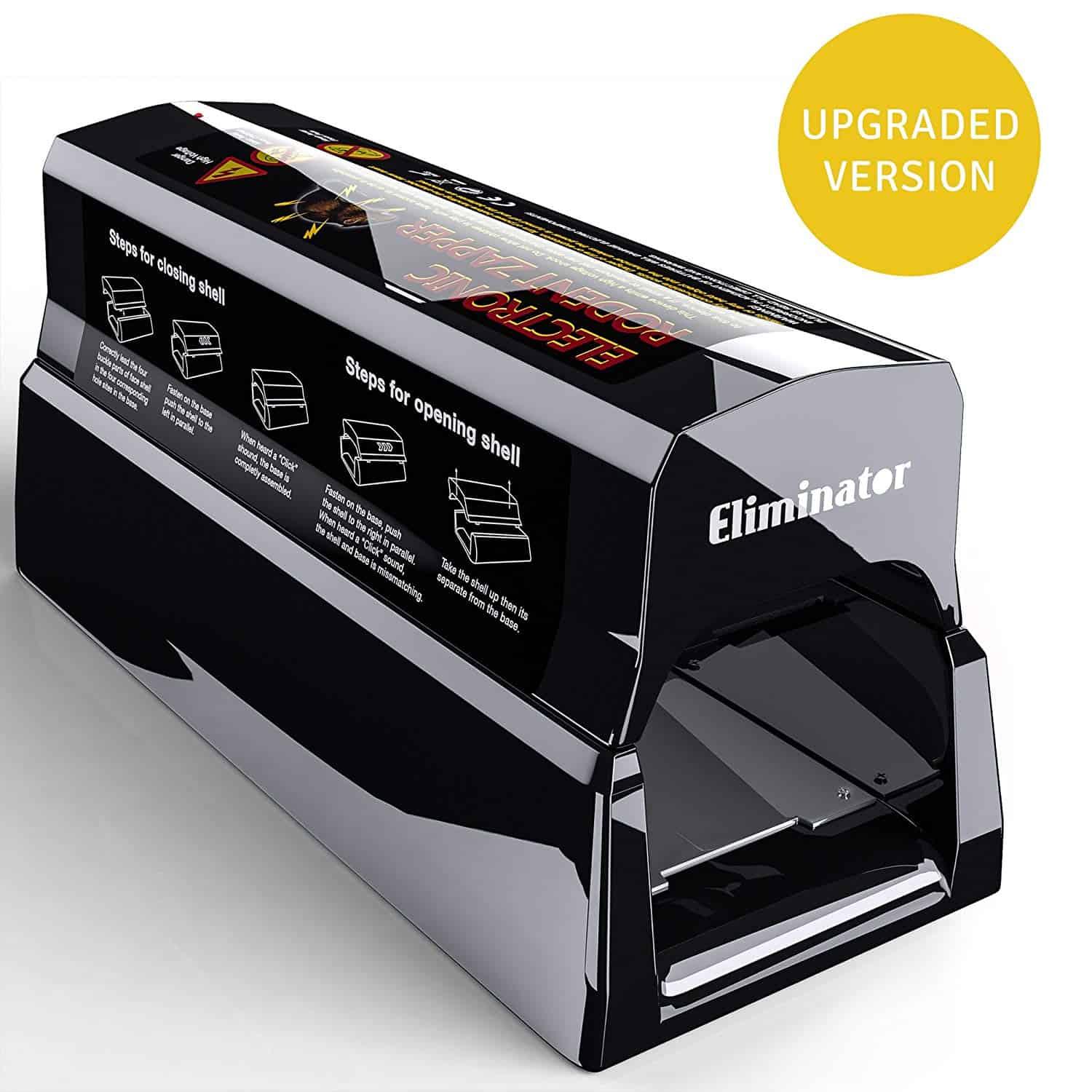 This is one Fancy-Looking Squirrel Trap. Along with it comes an expensive kind of technology too. It has a precision detection technology which activates the trap at the perfect time. No need to assemble it! It's very simple to use. This also does not make any mess and is safe to use.
PROS
​It has a precision detection technology
​Very easy to use
​Can be used either by plugging it in an electric socket or can be powered by batteries
CONS
​More expensive than the average electric squirrel trap
​Does not work for some rodents
Bottom Line:
If you have some extra budget to spare and would want a squirrel trap that works, then this is the best one that you can buy! With its sophisticated design and technology, you're guaranteed to trap all the squirrels in your home in no time.
10. Rugged Ranch The Chipmunkinator Live Chipmunk Trap

The Chipmunkinator by Rugged Ranch is a one of a kind trap. Although this is primarily geared towards capturing chipmunks, you can also use this effectively to capture squirrels. No assembly is required for this trap. Simply place it in the location with the most activity. It has a two-door entry system so squirrels can enter the trap in any side.
PROS
​It has a two-door entry system
​Has a top lid for you to release the animal quickly
CONS
​One of the doors of the system does not open easily
Bottom Line:
This squirrel trap by Rugged Ranch is one of a kind. It's an electronic squirrel trap that has a two-door system to increase the chances of trapping any squirrels lurking around your home.
​Conclusion:
There are a lot of squirrel traps that you can buy. Whether it's for indoor or outdoor use, may it be mechanical or electronic, there's a fitting squirrel trap for any of your trapping needs. But the Kensizer Animal Humane Live Cage Trap can be best described as old but gold. It has become a bankable brand for mechanical rodent trap and it really delivers. It delivers the captured squirrel and other rodents alive for humane and ethical disposal.
The aluminum body and wire mesh also guarantee the durability of the product. No wonder it has been rated 5 stars by 95% of its buyers. It is also available in two sizes which is perfect for moderate to severe infestations.