Your outdoor living spaces such as your backyard, garden, lawn, patio, and pool are just as important as the rest of your house. It can be a perfect place to wind down after an indoor dinner or make it the place to have dinner as well. But there can also be some hassles that might hinder you from hosting gatherings outdoors – mosquitoes.
Nobody wants to ruin the mood with insect bites and buzzing sounds. Nobody likes to hear zapping sounds in the middle of a good conversation. Well, we've got you covered, and we will make sure that it will not only help you get rid of insects, especially mosquitoes but it will also help create a relaxing ambiance and a fantastic look to your next dinner party.  Here are the best tiki torches for your mosquito repellents.
Top 10 Best Best Tiki Torches or Repellents
Make your garden a whole new world with these garden torches from Tiki. It features a modern contemporary design with copper finished metal enclosing a canister inside. The Easy Pour wide-mouthed canister will ensure a mess-free transfer of fuel. It also comes with a durable fiberglass wick that burns bright and will set a great mood in your garden.
It has an adjustable stand that converts in two sizes. The full-length stands 65 inches and will be perfect as a perimeter and patio lighting. It can be lowered to 50 inches, should you prefer light in seating areas or by the pool.
The brand recommends their own Tiki Brand Bite Fight Torch fuel which acts as a mosquito and insect repellent. Extinguishing the fire from the torch will also be simple with a metal snuffer that comes with it. Each pack comes with four (4) torches.
Pros
​Flexible, modern design
​Metal material
​Fiberglass wick
​Convertible torch height
Cons
Bottom line:
Nothing beats a great design and craftsmanship. This high-quality and premium-looking torch does not only serve as decorative outdoor lighting but an insect repellent too. Although the brand recommends its own mosquito repellent fuel, users may still opt for your preferred brands as long as it is compatible with this Tiki torch.
If you are looking for a true-blue weatherproofed garden torch, you should definitely look for a stainless steel one. H Potter Copper Torches are made with high-quality stainless steel and are rust- corrosion-proof. The hand applied copper finish gives an elegant and rustic look to the torch.
These torches come with a black powder-coated metal stand which is approximately 6 feet in height and 7 inches in diameter. This thickness will guarantee to support the torch itself, and it will not topple because it also comes with deck mount with the same finish. Should you wish to put it on your garden, it can be staked on the ground.
The canister holds 24 ounces of fuel or insect repellent oil which can be bought separately. If you use a mosquito repellent oil, it burns and diffuses the scent to drive away mosquitoes and other insects. To extinguish the flame, all you have to do is cover the wick with its snuffer cap attached to a brass chain. Each pack comes with two (2) torches.
Pros
​Premium quality torch
​Compatible to mosquito repellent oils
​Set comes with a stand, snuffer cap and deck mount
Cons
Bottom line:
Quality comes with a price, and with H Potter Copper Torches, every penny you spend is worth it. It is made with high-quality materials and is built to last. You will never have to worry about disassembling the torches in preparation for rainy days because the deck mount will surely keep it stable.
Form meets function with the Legends Direct Tiki Torch. One of their obvious advantages is it comes in six different looks and colors. If you are into a modern look, you should go for Cranberry (Smooth) and Smooth Nickel. If you are after uniqueness and character try the Hammered Nickel and Hammered Patina. And if you are into a more straightforward and elegant look, Smooth Black and Smooth Copper will suit you best.
Made with rust-proof material Kona Tiki Torch is perfect for your outdoor lighting need. It will instantly create a warm ambiance and a cozy feel to your backyard or pool area. Each torch is equipped with fiberglass wicks and brass wick holders. It also comes with a black pole that is 55.5 inches in height and 1.125-inch diameter.
The torch can be removed from its stand and be converted into table-top lighting. It can be used to burn mosquito repellent oils outdoors and paraffin oils indoors. Wick caps are attached to the torch, and you just have to cover the wick to snuff the light.
Pros
​Convertible from stand to table top light
​Six (6) designs to choose from
​Comes with a snuffer/cover
Cons
​New player in the market
Bottom line:
The variety of options is one of the most important drivers when purchasing, and with the possibilities, Legends Direct can offer, it will surely be a positive selling point for them despite being new in the market.
Everybody loves versatility, and this is what the 4-in Resin Jar Torch from Tiki has to offer. There are four (4) ways to enjoy this product on your outdoor living space. ​
First, you can use it with its long stand, and it is perfect for a wider area of illumination.
Second, you may adjust it lower to be a garden lamp.
Third, you may clamp it on your deck's railing.
And lastly, you may remove the jar and let it serve as a tabletop lighting.
Whichever way you choose to use it, it comes with complete accessories to make this happen.
The package comes with resin jar, a pole that can be adjusted from 36 to 64 inches tall and the deck railing clamp. The torch has a 12-ounce canister, a fiberglass wick, flame guard and a snuffer that is attached to the top portion of the pole.
It is easy to assemble, weatherproof, and made with durable materials. It can use Tiki Brand's Citronella Oil Mosquito Repellent or the Tiki Brand BiteFighter Torch Fuel.
Pros
​Sports 4-in-1 looks and uses
​Made with weatherproof materials
​Flexible height installation
Cons
​Resin material fades over time
Bottom line:
This multipurpose mosquito repellent torch is hard to match. The versatility gives so much value to the product. It is very attractive, and replacement parts are also easy to find. It is perfect for those who are looking for a tiki torch that can serve them for many years.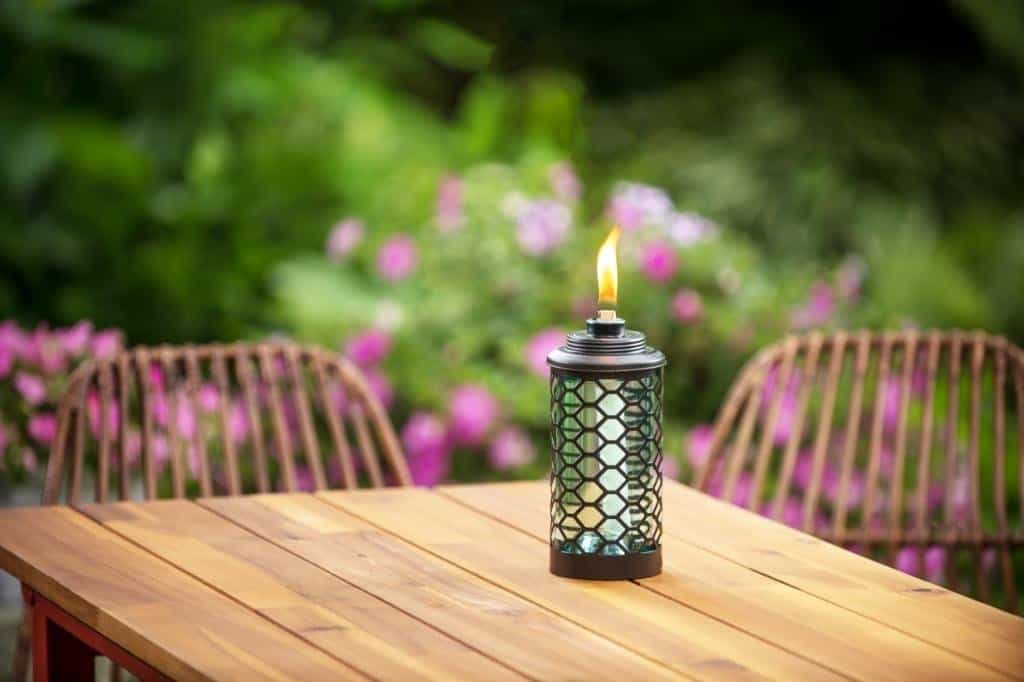 If you need a stylish and statement piece mosquito repellent torch for your next outdoor party, Tiki brand got your back with their Glass Honeycomb Torch. There are more ways than one to enjoy this decorative torch. ​
It can be a full-sized torch at 65 inches or a shorter garden torch at 50 inches. You can also purchase separately cast iron stands with a square base to fully support the torches.
This torch has a blue glass fuel vessel enclosed in a crafted metal to suit a modern style décor. The fuel or mosquito repellent oil capacity of this glass vessel is 17 ounces. It is easy to refill through its wide mouth opening, so it guarantees minimal to zero spills even without a funnel. It can reach up to 10 hours of burn time with every fill.
It only needs a few twists to remove the torch from the stand and take it with you in case you need a mosquito repellent by your sitting area. The wick is made with fiberglass and is long-lasting. A metal snuffer that comes with it just needs to be placed as a cover to put out the flame.
Pros
​Stylish and durable design
​10 hours burn time with 17 ounces of oil
​Multi-purpose torch
Cons
​Cast iron bases are sold separately
Bottom line:
With an overwhelming number of mosquito repellent choices in the market, the design seems to have a lot of bearing when getting the nods of the consumers. Tiki Brand is investing in improving the models of their torches, and this one is really a head turner.
TIKI Brand Glass Honeycomb Torch | Amazon
This torch features a stylish metal design & blue glass fuel vessel, a convertible 4-piece pole, a long-lasting wick & metal snuffer to safely extinguish the flame when the party's over.
Buy at Amazon.com
We earn a commission if you make a purchase, at no additional cost to you.
09/22/2023 04:28 pm GMT
Tiki Brand is proving once again that they are the leader in the mosquito repellent torches category. With more than 60 years of experience, they went back to basics in terms of design, concept, and functionality with this new torch. The Adjustable Flame Rose Torch from Tiki is multi-use. See it transform from a tall stand to a tabletop light after a few twists.
It sports a rose-colored glass with a total burn time of 12 hours per fill. The metal stand has a maximum height of 65 inches, but it can be adjusted to suit your lighting needs. The glass vessel has an adjustable knob that you can twist to customize the flame height. A metal snuffer comes with the set to safely extinguish the flame.
Pros
​Adjustable flame
​12 hours burn time in a single fill
​Multi-use mosquito repellent torch
Cons
​The glass jar is prone to breakage if mishandled
Bottom line:
It sports a classic look with a traditional but very useful mechanism to adjust the flame. It gives users the freedom to control the scent emission as necessary, and it is perfect for mild to severe mosquito infestations.
TIKI Brand Adjustable Flame Rose Torch | Amazon
This torch boasts a 12-hour burn time as well as our innovative new adjustable flame. Simply twist the knob to easily customize the flame height to suit your lighting needs!
Buy at Amazon.com
We earn a commission if you make a purchase, at no additional cost to you.
09/23/2023 04:24 am GMT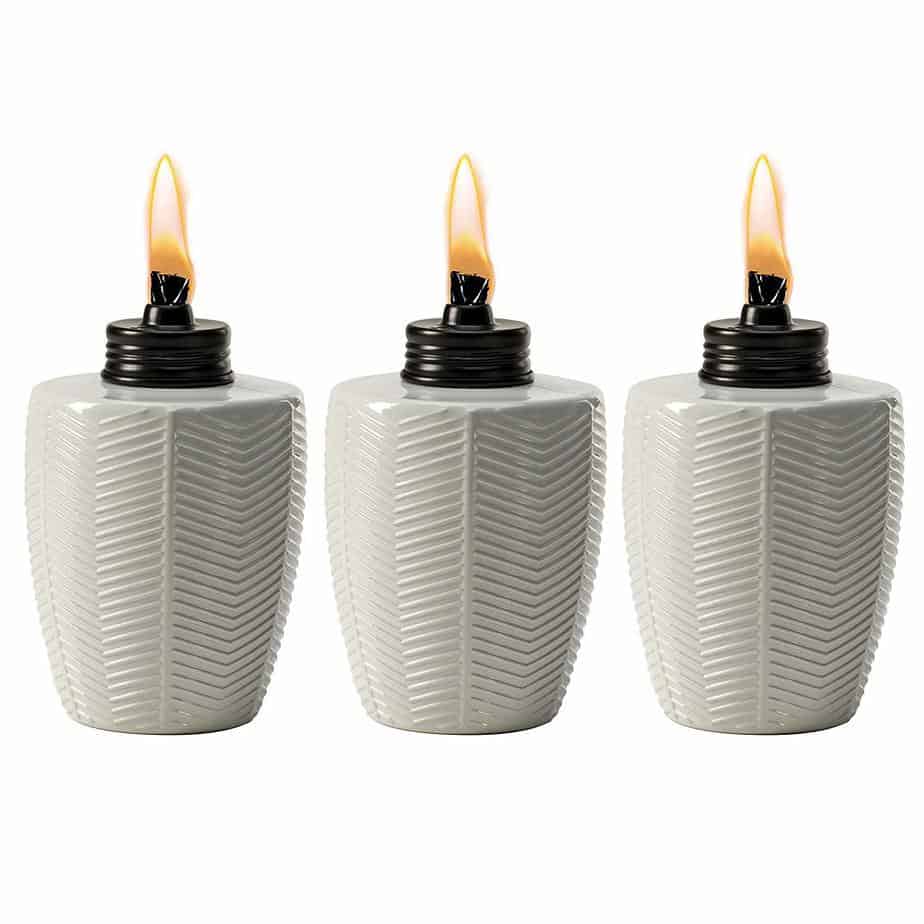 If you need a table-top mosquito repellent torch then you need to check out this perfect centerpiece. Tiki Herringbone Glass Tabletop Torch adds glam to every table setup while protecting you and your guests from mosquitoes wandering around. You can use a single torch or combine several pieces in white or black color. Each fill can last up to 4 to 5 hours – perfect for a catch-up dinner with your friends and family.
It is equipped with Tiki's fiberglass wick, and the torch body does not get hot to touch even for hours of use. Tiki offers a wide selection of fuel and their bestseller TikiBrand Mosquito Repellent Oil is the perfect one if you need this torch to diffuse mosquito repellent. Like most Tiki torches, it comes with a metal type snuffer to put out the flame.
Pros
​Decorative tabletop torch
​5 hours burn time in a single fill
Cons
Bottom line:
This perfectly-sized torch will surely be a hit on every household's table, it should be because it is not only effective, but it helps create a warm and cozy look to every place you put it on.
TIKI Brand Herringbone White Glass Tabletop Torch | Amazon
Few things are as enjoyable as dining outside with family and friends. Next time you dine al fresco, gather everyone around your table to experience the warm glow of natural flame lighting. A TIKI® Brand Herringbone Table Torch makes a perfect centerpiece to illuminate your table and your conversations.
Buy at Amazon.com
We earn a commission if you make a purchase, at no additional cost to you.
09/22/2023 09:38 pm GMT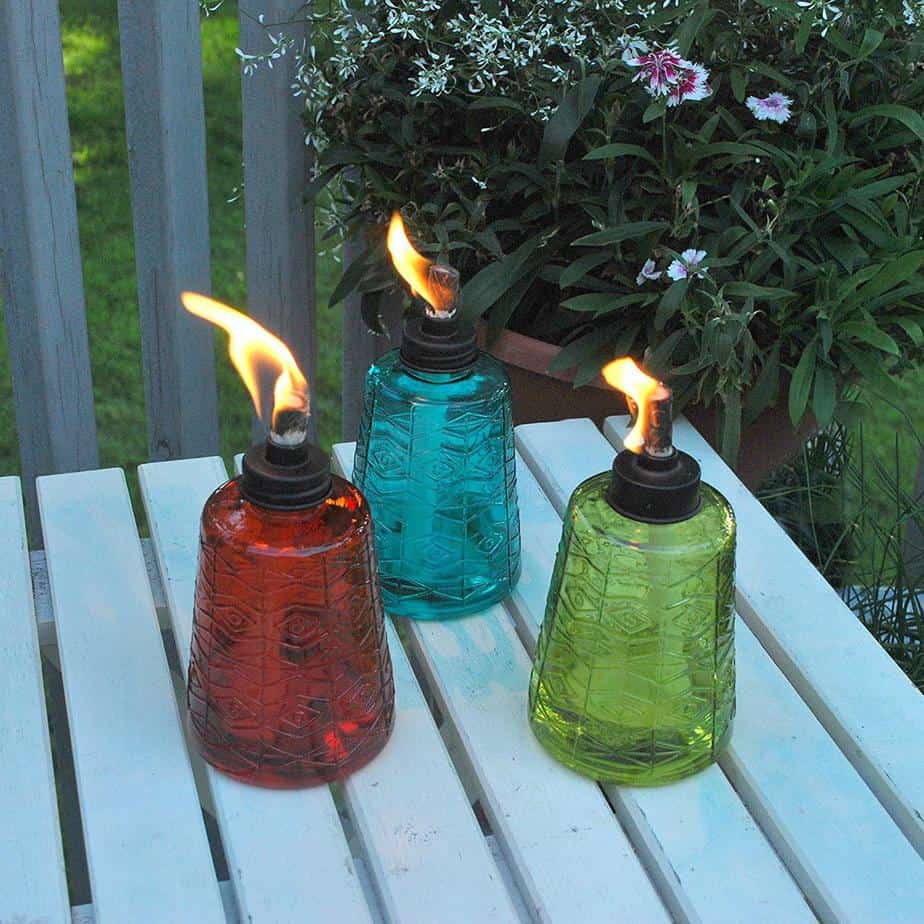 Some homeowners follow a particular theme for their décor at home. There are also those who change their theme depending on the season. If you are one of those, then these colorful and vibrant Tiki Molded Glass Torches should be included in your collection.
This tabletop torch is 6 inches in height with a 3 inches in diameter bottom. It holds 12 ounces of fuel that burns for 5 hours, and there will be no guesswork whether it is time for a refill because it is easy to see through. It has the standard fiberglass wick from Tiki that delivers a beautiful flame and can quickly be extinguished with a metal cap. Each set comes with three (3) colors – Red, Green, and Blue.
Pros
​Colorful, decorative tabletop torch
​5 hours burn time in a single fill
Cons
Bottom line:
Tiki brand will never let you down with its wide selection, and this particular line appeals to keep their décor fun and colorful while driving the mosquitoes away.
TIKI 6-Inch Molded Glass Table Torch | Amazon
TIKI Brand brings a pop of color to your outdoor tables. Enjoy the benefits of TIKI Brand torch fuels, combined with elegant natural flame ambience on your tabletop. You'll love outdoor dining and entertaining with these wonderful glass pieces!
Buy at Amazon.com
We earn a commission if you make a purchase, at no additional cost to you.
09/23/2023 12:49 am GMT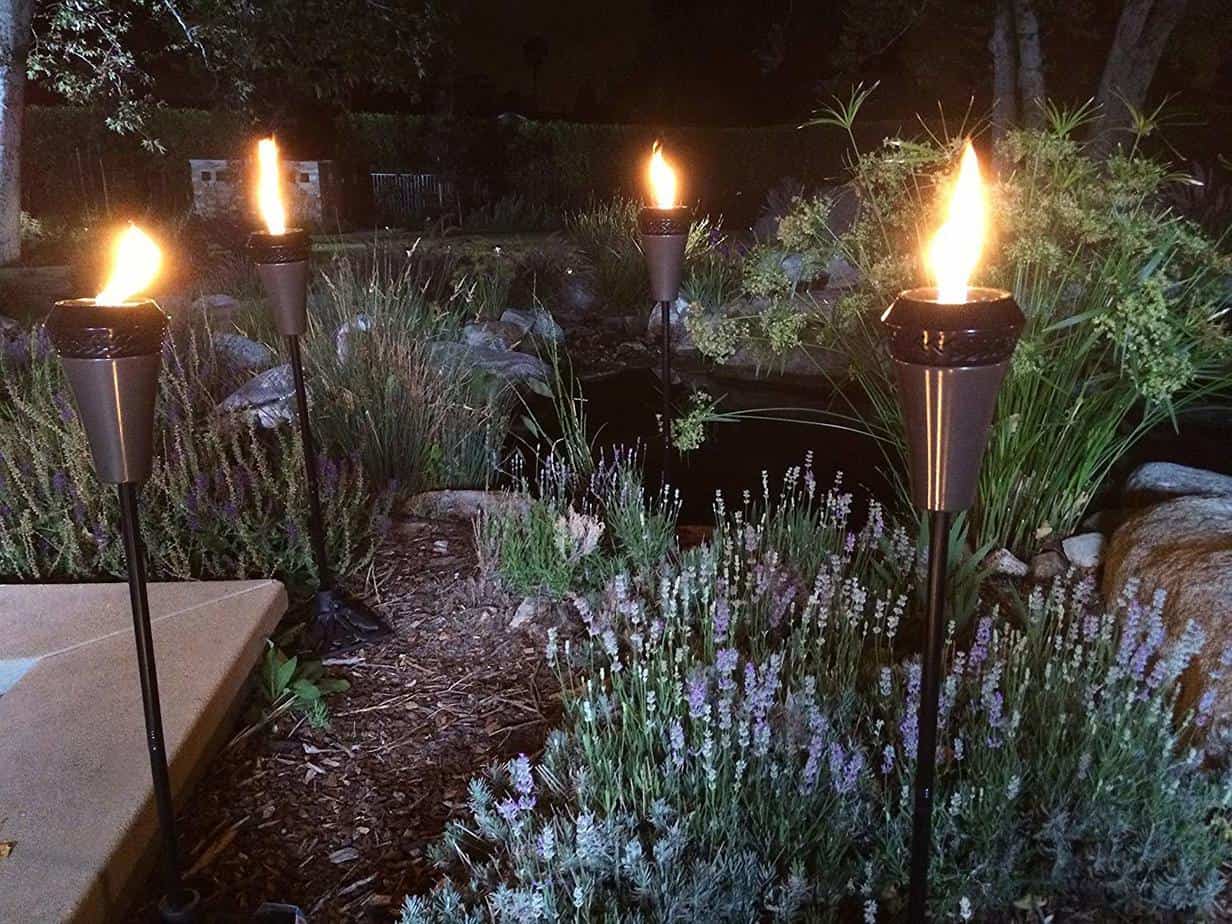 Nebraska, Kansas, South Dakota, North Dakota, and Iowa were named as the windiest States in the US. If you live in these areas, you might want to take a look at a torch that can withstand the wind. Tiki Brands' Island King Large Flame Torch is best suited for areas that are windy all year round. Unlike other torches, it has a design bowl that keeps the wind from putting out the flame. The torch body with a metal frame with a gun-metal finish.
It is easy to fill the torch with fuel with its Twist & Pour Technology on the top part of the bowl. It also produces as much as 5x larger flame that regular Tiki torches. The metal snuffer is also magnetic and does not need a chain attachment and will never be blown out by wind too.
Pros
​Designed to withstand wind
​4x large flame
​Easy fuel refill
Cons
​Reports of rusting on the bowl
Bottom line:
Tiki Brand tops all their torches with their largest and best-performing torch even during windy seasons with their Island King Large Torch
If you are a fan of the beach vibe, then this Tiki Swirl Metal Torch with Blue Bubble Glass will surely be appealing to you. The package comes with a cone-shaped glass vessel with a swirl metal holder that attaches to the poles. The pole contains four (3) pieces of attachable steel that only needs to be twisted to assemble.
Each 8-ounce fill of the torch burn for up to five (5) hours. The glass doesn't get hot even after hours of use. It can be used with different Tiki brand fuels and mosquito repellents. It also comes with the standard metal snuffer and fiberglass wick.
Pros
​Unique, decorative glass design
​Holds 8 ounces of fuel
Cons
Bottom line:
This is one of the most affordable torches under the Tiki umbrella yet it does not disappoint in the design and durability aspect. It will be a great addition to any garden.
Conclusion
Mosquito repellent torches in the market are one of the brilliant ideas to get rid of mosquitoes in your outdoor living space without the use of chemicals and fumes from fogger or the annoying sound of mosquito zappers.
It is also undeniable that it can also be a stylish addition to your garden. If you have ordered one of these torches already, sit back, relax and get ready to through that backyard dinner soon.