Wasps are the closest insects to resemble bees. They can be mistaken for bees but they are slimmer, longer, and are not hairy. They tend to be aggressive and territorial.
They will definitely attack when they feel like their habitat is threatened. Equipped with a long stinger that they can use multiple times, wasps can inflict pain and severe allergic reaction that may lead to death.
Wasps are also social insects and live in colonies like bees. The queen's first offsprings become workers, and as they multiply, the nest-building becomes faster. The queen is housed in the nest, and the chambers are made for wasp eggs. Therefore, the fuller the nest is, the more wasps are working on it.
Unlike bees, wasps do not live in a habitat that is made with wax. Although they are honeycomb-like chambers inside it, their nest is made with wood fiber coming from weathered wood.
They build it by mixing the chewed on wood with saliva. Wasps can build their nest in the perimeter of your home out of the exposed weathered and untreated wood.
This is why it is important to prevent wasps from building their nest in the perimeter of your home or garden. They do not only pose a danger to humans but to our homes as well. We searched for the wasp repellents in the market today:
The 7 Best Wasp Repellents for 2022
Hot Shot is a known manufacturer of insect traps, repellents, and killers. This wasp repellent not only drives away wasps but other insects as well. It is suitable to be used in areas where people do not frequent in like garages, sheds, attics, and basements. It uses a sustained-release technology that slowly diffuses vapor for up to four (4) months.
It kills flying and crawling insects and prevents new ones from inhabiting areas where the Hot Shot No Pest Strip is used. Each pack contains four (4) pieces of continuous acting insect repellent. It is guaranteed odor-free and will not leave any stains or residue in the enclosed area.
Pros
​Made by a known brand of insect killers
​Can be used for up to 4 months
​Easy to use
​Can be used during outdoor activities
Cons
​Works best in enclosed areas only
Bottom line:
With a trusted brand like Hot Shot, every product comes with a guarantee that it is going to be effective. Wasps can inhabit even inside our homes, especially in places where there are fewer disturbances, and it is great to have an effective wasp repellent for these areas.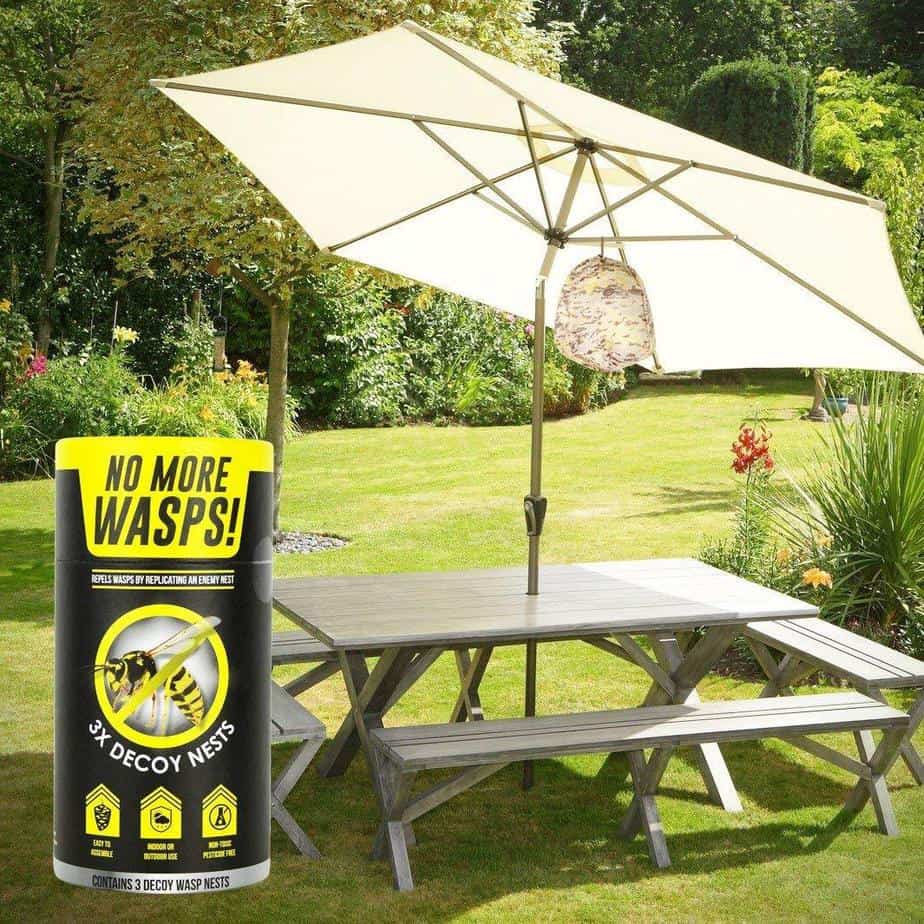 Knowing that wasps are territorial insects in nature is vital information in combatting them. This is the very reason why decoy nests are sprouting like mushrooms in the market. Luigi's Wasp Deterrent features an artificial nest that resembles the natural nest of wasps. Each pack contains with three (3) pieces of wasp nests that are free from chemicals, powders or scents.
Decoy nests like this signal the wasps that a rival nest is already in the vicinity and prevents them from building another one nearby. It is easy to set up too! The nest comes like a flat cloth inside the container. It has an opening and a drawstring. Simply fill the nest with old newspapers or plastic bags inside to form it and hang it anywhere you like. It can be placed in the garden, patio, under a pool umbrella, in the attic or the basement.
It is made with high-quality and durable materials and can be used anywhere, even during campings. The brand also offers a money back guarantee or a full refund if you are not happy with the product.
Pros
​Mimics the natural nest of wasps
​Does not kill the wasps but drives them away
Cons
​The material tends to fade due to sun exposure
Bottom line:
If you are among those who want to avoid wasps ethically, this is the best way to get rid of them without killing them. It is smart to use their territorial attributes against them through this design.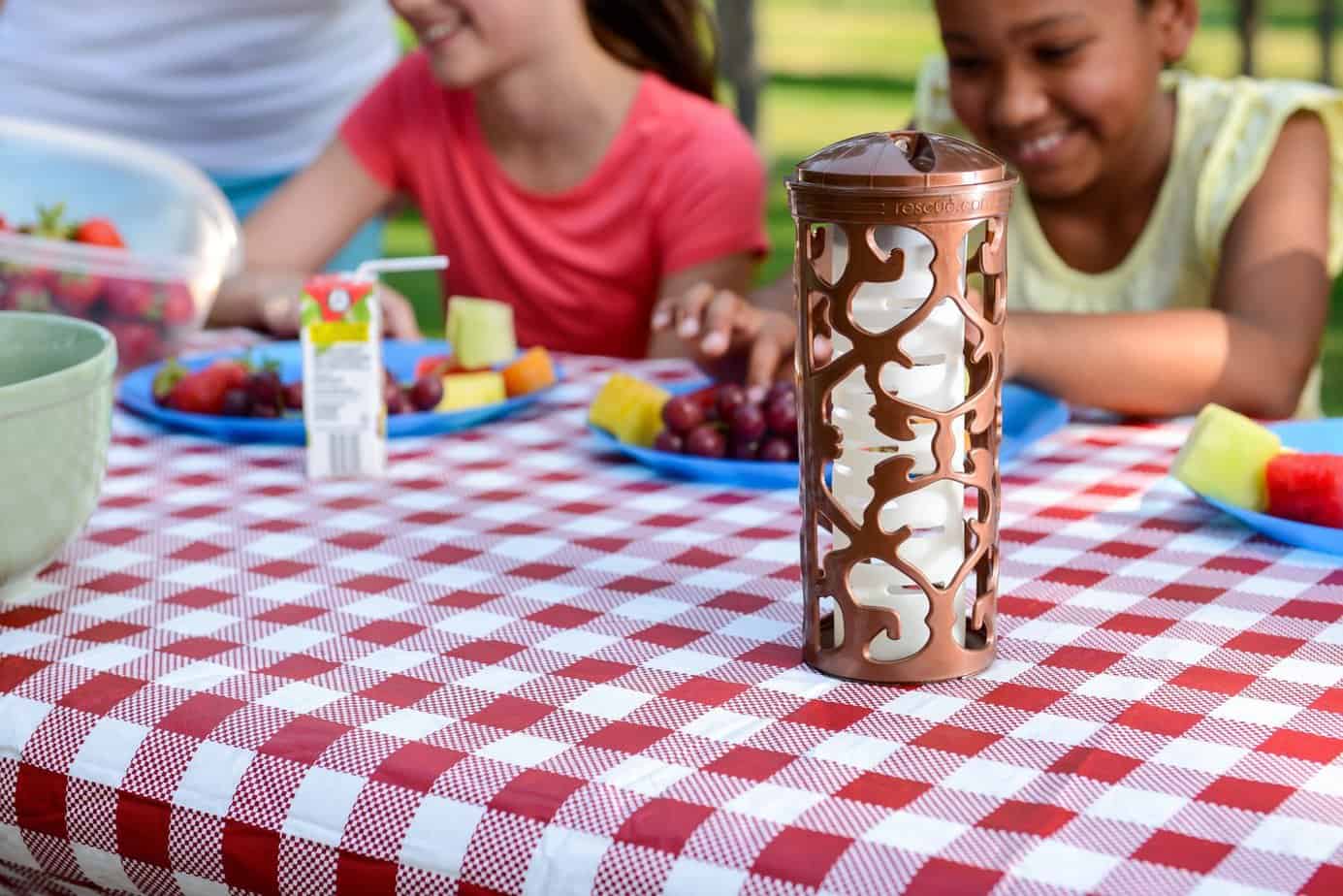 Not all wasp repellents look nor smell attractive, so the DecoShield from Rescue saves the day. DecoShield is a decorative LED light that emits a pleasant scent from that ward of insects most especially wasps, hornets and yellow jackets. It is ideal for indoor and outdoor use and can provide a wide area of protection of up to 300 square feet.
It uses all natural essential oils that are safe for humans, pets, and the environment. The refill can be used for up to 10 days with up to 5 days of protection after the last day of use.
It is perfect for any location, for every occasion. It can serve as a light and protection from insects during outdoor parties and campings. It is easy to set up and use. All you have to do is to stock up on refills.
Pros
​Decorative wasp repellent
​Uses natural essential oils
Cons
​Insects might outgrow the scent
Bottom line:
It serves the purpose of being a decorative and all-natural wasp repellent. But whether it actually drives wasps away or just keep them at a certain distance is uncertain. The best way to address this is to strategically place multiple units in areas where wasps are frequently seen.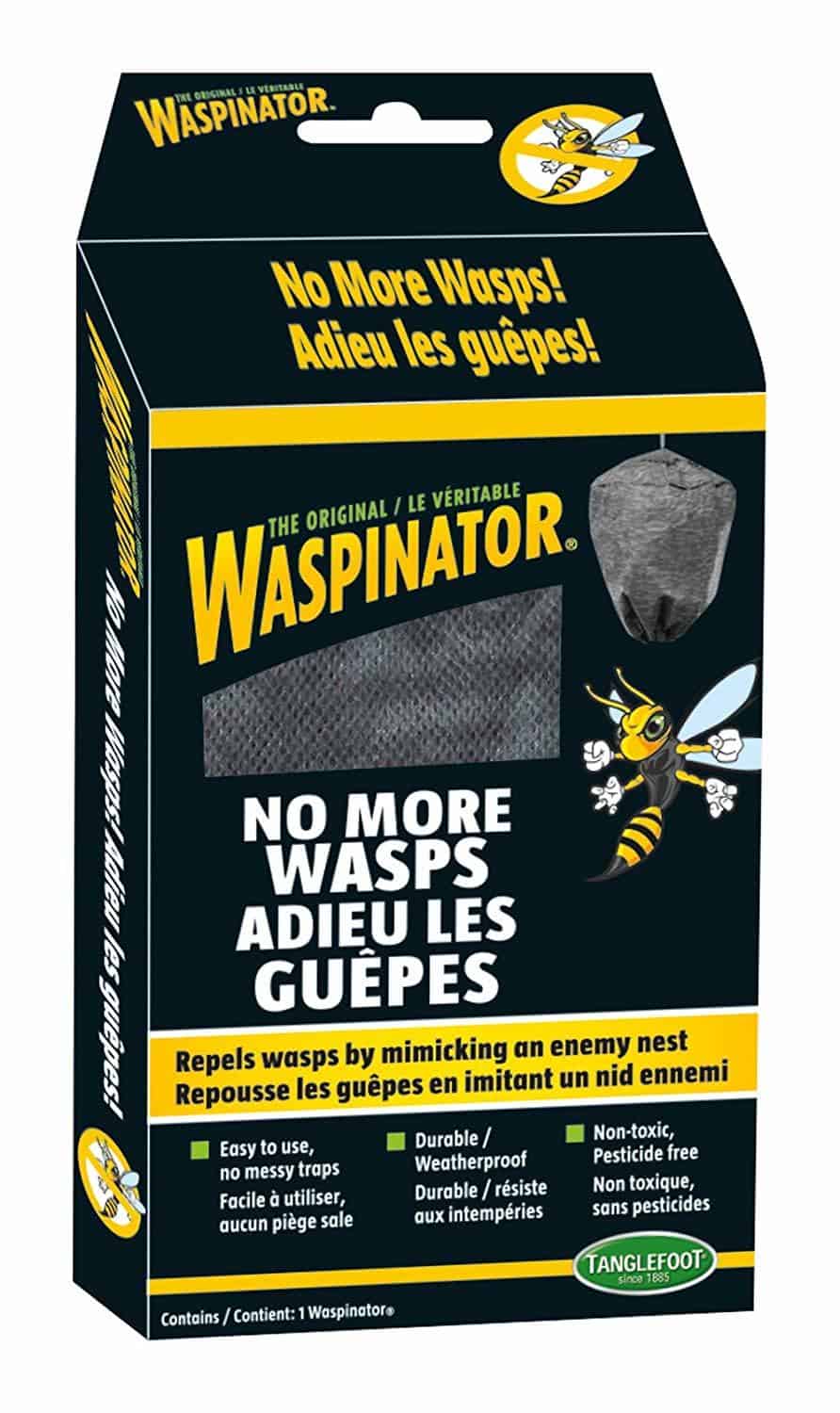 Who would have thought that in just three easy steps, you can already drive away wasps roaming around your home? The Tanglefoot Waspinator is the first wasp decoy in the market. It is a dupe of a wasps nest – true to its color and size.
It is a small, sack-like cloth that has a drawstring on top. It can be hanged on the corners of your house, in the gazebo or in your garden. The fabric used for the Waspinator is weatherproof, durable, and does not fade.
It also does not contain any chemicals and will just serve as a false warning to wasps that the area has inhabitants already. It is advisable to use fillers like recycle plastic and paper to keep the Waspinator in shape.
It is ideal for home and garden use but can definitely be used in campers, trailers, and for other outdoor activities.
Pros
​Mimics the natural nest of wasps
​Does not kill the wasps but drives them away
Cons
​Might not work in heavily infested areas
​Bottom line:
Most of us still rely on all-natural remedies even for warding off insects. This is the appeal of the Tanglefoot Waspinator. It does not kill the wasps but drives them away. However, insects are usually adaptable and curious, and when they become overpopulated in an area, this might no longer concern them.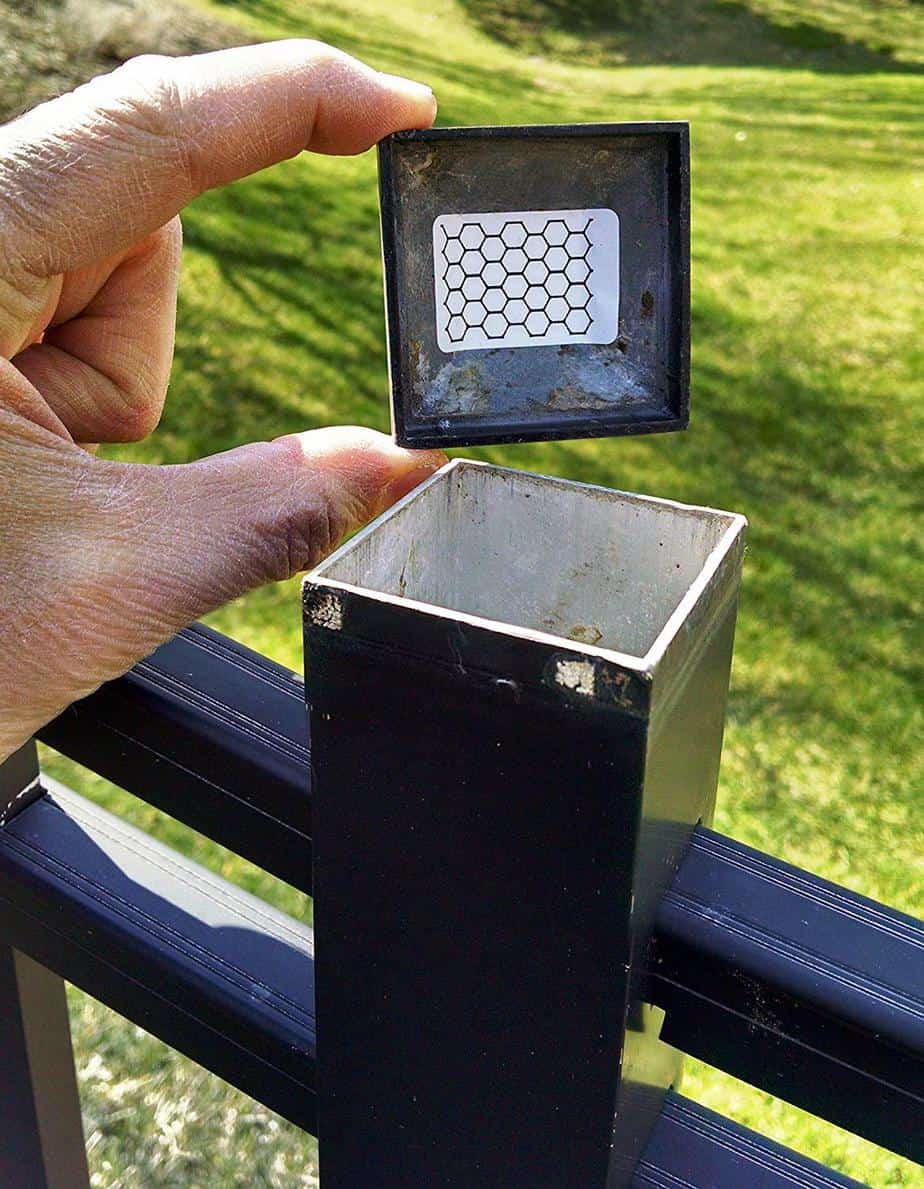 Wasps can squeeze through tiny openings just to find a prospect location for their nest. There are parts of our homes that may go unnoticed, especially the overhangs in the roof or the eaves where they might be exposed weathered wood. Since wasps build their nests through this material, they will most likely want to get it nearby. It is essential to protect these parts of the house as well.
The Upper Bound Honeycomb Deterrent Stickers are wasp repellents that you can simply stick on areas where other types of repellent cannot be placed. This is perfect to be placed on wooden fences, deck railings, roofs, attics, and basements. Since wasps are territorial, the honeycombs will warn them as if another colony has just started building there.
It does not emit any scent and does not have any chemicals in it. These are also weatherproof and stick on any type of surfaces.
Pros
​Can fit in narrow spaces
​Mimics the natural nest of wasps
​Does not kill the wasps but drives them away
Cons
Effective for flying insects only
Bottom line:
Repelling insects sometimes require multiple interventions. And with insects as like wasps which can fly high and small enough to explore in tiny spaces, the Upper Bound Honeybom Deterrent Stickers are the most suitable complementary solution.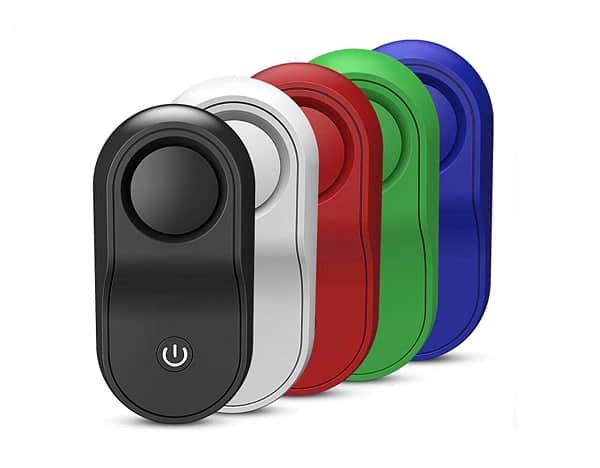 If you have a wasp problem indoors together with other insects, you need a solution that has broader coverage. This 4D Ultrasonic Pest Repeller targets almost all kinds of crawling and flying insects and even rodents. It produces variable ultrasonic and electromagnetic waves that disturb the insects instantly. In a couple of weeks, it has penetrated the insects' central nervous system and will force them to find a way out of the house.
It uses the latest ultrasonic technology that is paired with a 4D magic speaker. This speaker will enhance the waves to penetrate hidden areas. So wasps that may be hiding behind cabinets or ceilings will be disturbed and driven away.
It is eco-friendly, chemical-free, and safe for pets and the whole family. It is tiny and compact and will work on any 110V outlet at home. It also comes in five (5) fun colors to match your interior.
Pros
​It deals with other insects aside from wasps
​It is environment-friendly and chemical free
Cons
​It requires electricity and may only be suitable indoors
Bottom line:
Ultrasonic devices have proven how effective they are over the years. The 4D Ultrasonic Repellent having the latest technology and hardware will surely drive away wasps threatening to enter or are already hiding inside your home.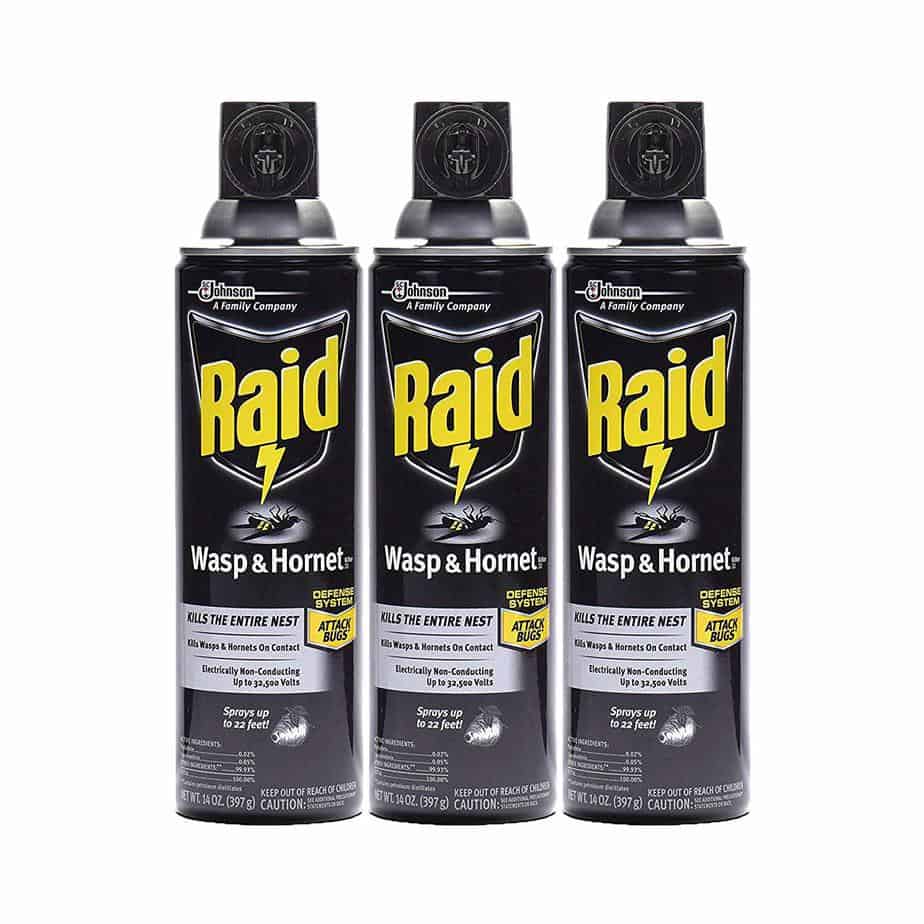 Raid is one of the trusted brands of multi-insect pest killers in the market. Their global presence says so much about their product. They have a wide variety of products like insect sprays, traps, and baits, but their sprays are still the top favorites of homeowners.
Their Wasp & Hornet Killer Spray is an excellent solution once you have found a wasp nest around your house. It kills the queen, the worker wasps, and even the eggs inside the nest, spot one.
The best way to use this product is to identify where the nests are. The next step is to observe the activity outside the next. If there are plenty of wasps flying around, wait for the time when there is only one or two roaming around. Stand 22 feet away from and nest and spray the product directly.
The solution kills in seconds, but it is very important to keep the recommended distance to avoid getting stung by disturbed wasps if any. This insect spray can be used on wasps, bees, hornets, and yellow jackets. It is also free from chlorofluorocarbons (CFCs) that is detrimental to the atmosphere.
Pros
​Can kill the entire colony of wasps
​Destroys the nest and remaining wasps will never go back
Cons
Bottom line:
This Raid Wasp & Hornet Spray can be a dose of their own medicine for wasps, it does not only repel, but it can wipe out an entire colony. Once it destroys the nest, the wasps will not have a place to return to.
Conclusion
Wasps are obviously one of the must-get-rid-off insects and the variety of options to repel them is can be overwhelming. Repelling them in the most ethical way works best for them and the environment as well.
Believe it or not, they play a vital role in preventing pests that can damage crops like caterpillars and beetle larvae. They are welcome to roam around and but to stay, that's where the wasp repellents come in.