Snakes are probably the most unthinkable and the scariest animal that could get inside and live in your house. If you've seen the movie Snakes on a Plane or Anaconda, you might probably hate the idea even more with just this thought.
In some states in the US, finding a snake or two occasionally coiled in a corner or crawling out of the house is normal. Snakes are reptiles or cold-blooded animals and they need to find a place to keep them warm when it gets too cold in the wild for their bodies to handle. The perfect places to burrow are caves, dead trees, underground or under the house.
Although most venomous snakes don't just go out and find shelter in a habited area, you cannot leave anything to chance. Children are the most susceptible to snakebite deaths because they can mistake these crawling animals for a toy and they won't be able to elaborate on the incident in case they are too young. The best way to detect and capture suspected snakes in your home, we are recommending these ten (1) best snake traps for you to try:
The best way to catch snakes is to lead them to your trap by piquing their interest. This tunnel-shaped trap will surely be an interesting hiding place for snakes. The thing with this tunnel trap is that they can make their way in but definitely there is no way out.
The 40-inch tunnel has a stronghold adhesive liner that will prevent any snake that enters to crawl out. The sliding adhesives allow the snake to comfortably find its way it and this ensures that the snake will remain inside the trap.
The trap is weather-resistant and can be placed in the narrowest areas inside the home or in your garden. Should you wish to place it outside, it can be firmly secured by ground spikes. This trap does not kill the snake it catches so you can easily turn it over to wildlife rescue centers. The snake can be removed from the trap by applying vegetable oil. The trap is also reusable and the catch liners are replaceable.
Pros
​Designed to attract snakes with its shape
​Reusable trap and replaceable liner
​Durable material
​Can be used indoors and outdoors
Cons
​Must be installed where water does not accumulate
Bottom line:
The design of this trap is clever and will surely attract snakes that may be living around your home or have gotten into your house. It does not kill snakes but trap them. It is advisable for homeowners to check the trap often to avoid leaving any trap snake to die.
2. Cahaba Snake Trap Large
Cahaba Snake Trap is a box-type trap which has an adhesive trap at the bottom. It can catch medium-sized snakes or a dozen small ones. It has a black exterior with tunnel-like holes on the side.
It can be used indoors or outdoors, 24/7, regardless of the weather. Users report that this trap can catch as early as 3 days of use. What's great about this is that the glue insert is weatherproof as well.
If you intend to use this for monitoring snake activity in your area, it will last you a long time as long as you don't catch any. If you do, all you have to do is replace the glue sheet and you're good to catch again.
The large snake trap measures 32 inches long and 10 inches wide. It is made with a high-density plastic. It comes with 1 catch insert.
Pros
​Will attract snakes looking for a place to get warm
​Can trap as many as a dozen small snakes and a couple of large ones
​Made with durable high-density plastic, reusable
​Weatherproof glue trap
​Can be used indoors and outdoors
Cons
Bottom line:
This trap is perfect for those who suspect a snake infestation in their area as it can hold quite a lot of small snakes and a single trap is enough for a large one, The adhesive they use in the trap is professional grade yet the snake can be released by using vegetable oil.
3. Harris Supersized Snake Glue Trap
This Multi-Purpose Glue Trap from Harris offers a wide trapping space and a super-strength glue board. It is perfect for trapping different kinds of insects which is also a good way to drive a snake towards the trap.
It can be used folded or you can it spread to cover an area of 15 inches x 10 inches. The ultra sticky adhesive used for this trap does not wear off even if it is exposed to air and will surely trap snakes and even large rodents on contact. It is completely odorless and chemical-free and it suitable for indoor use.
Pros
​Multi-purpose trap
​Extra strength adhesive
​Can be used folded or opened
​Can trap small to medium snakes and other pests
Cons
​For indoor use only
​Not reusable
Bottom line:
More than a trap for snakes, this can also serve as a trap of other pests. If you have a snake or snakes hiding inside your home, any trapped insects can be a good bait for them to get caught as well.
4. Kensizer Humane Indoor & Outdoor Trap
This Kensizer Old Fashioned Animal Trap is a cage-type trap made with stainless steel wire mesh and steel frames. It can be used for the bait and trap method for snakes. This originally is designed to catch rodents, squirrels, possums, and chipmunk but it can also be used for monitoring and catching snakes in your yard.
The sensitive trigger mechanism automatically closes the door upon contact. For small snakes, they can be trapped inside, but for longer ones, they might still find their way out so this is more suitable for the small ones.
Pros
​Multi-purpose trap
​Stainless steel material
​Can trap small snakes and other pests
Cons
​For indoor use only
​Might kill or injure the snake one the door locks
Bottom line:
The sensitivity of the trigger lock mechanism is impressive but it might close as the snake finds its way it causing injury or death to the animal.
5. Valbrenta Mouse Glue Traps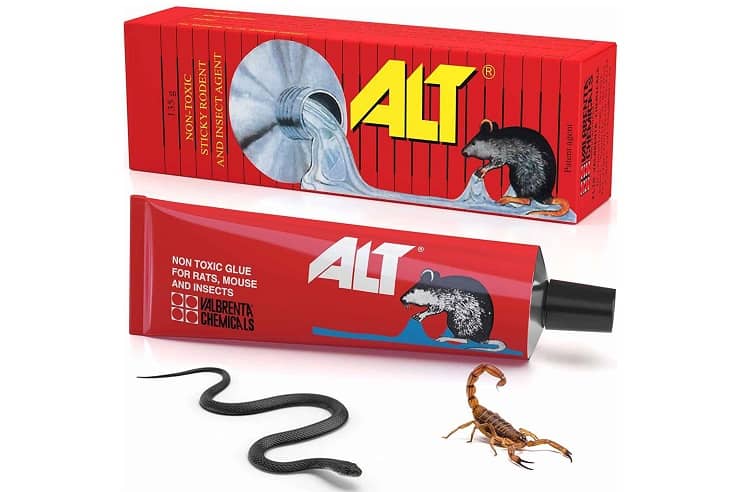 If you're a homeowner who wishes to customize the size of your traps depending on the location, then you will definitely need a glue trap that can be used on any surface and is weather-resistant.
The Valbrenta Mouse Glue Trap is a professional strength glue in a tube. It can be dispensed and used on many types of surfaces including paper, cardboard, glass, plastic, and wood. It is guaranteed to work on indoor and outdoor spaces. It can be used to trap rats, mouse, snakes, scorpions, lizards, and more – with or without bait.
It is also safe to use with kids around and is odorless, eco-friendly, and non-toxic. The glue will not dry up even when exposed in the open air for up to three (3) years.
Pros
Very easy to use
Produces no chemical smell
Dissipates quickly
Covers 5,000 sq. ft. of land quickly
Can penetrate deep into mosquitoes' hiding places
Cons
Effective for flying insects only
Clogs up when other insecticide products are used
Needs to be at the right temperature
Bottom line:
If you are concerned for the environment and you want to recycle cardboard, plastic or glass that you can use as a base for this glue trap, this will surely work for you. The extra strong adhesive will surely catch your target pests including snakes.
6. Catchmaster 72MAX Pest Trap
If you have spotted freshly hatched eggs and suspect that small snakes are living in your house or under, you need a smaller but more concentrated number of traps. That's what the Catchmaster 72Max Pest Trap is for. It is originally intended to catch mice and insects, but it can be inviting for snakes too due to its tunnel design.
It is made with foldable glue boards, with peanut-scented adhesive. It is most suitable for indoor use specifically in your basement, kitchen, bathroom, or in areas where you have identified cracks and plumbing problems.
Pros
​Small traps that can be placed in confined spaces
​Easy to fold and use
​Can trap small other pests and insects aside from small snakes
Cons
Bottom line:
This trap is recommended if there is a suspected infestation or hibernation of small snakes in your home. It will not trap medium to large snakes. It is best to use multiple traps in an area.
7. Vex Research 2019 5-Pack Mouse Glue Traps
The Vex Research Trap come as a value pack of 5. The size of the trap is decent and the shape can be modified between triangle, box or flat. It uses professional strength glue that is non-toxic and pesticide-free.
The brand guarantees that once the snake and other insects are caught, they stay in the trap. This trap is designed for indoor use, and the trap can be moved from one location to another once you haven't caught any insects within three (3) days.
Pros
​Easy to modify the shape to fit narrow spaces and corners
​Easy to fold and use
​Can trap small other pests and insects aside from small snakes
Cons
Bottom line:
This trap can be used to monitor snake and other pest activity in your home. It is versatile and can be used as a trap in any indoor space.
8. Catchmaster 402 Baited Rat, Mouse and Snake Glue Trap
The Catchmaster 402 Batied Trap is pre-baited with professional strength glue that has an inviting scent to pests like snakes. This specially designed formula can last up to one year without hardening, and it can be placed in the kitchen, under the sink, in the bathroom or basements – areas where snakes might be keeping themselves warm.
It can fit almost anywhere and will be perfect when placed perpendicular to walls with cracks. It can also be placed under furniture and beds. The traps are non-toxic, durable and long-lasting. It can also be transferred to another location once you've monitored an area for at least three (3) days.
Pros
​Easy to fit under cabinets, sinks, and furniture
​Use instantly
​Can trap small other pests and insects aside from small snakes
Cons
Bottom line:
With the Catchmaster brand, one can rely on its quality. The trap has specially formulated glue that attracts pests and doesn't dry up for at least a year.
9. Blue-Touch Jumbo Rat, Mice, and Snake Traps
While most traps may be advertised for catching and trapping the mouse and other rodents, snakes are just a bonus. Blue-Touch Jumbo Traps are really designed made for trapping snakes, among other pests. This one-foot trap can either trap a small snake or prevent a medium or large one from leaving the house without alerting the homeowner.
It is made with a durable plastic base and a peanut-scented glue trap that is non-poisonous and non-drying. Any pest you catch with this one can be disposed of easily.
Pros
​Large trapping area
​Easy to fit under cabinets, sinks, and furniture
​Use instantly
​Can trap small other pests and insects aside from small snakes
Cons
Bottom line:
The purpose of traps is not to instantly kill but to confirm pest infestation and to get rid of them the most ethical way possible. For snakes, they can be removed using vegetable oil while other pests can be disposed of properly.
10. Frabill Minnow Trap
This is another trap that is intended to catch a different animal that has proven to be effective in catching snakes. The Frabill Trap was designed to catch minnow fish in the water. The trap is built with vinyl-dipped steel mesh with a narrow opening. It aims to let the snake in and prevent it from crawling out again.
It can be used vertically or horizontally, indoors and outdoors. For effective luring, users can put raw or boiled egg as a bait.
Pros
​Large trapping area
​Can be used vertically or horizontally
​Can be used indoors and outdoors
​Easy transport of trapped snake
​Can trap small other pests and insects aside from small snakes
Cons
​Might work best with a lure like a raw or boiled egg
Bottom line:
Traps like these which are intended for other animals may be an accidental discovery for others but it proved to work. It is one of the safest traps to use with no chemicals or pesticides. It does not kill the snake and it is easy to transport any captured animals.