Mosquitoes roam around almost all seasons throughout the year. Although they cannot withstand cold temperatures, that doesn't stop them from growing their population. With this in mind, everybody needs an all-year-round solution for mosquito control and elimination. Mosquito foggers can do that and more.
Foggers can atomize water or oil-based pest control solutions. In just a few weeks, the sprayer can decrease the mosquito population by half and with regular use, total elimination. For more than fifty (50) years, a time-tested mosquito fogger has been in the market and it impressively and effectively works – the mini
In this Fogmaster Tri Jet 6208 Mosquitor Fogger Review check how this total release electric mosquito fogger works when it comes to mold remediation or getting rid of mosquitoes.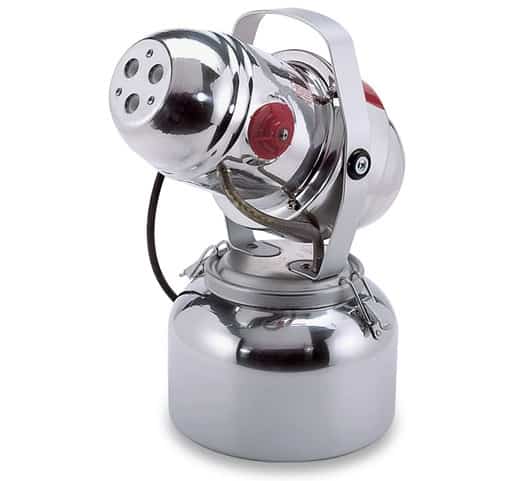 In-Depth with Professional Mosquito Control Fogmaster Tri-Jet 6208
The Fogmaster Tri-Jet 6208 is an all-purpose fogging solution. This smoke machine can kill pests, mosquitoes, concrobium mold, mildew, and other insects thanks to the chemicals it uses which get transformed into a fine mist.
This mini fogger is also a durable device that can stand the test of time. Not only is it sturdy and reliable, but it is also versatile. It can be used in a variety of home, commercial and industrial applications. The 6208 does the job you worry about when it comes to pest control or. It can ward off or instantly kill mold and mosquitoes efficiently.
The 6208 is an ultra-low volume (ULV) or cold smoke fogger which means it can atomize either water or oil-based solutions. It uses high air pressure to convert the solution into the tiniest particles possible.
The smaller the particles are, the more extended staying power it has in the air and the wider area it covers. There is no escaping the fine mists the Tri-Jet 6208 produces.
This fogger is pretty easy to use too. You can control the particle size and degree of misting with just a turn of a knob. You can also turn the power head by adjusting it up or down, depending on the angle of your preference. The fogging nozzle of the 6208 is a three counter-rotating vortex so it would perfectly give out fine mist with about 15 to 30 microns.
Specifications and Features:
​Motor: 1 hp, 50/60 Hz
​Particle size: 15-30 microns VMD, adjustable
​Liquid flow rate: 0-9 oz/min [0-270 ml/min], adjustable with 1-turn valve
​Tank Capacity: 1 gallon (4 liters)
​Warranty: 5 years
There are also added accessories you can hook-up to your Fogmaster Tri-Jet 6208 –  you can control your device with a timer, or set it on a turntable for a more uniform application.
It can be used either indoors or outdoors, and can also be used to mitigate odor, control mold and mildew odors and appearance, and aid in flood and fire damage restoration. The materials that this device is made from are only the best and most durable ones.
It is made with the combination of the different metals like aluminum, oil resistant vinyl, brass and copolymer. You are also guaranteed with 5 years of manufacturers' warranty, so you do not have to worry if you encounter any issues with your Fogmaster Tri-Jet 6208 along the way.
What's In T​he​​​​​ Box?​​​​​
​Fogmaster Tri-Jet 6208 Device
​Fogging Nozzle
​Manual and Quick Start Guide
Pros and Cons
Pros
​Durable and reliable
​Can use either water or oil-based products
​Can use either water or oil-based products
​Long warranty coverage
​Has a wide range of accessories
Cons
​Not explosion-proof
​Can be a bit expensive for a fogger
Proper Use, Care and Maintenance for the Fogmaster Tri-Jet 6208
Like any other foggers, it is highly recommended to completely use the pesticide that you will fill in the Fogmaster 6208's tank. It is advisable to top-up at least 1/4 of the tank or 1 liter, before every use. Whether you are using a water-based or oil-based solution, you should clean the tank and the exterior of the equipment before storage to prolong its life.
Use a 110V outlet and a decent length of extension cord to give you enough room during the fogging activity. Likewise, electric foggers like the Fogmaster Tri-Jet 6208 works best if the wind is not too strong. The smaller droplets get easily blown away and fogging might be counter-productive during these days.
FAQs about the Fogmaster Tri-Jet 6208
Q. Will this need an igniter or a lighter?
Ans. No, you will not need an igniter or lighter for this product. The Tri-Jet 6208 is an electric fogger. What this means is chemical solutions such as mosquito repellants, insecticides, or fungicides are converted into fine mist or fog while the fogger is plugged to an outlet.
Q. How large can this fogger treat?
Ans. The Fogmaster Tri-Jet 6208 can instantly treat a large area. It can cover about 5,000 cubic feet per minute and is considered to be a standard for an ultra-low volume application at a conventional dosage rate. However, since the 6208's valve can control the liquid flow rate and can be adjusted, the area it can cover will then depend on your flow rate preference.
Q. What liquid products can I use with the Fogmaster fogger?
Ans. You can use either water or oil-based atomizing light liquids. This includes pesticides, deodorants, disinfectants, and water. You cannot use a flammable liquid like alcohol, as it can pose a risk of fire or explosion since the Fogmaster Tri-Jet 6208 isn't explosion-proof.
Fogmaster Tri-Jet 6208 – Bottom line 
Overall, the Fogmaster Tri-Jet 6208 is a reliable fogger with an impeccable performance. Although it might come a bit expensive than other foggers that are available in the market, no other device can measure up to its performance.
The 6208 is made from the best materials that could last the service life for decades. Likewise, it surely is built to last, probably a lifetime. With readily available parts, the Fogmaster 6208 is known for repairability and this could mean that it is the only fogger you will ever need for decades.  Indeed, it as a good investment for your home or for your business.