Fertilizers are substances that can be of natural or synthetic origin, which are sprayed on soil for plant tissues to supply the essential nutrients for the effective and rapid growth of plants. Think of it as vitamins and supplements that you take.
Your body manufactures the vital vitamins and minerals, but somehow, due to stress, lack of sleep and intake, you need to have reinforcement to reach the recommended daily allowance. That's precisely the same with how fertilizer works when plants are exposed to harsh environmental conditions.
As beneficial as it would be for your plants, sometimes, fertilizers can also hasten the growth of weeds. Weeds compete with plants in consuming the nutrients from the soil. So, a more precise fertilizer application directly to the plant itself is needed. That's why you would need an atomizer for spraying fertilizers.
Atomizer sprayers are not specifically contained or limited to fertilizer use. You can also use this in degreasing and cleaning the small and fragile parts of your car or spaces around your home.
Generally speaking, you would want to purchase something with hard and durable nozzles as this could be a point of wear. Opt to choose those with a durable and damage-resistant overall body, mists for different purposes, lightweight, chemical resistant and doesn't leak.
This article will tackle the ten best atomizer sprayers. See which ones will cater to your needs!
Top 10 Atomizer Sprayers 2022
1. Hudson 99598 Fog Electric Atomizer Sprayer​
The Hudson 99598 is an atomizer sprayer built for portable and commercial use. It conveniently includes a large commercial coiled hose for directing the ULV chemical mist. It's also lightweight, and it can handle 2 gallons of liquid of your choice – so that means this is a multifunctional atomizer.
The spray output is around 22-46 microns in particle size with an average droplet of 20 microns. It also has an adjustable output of 1.5-24 gallons per hour, depending on your flow rate needs and it could shoot up to 13.5 feet. Since this is a portable atomizer sprayer, it comes with a carrying strap and operates on a standard 110 AC power.
Pros
​It can be used for fog spraying large plants, trees, or shrubs
​Lightweight and portable
​Easy to carry around
​Can also be used in spraying against cockroaches
Cons
​Short power cords
​2 gallons may be a volume some people aren't comfortable carrying around
Bottom line
​Some people may not be used to carrying 2 gallons of fertilizer or liquid, but you can go for smaller quantities. Its large capacity will save you time from reloading it now and then. The Hudson 99598 is excellent especially if you're going to spray large areas and you would be moving around so much.
2. B&G Sprayer BG2032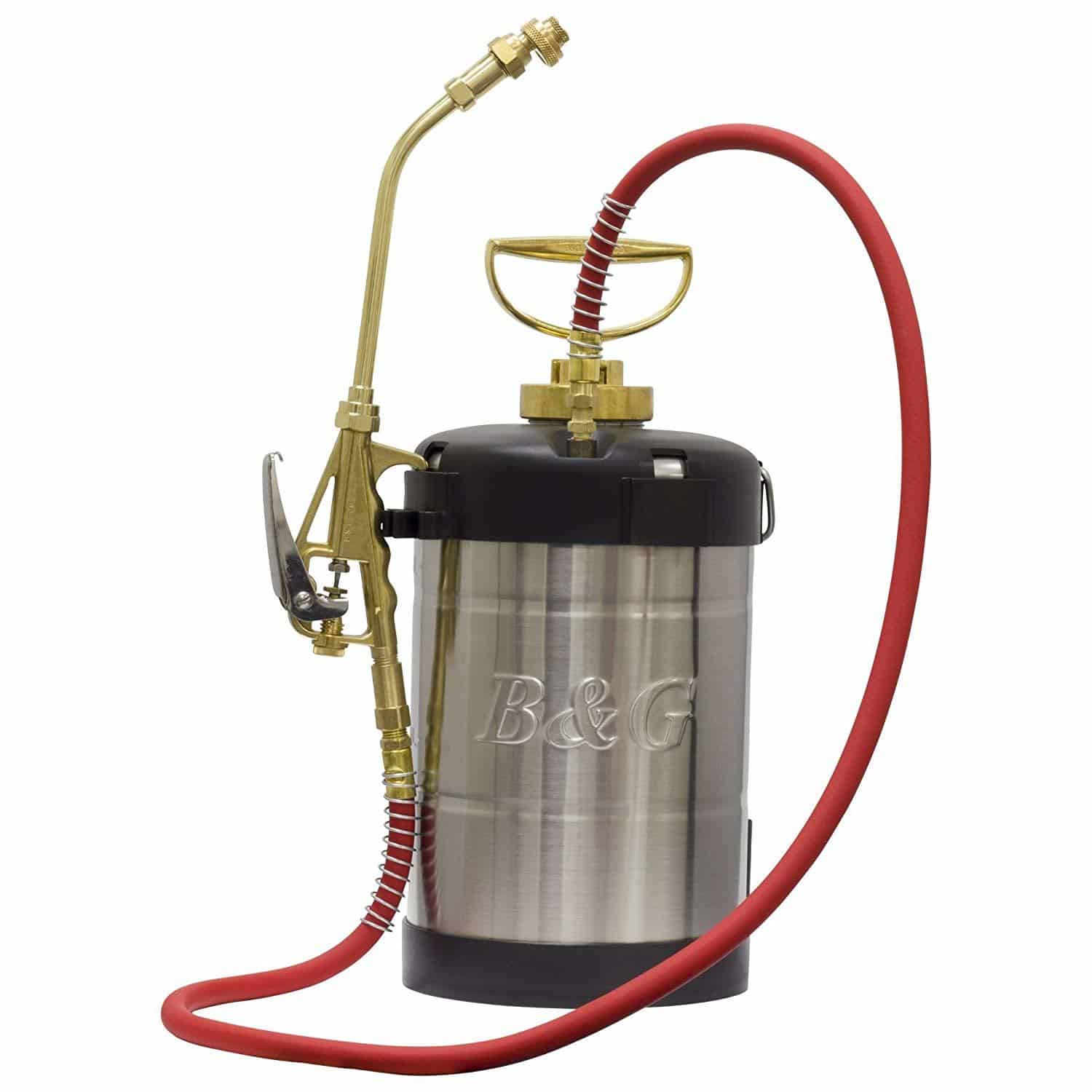 The B&G Sprayer has an opening for the crack and crevice straw instead of the typical finer fan spray opening in the top. This is considered to be an ultimate professional sprayer. It has a super fine mist, which is perfect for precision and accurate spraying and the flow rate pin stream is perfect even for indoor use. The liquid carrying capacity of the tank is 1 gallon which is just enough to be carried around comfortably and without having to refill the tank now and then.
The hose length measures 48 inches and a 9-inch wand. The range will give you further reach and more power for each pump handle thrust compared to the spray atomizers in the market. After using, it's also very much easy to store because it will only take 16.6 inches by 8.4 inches by 8.2 inches of your space and it only weighs 7.68 pounds when it's empty.
Pros
​Durable and heavy-duty steel casing
​Its major components are made up of brass and metal
​Can withstand high capacity of pressure (up to 50 psi)
​Extremely light even if it's filled with fertilizer or liquid
​For precise spraying use
Cons
​Needs to be controlled as it would require hand carrying and pumping at the same time
​Manual operation by pumping
Bottom line
The B&G sprayer is pretty convenient to use – with its 1-gallon liquid carrying capacity, and its long hoses and wand, it's built for precision spraying and residential use.
3. Chapin 63985 Backpack Sprayer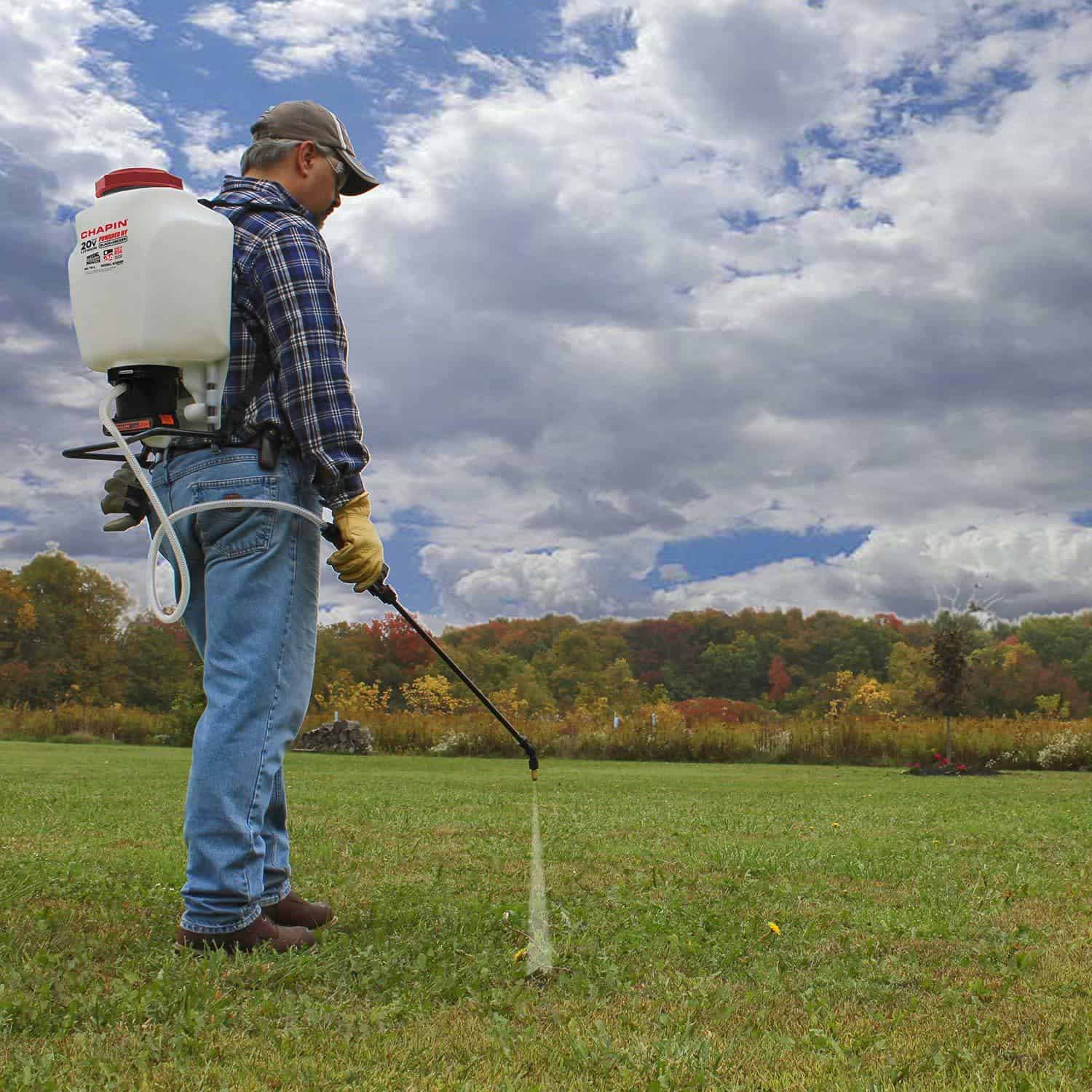 The Chapin 63985 Backpack Sprayer holds up to 4 gallons of fertilizer liquid and can work in a continuous stream up to 35 feet. It also has a wide mouth nozzle which can make spraying easier for you. The sprayer is equipped with a 20-volt rechargeable lithium ion battery which can provide up to 1.75 hours of continuous spraying.
This means that you can maneuver all over your space without having to worry about power or extension cords. Also, 1.75 hours is more than enough for you to finish all your spraying work! This backpack sprayer also has wide padded straps which makes it comfortable for you to carry around. It also works smoothly – you have to turn on the sprayer with the cushion-grip shut-off valves, and you're good to go.
Pros
​Large and easy to use mouth
​Large fluid capacity (4 gallons)
​Padded and wide straps for convenient use
​Great for power spraying
Cons
4 gallons may be a bitheavy to carry around

​The sprayer can be straining for your shoulders and back
Bottom line
If you don't want to carry around a sprayer that's connected to an outlet, then this backpack sprayer is for you! It's great to use especially with the 4-gallon capacity and its large nozzles, and it can be guaranteed that you'll finish your spraying work in no time.
4. Solo 420 2-Liter One-Hand Pressure Sprayer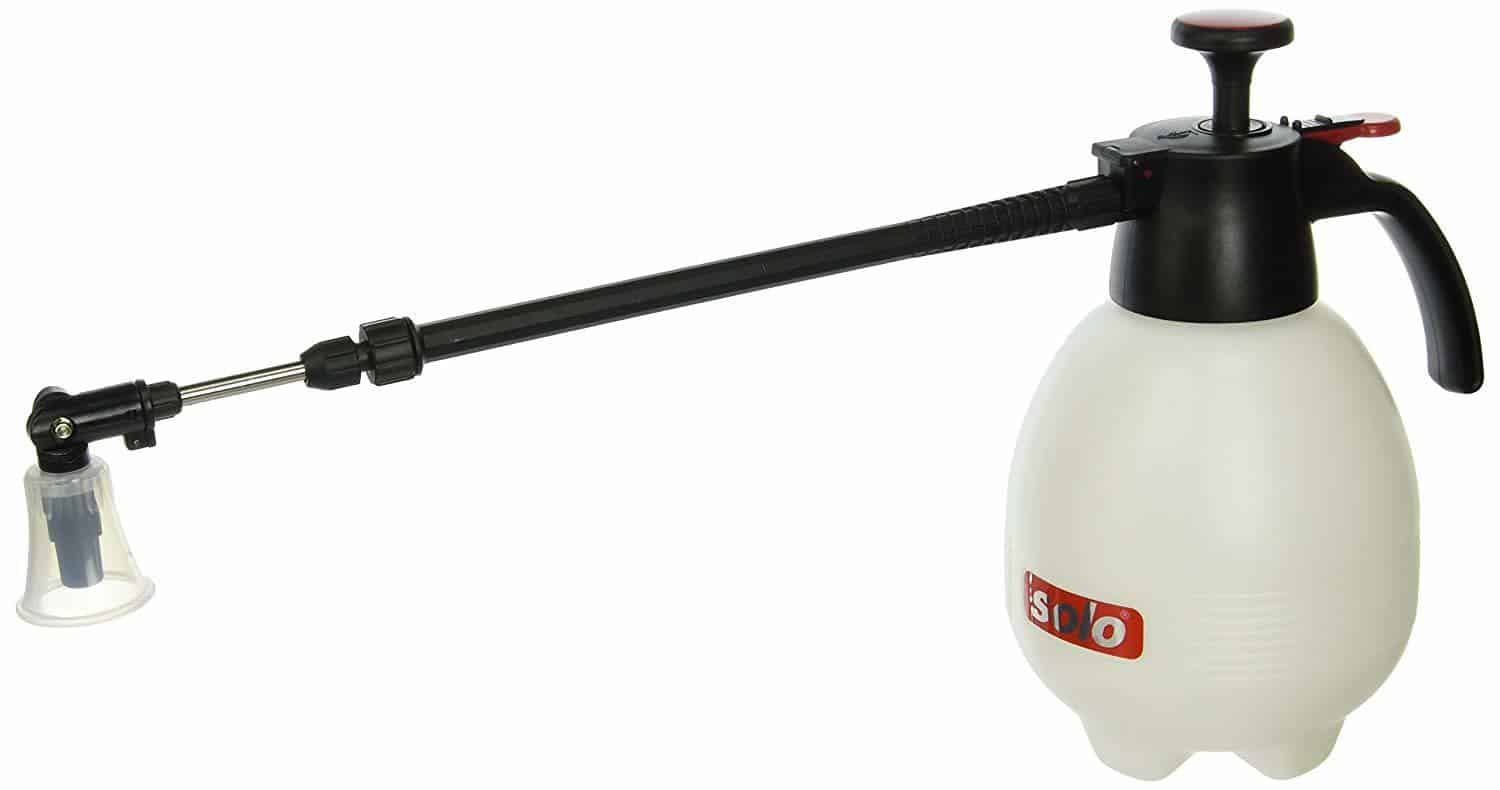 The Solo 420 is a one-hand pressure sprayer with a telescoping wand that can be adjusted for 12 to 23 inches for comfortable and precise ground-level spraying without bending. It is also equipped with a high-density polyethylene tank that is UV resistant and has a 2-liter capacity.
The high-efficiency piston pump powers this pressure sprayer, and it has Viton that seals it for quick pressurization without having to pump it! There are also chemical resistant seals for extended use with harsh chemicals.
It also has a multi-directional nozzle which can allow you to spray from all angles or positions and it has a unique drift or drip guard which provides added control for spot treatment.
Pros
​The nozzle has an adjustable wand and angle
​Can be used from different positions
​Sprays out finely atomized mists
Cons
​Locking trigger may not click sometimes
​Your hands can tire out if done continuously
Bottom line
The Solo 420 is recommended if you're not keen on having a one-hand pressure sprayer. You don't need hand and eye coordination with this sprayer. It's also good for small jobs inside and around your home.
5. Smith Contractor 190216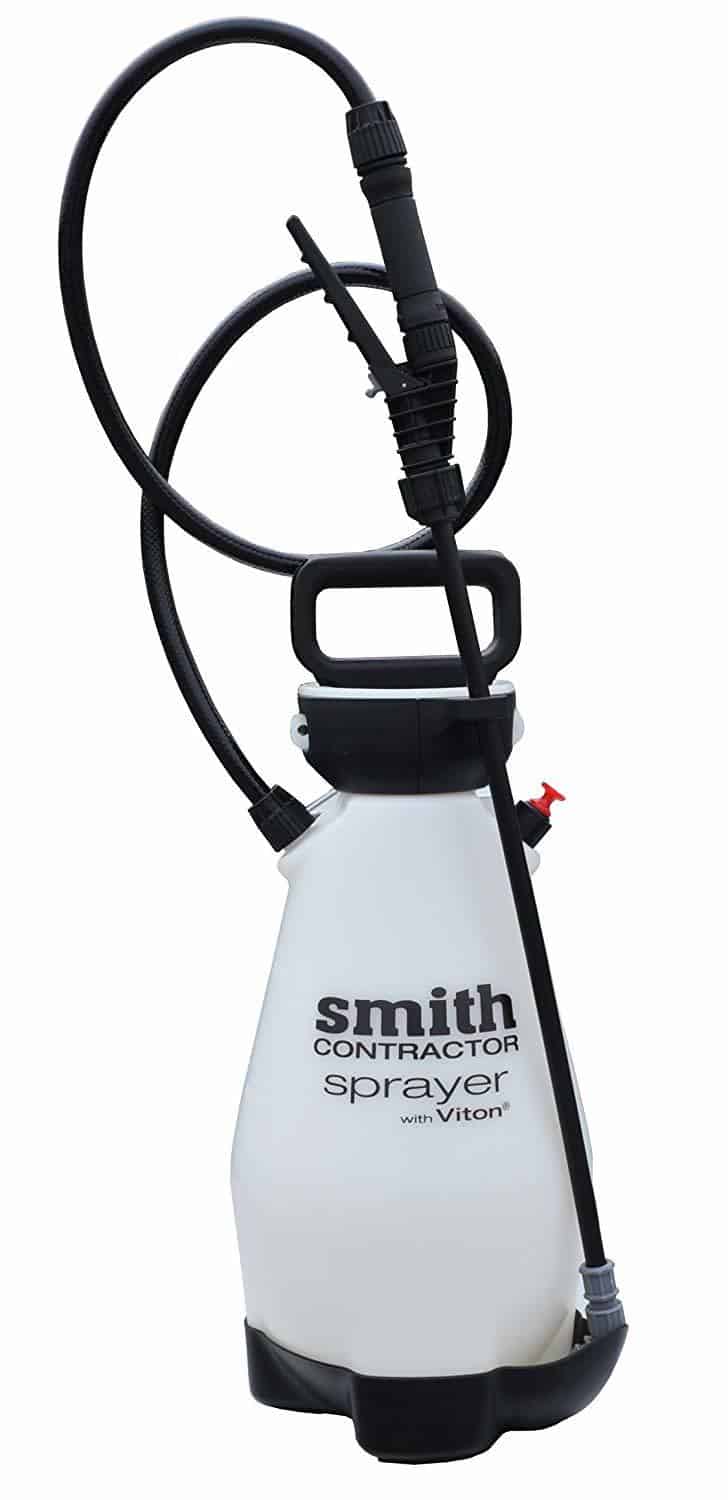 The Smith Contractor 190216 is a versatile sprayer that can be used for lawns, commercial cleaning, sanitizing and applying of harsh chemicals. It has premium and commercial-grade shut-off with a comfortable grip and lock-on feature, so it doesn't spray out liquid when the trigger is not pressed.
It is also easy to clean with its in-line filter. It has a 21-inch poly wand with Viton seals all through the pump and shut-off for long-term resistance to chemicals.
The pressure valve also helps prevent chemicals from getting on you before opening the tank. It includes five nozzles for ultimate versatility: poly adjustable, brass adjustable, two flat fans, and a high-performance foaming nozzle.
Pros
​Can be used for commercial cleaning and harsh chemical applications
​It has a lockable and commercial-grade shut-off
​Easy to clean
Cons
​The bottom sealing of the pump mechanism can shrivel and lose its sealing abilities if it is immersed in an acidic environment
​Needs to be pump to get to the desired pressure
Bottom line
The Smith Contractor is versatile enough to be used in different applications, so that means when you purchase it, it won't just be for one-time usage. It can handle harsh chemicals like pesticides for cockroaches.
6. Tabor Tools N-80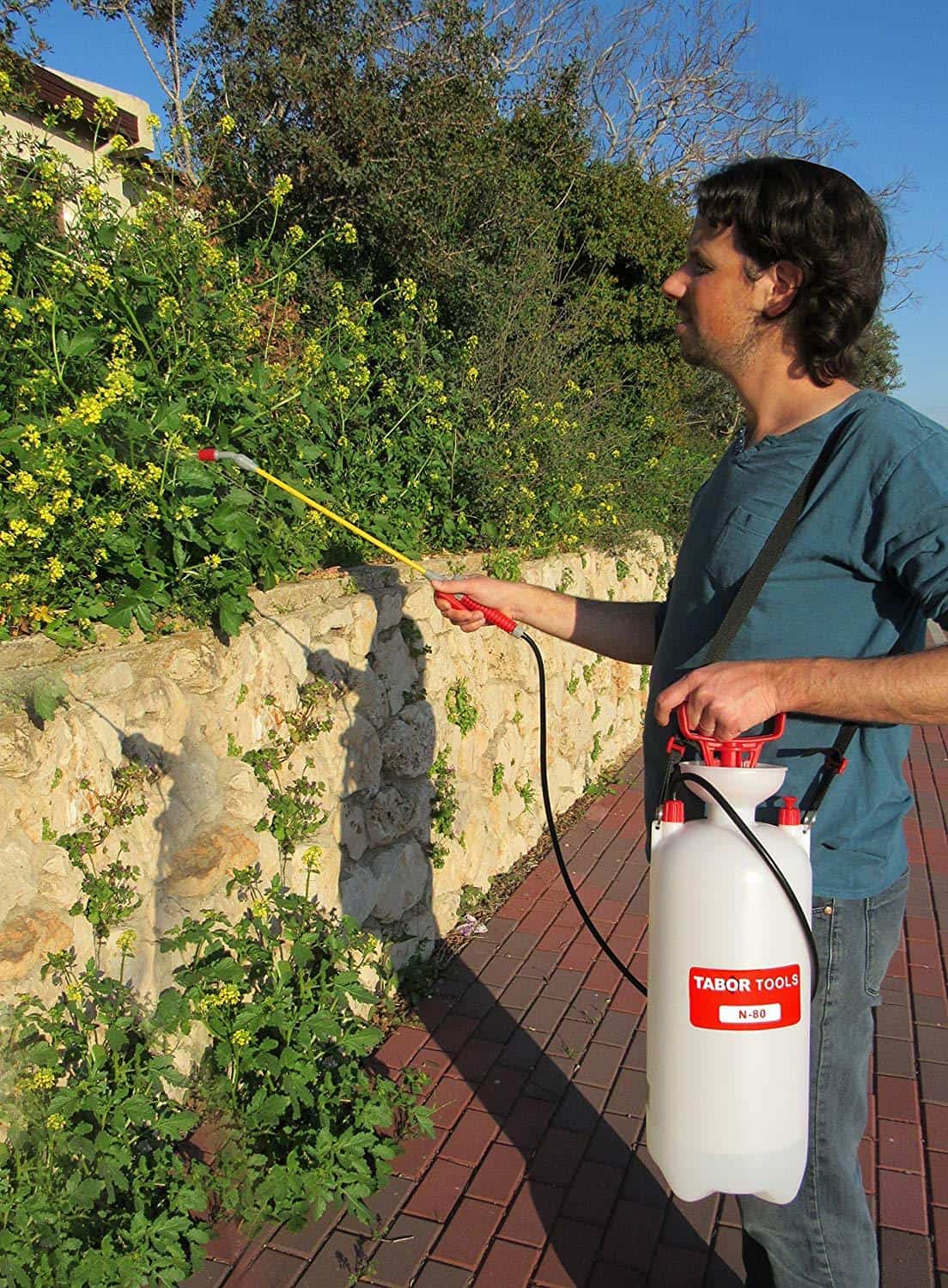 The Tabor Tools Sprayer is multifunctional 2-gallon compression sprayer that can be used either indoors or outdoors. It is equipped with a sturdy sprayer that can be compared to commercial liquid fertilizers, weed killers, and the like. This will also work for spraying water up to 131 degrees Fahrenheit and for solvent-free mild pest control chemicals with pH ranges from 5.0 – 8.0. It has a large funnel top that's perfect for no-mess filling.
Its transparent bottle also makes it easy for you to see the fluid level so you know when exactly you should refill. The sprayer also comes with a shoulder strap so you can enjoy a better reach without having to bend over to reach the ground. The sprayer comes with a 50″ long reinforced hose, adjustable nozzle, and a 16.5″ wand that's perfect for portable use.
Pros
​It comes with a comfortable shut-off flow and valve
​Features secured seals, o-rings, and a spray filter to help prevent clogging
​Equipped with trigger lock-on for continuous spraying
​Translucent polyethylene for easy viewing of liquid level
Cons
​Cannot be used with highly acidic liquids such as vinegar and caustic solutions
​The nozzle may not be as adjustable like with other sprayer atomizers
​Poor shape of the cone spray
Bottom line
The Tabor Tools sprayer atomizer can be used for long-haul spraying. The large nozzle and translucent container help this to function effectively.
7. Chapin 20002 Sprayer Atomizer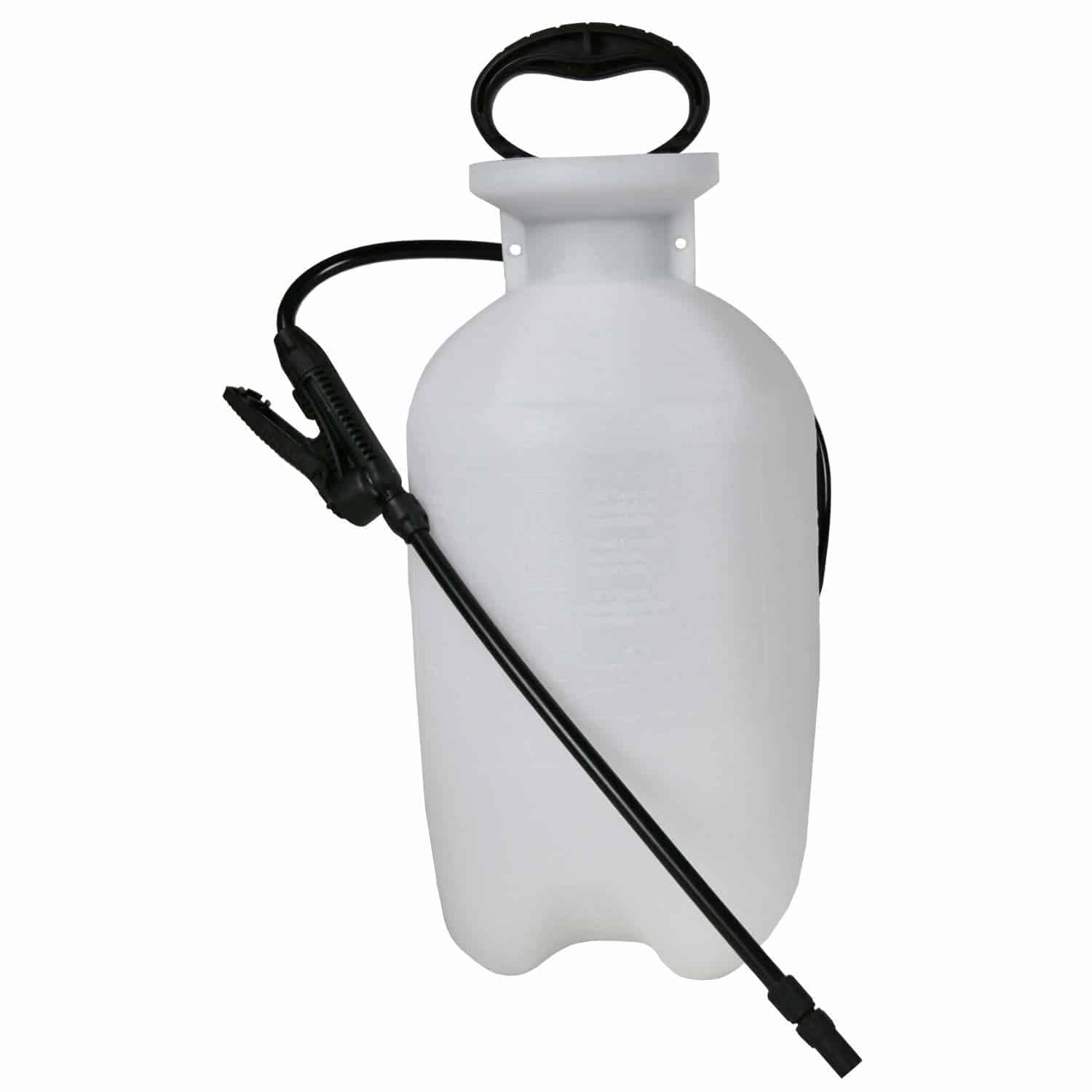 The Chapin 20002 Sprayer Atomizer has a 2-gallon funnel-top and a clear tank for easy filling and cleaning. It can be used for fertilizers, weed killers, and pesticides. It has the patented Chapin's Sure Spray Anti-Clog filter that's made for clog-free spraying.​
It also includes a 12-inch wand and 28-inch reinforced hose for easy maneuvering. It also has an adjustable nozzle and a comfortable spray handle. The whole sprayer atomizer is ergonomically designed for easy pumping and carrying.
Pros
​Equipped with a clog prevention filter
​Has a shut-off mechanism that can allow you to spray continuously
​The tank is rust-resistant, lightweight and translucent
Cons
​The nozzle can put out poor mists
​Requires high maintenance
Bottom line 
Chapin 20002 is indeed a great product. It is also available in different volumes (1 and 2 gallons), depending on your usage. It's easy to use and maintains good pressure at the same time it has clear volume markings.
8. NorthStar High-Pressure ATV Tree Sprayer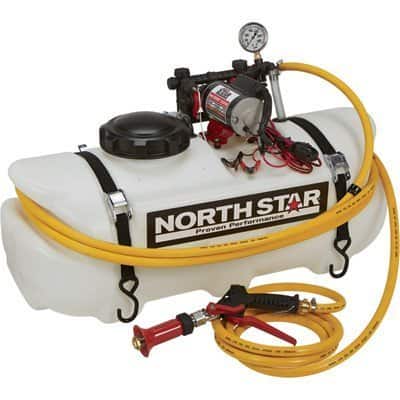 The NorthStar Tree Sprayer can deliver up to 22 gallons per minute of liquid at open flow and can operate up to about 200 psi maximum system pressure. The volume of this sprayer is large enough for continuous use and spraying of large areas.
It is equipped with a commercial-grade NorthStar NSQ series plunger pump that can be used for easy priming. It has exceptional durability and superior resistance to harsh environments and corrosive chemicals.
The tank is durable enough to be UV-stabilized and can prevent other damages that might be caused by the sun. Aside from that, it has a heavy-duty 35ft high-pressure hose that can be provided for extended reach. Users can also adjust the spray gun nozzle to three different spraying modes like a stream, cone, and atomized mist, depending on your needs.
Pros
​For massive quantity usage and continuous operation
​The spray gun nozzle can be adjusted depending on your needs
Dissipates quickly
Cons
​The built-in power cord may not be enough for vast distances
​Bottom line 
If you're looking for a heavy-duty sprayer atomizer, then the NorthStar High-Pressure ATV Tree Sprayer is for you! Aside from it can handle large amounts of liquid quantity, it can also be used continuously with ease. No back pains and hand strains!
9. Field King Professional 190328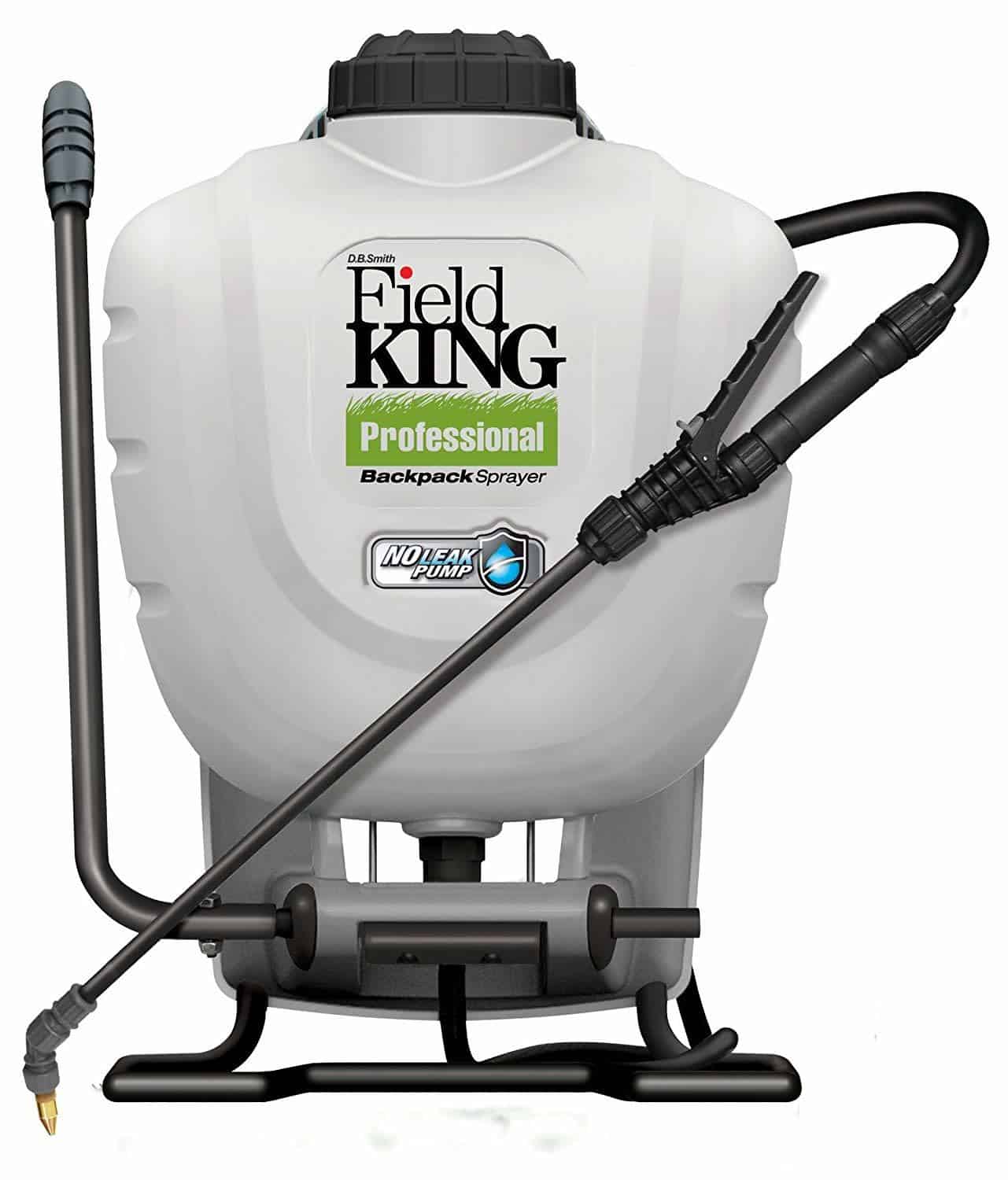 The Field King Professional 190328 has internal no leak pump design which is safer to use with chemicals because this will not drip down to your back. The inner piston pump can deliver up to 150 psi.
It is also durable and has a 21-inch poly wand with the highest quality Viton seals that can be used with wettable powders and liquids for all application. It has premium, lockable shut off with brass components and in-line filter.
Pros
​Easy to access
​The pump allows the changing of seals in just a matter of minutes with no tools needed
​Includes four nozzles
Cons
​The chemicals can leak from the tank
​Does not include a folding handle
Bottom line
The FieldKing Professional atomizer sprayer can be used with any chemicals – may it be for fertilizers, weed killers or pesticides.
10. Ironton ATV Spot Sprayer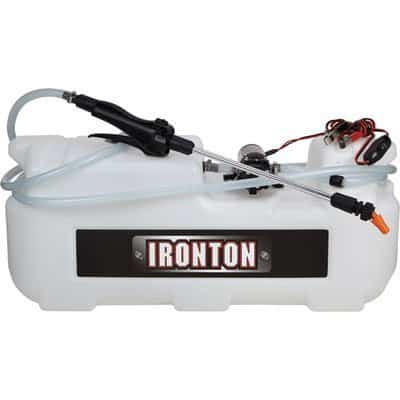 The Ironton ATV spot sprayer can handle up to 1 gallon per minute of liquid flowing out from the nozzle. It has durable and chemical-resistant Santoprene and Viton components.
The overall liquid capacity of the tank is 8-gallons, and it is UV-resistant and is compatible with almost all of the pesticides and fertilizers. It also has gallon marks that are molded into the tank to make it easy to monitor fluid levels.
Pros
​Chemical-resistant tanks and has built-in markers
​Can be used for agriculture purposes
​Capacity is large enough for continuous purposes
Cons
​The hose is too large (with 1 – 2 mm)
​Mostly pressurized connections leaking may arise
​Need to apply hose clamps and silicone
Bottom line
If you're looking for an atomizer sprayer for any agricultural use, the Ironton ATV spot sprayer can be the right choice for you! The spray gun nozzle gives a stream and cone spraying mode which are perfect for long distance spraying.
The Verdict 
Overall, out of the ten products listed above, the Chapin 63985 Backpack Sprayer is the best. This is because it's easy to carry around and is equipped with straps for convenient and easy use. The capacity of the tank is also enough to finish a whole backyard lawn, and you can work with it wirelessly for over an hour and a half.
When spraying fertilizers or pesticides in gardens and lawn, there's a lot of tendencies wherein you're going to have to reach different and even unexpected places. However, it's still up to your needs on which type of atomizer sprayer you should get.