Setting out mosquito trap that attracts mosquitoes is the most efficient way to trap them, and also monitor insect problems. Traps disrupt the insects' reproductive cycle and are the very first step in identifying and developing insect control.
Insect traps usually use food, visual lures, chemicals, and pheromones as baits. There are different kinds of insect traps, including bug zapper light traps, adhesive traps, flying insect zapper traps, and a whole lot more.
One of the famous brands in the insect trap industry is DynaTrap. Generally speaking, DynaTrap products including the DynaTrap XL work on the same principle as others, when it comes to getting rid of the mosquito population, but the prices may differ a bit!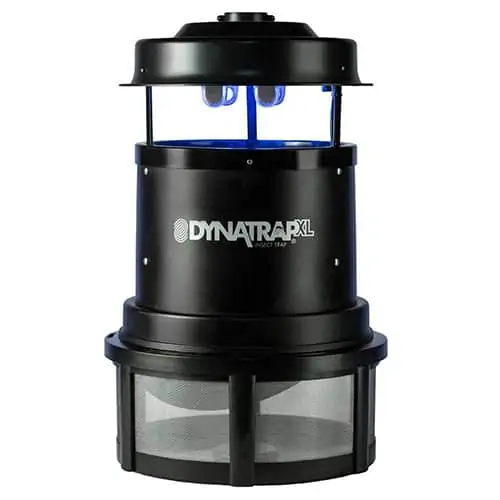 This mosquito attractant does not use propane; instead, they use warmth and carbon dioxide (CO2) that is like a magnet when it comes to luring mosqutoes, biting flies, stink bugs and other insects. That being said, you do not need to buy or change cylinders anymore.
You also do not have to deal with common trap issues like clogged lines or failure of the propane to light. This can be used as an indoor insect trap, for your yard and patio too since it can cover large area in one use.
Today, we are going to review the DynaTrap DT2000XL insect traps. This model is the biggest, strongest, and brightest insect trap available in DynaTrap's line-up. We will take a look at its features, pros, and cons to help you decide if this is the one you should get for your home and backyard.
Click here for more indoor mosquito traps0
Features
Can attract insects from up to 30 feet
Pesticide-free mosquito killers
Attracts and kills mosquitoes across 1 acre
Durable, fits all weather conditions
Employs a three-way protection system
Three-Way Protection System
The DynaTrap DT2000XL works in a three-way protection system. First, it works as a UV fluorescent bulb that produces a warm light to attract insects.
Second, its surface is coated with titanium dioxide (TiO2) to catch mosquitoes' attention effectively. Lastly, it comes with a whisper-quiet powerful vacuum fan that draws the insects into the trap's retaining cage, where they are left to be dehydrated and eventually die.
Durable
This electronic insect kill device can withstand all types of weather condition. Even its power button is weather-hardened. It is safely protected by a rubber covering to protect the device's electronics.
The DynaTrap DT2000XL also comes with a built-in fuse against power surges. In case there are any interruptions on the electrical energy, the trap automatically slams so insects cannot escape.
Easy to Maintain
This electric zapper device does not require a lot of attention when it comes to maintenance. You can clean the bug container at least once a week.
All you have to do is simply unscrew and throw the dead bugs away. However, make sure the recently caught live bugs do not escape. You can use the Velcro strap included in the package to cover the container. This way, bugs will not easily fly out.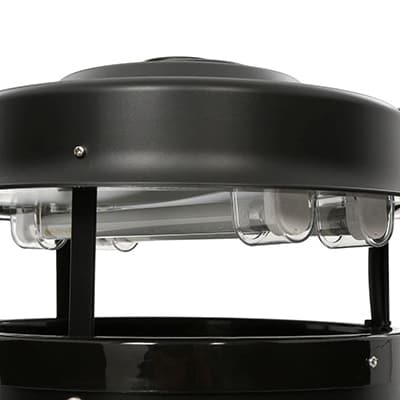 Light bulbs can last between 3 and 4 months. The lifespan depends on your use. Prices of these light bulbs do not come cheap. However, they are less expensive than propane and lures.
Does Not Use Any Propane or Attractants
As mentioned earlier, the DynaTrap DT2000XL uses warmth and ultraviolet rays to attract mosquitoes and other insects, especially moths during nighttime. However, mosquitoes are not particularly attracted to that.
Instead, they seek the scent of CO2. DynaTrap utilizes a broad funnel above the fan coated with TiO2. When TiO2 reacts with ultraviolet lights, a photocatalytic reaction occurs to produce CO2.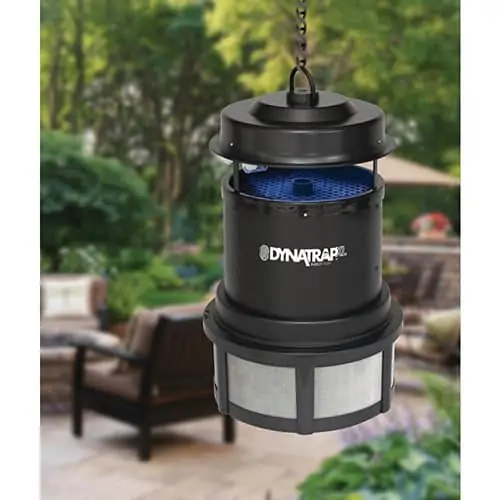 Covers a Larger Area
The DynaTrap DT2000XL mosquito repellent can cover a larger space area. A piece of this insect zapper device can manage no less than an acre, that is, 400 square meters. That coverage is two times bigger than what water models of DynaTrap can cover.
Since the device can attract insects from up to 30 feet, ensure that it is positioned in an ideal location. It should be placed in an area where it is shaded from other lights, and the insects can see its light from afar.
Mosquitoes does not hide only in stagnant water. They are especially active during the afternoons and nights, just when you thought it would be nice to have some fun in your backyard.
Pros and Cons
Pros
Heavy duty insect trap
Light bulbs last up to 6 months
Can be used both indoors and  outdoors
Comes with a 7-foot power cord
Cheaper than propane traps
No zapping or buzzing sounds
Eliminates wasps, hornets, flies, and moths
Cons
Needs to be mounted to around 5 to 6 feet off the ground
Quite tricky to empty without letting some bugs escape
Light bulbs are expensive
Traps not just  mosquitoes
DynaTrap DT2000XL – Final Thoughts
Our general impression for the DynaTrap DT2000XL insect zapper trap is positive. It is really effective in trapping and getting rid of mosquitoes.
However, since it can attract almost any kind of insects, even beneficial insects are included. To avoid trapping butterflies, you can place a piece of coarse screen over the opening.
We particularly love the fact that we can already ditch the use of propane or attractant. However, we found that some people added chemicals like octenol to the trap container to increase its attractiveness to mosquitoes. We will leave the discretion to you, of course.
Overall, you can easily set up the DynaTrap DT2000XL killer machine, and its operation only requires a shoreline power. Thanks to this, we can now enjoy the warm, summer nights (which is also mosquito season) outside our home without worrying about insect bites. BBQ night, anyone?