Insect bites, especially from the mosquito population are one of the most annoying things that keep people from staying outside their houses and enjoy their garden or backyard. Not everyone reacts the same way to insect bites. Some people experience small rashes. While some with more sensitive skin might have darkening of the area with insect bites. Add the fact that there might also be instances where it can lead to insect-borne diseases like fever and nausea.
If the thought scares you, it's about time to invest in a piece of equipment that will attract mosquitoes (especially female mosquitoes which are the only ones that bite) and to exterminate them for good!
Don't let mosquitoes and other insects hinder you from enjoying the outdoors! Love the outdoors and protect yourself with outdoor mosquito traps like non-toxic glue, spirals and outdoor sprays, or equipment that kills mosquitoes such as bug zapper, electronic lantern like the Dynatrap Insect Trap.
In this review, we are going over the Dynatrap Insect Trap mosquito killer which can instantly solve your insect problems and will leave you wanting to hang out more outside of your house.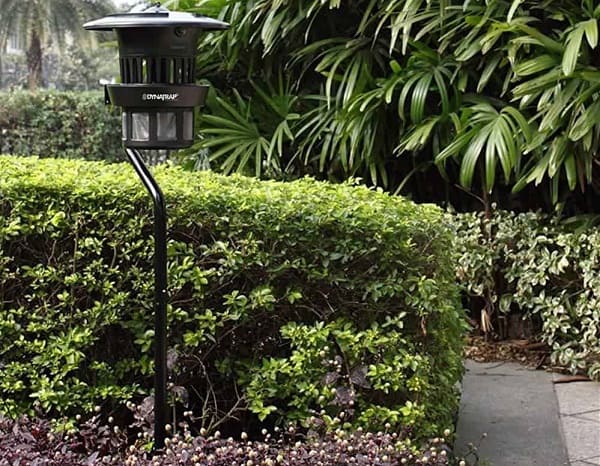 In-Depth Dynatrap Insect Trap Review 
The Dynatrap Insect Trap is extremely easy to use, not to mention it's really effective. This product aims to release carbon dioxide from organic matter. In this way, it mimics a human's breath since carbon dioxide is the gas exhaled by humans which attracts mosquitoes.
Through this, the trap can lure the insects to it and eventually have it trapped inside. All of the products also work with the patented AtraktaGlo ultraviolet warm light which will also help in attracting mosquitoes and other insects. It primarily works the same way as other insect traps do – lure and trap.
The Dynatrap ​​Insect Trap works in any 110 volts outlet. You don't have to go through a messy and complicated setting process. You just have to plug the trap in any standard outlet, and you're good to go. Mosquitoes and other insects work not only during the day but at night, as well.
That's why you would need a mosquito trap that will work for 24 hours and something that's trusted not to overheat or explode even if it's being run continuously. The good news is that the Dynatrap Insect Trap does just this!
It can safely operate 24/7, rain or shine! Just be sure to place it in a covered area for added wiring and electrical component protection. But the great thing is that you don't have to check the device every now and then just to see if it's running.
Aside from that, it's a known fact that the device will kill mosquitoes when they approach it.
With that, you know that there is a need to empty it every once in a while. The problems some users encounter with other fly traps is that they empty it as frequently as two to three times a week. It can get kind of exhausting and be a health hazard to the ones who are changing, too.
Not with the Dynatrap ​​Insect, though! With this product, you will only have to dispose of the trapped insects every other week because of its large capacity. Safe, silent, and simple. These are the three principles the Dynatrap work with.
Indeed, with these, insect control has never been easier. It's safe because you don't have to use pesticides or chemicals to kill the insects. Instead, the product uses a natural gas as attractant which is also safe for you and the environment.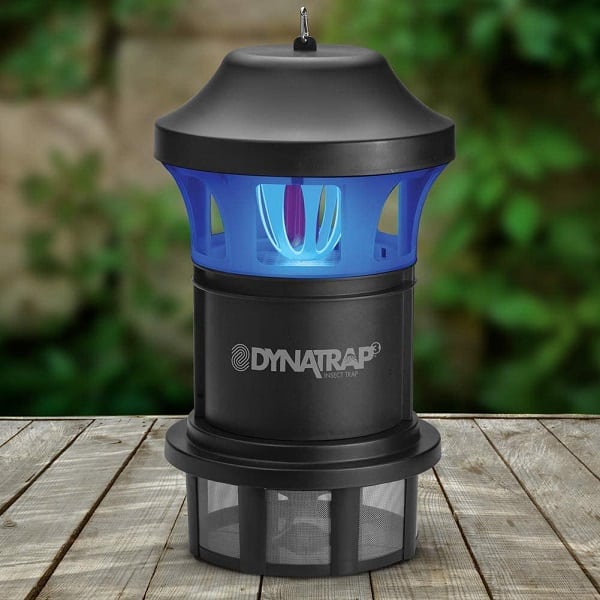 Specifications and Features:
For use against: mosquitoes, biting flies, midges, stink bugs, no-see-ums
​Usage options: yards, lawns, business properties, outdoor restaurant and bars, farms, construction sites, campgrounds, sales lots, etc.
​Power cord: Provided for a standard 110V outlet, 7 feet for indoors & 10 feet for outdoors
​Bug bag: Provided
​Area: 1/2 and 1-acre options available
​Warranty: 1-year limited warranty
The Dynatrap Insect trap is toxin-free, which also means that it's considered to be odor free, so you can really enjoy the fresh air nature has to bring! This outdoor mosquito trap promises silent operation because of its built-in Whisper-Quiet Fan that will catch mosquitoes when they approach it. This is where the insects are sucked on and dehydrated after being left for about 24 hours to die.
All of these may sound complicated, but the Dynatrap ​​Insect Trap makes it really easy. There's no need to wire out things or assemble them or put propane gas tanks to make it work. All you have to do is to turn it on, empty it after 2 weeks, and repeat. It's that easy.
When it comes to the placement of the trap, you just have to place it about 20 to 40 feet away. You can also change the uv bulb every 4 months so the attractant can attract flying insects and pests more efficiently. So that's just about 3 light uv bulb changes a year for a device that works continuously for 24/7.
The Dynatrap ​​Insect Trap is available for 1/2 acre and 1 acre. So that's about 21,700 square feet to 43,500 square feet. If you have a regular-sized backyard in your home, then this will fit perfectly! However, if you're planning to use this for commercial use like during huge outdoor events, you can also use the Dynatrap ​​Insect Trap. You can also opt to purchase multiple ​​insect traps and place them about an acre away from each other to maximize the effectivity of the device.
Aside from that, the Dynatrap manufacturers challenge users out there to test their product with the 42-day challenge. See for yourself how the Dynatrap ​​Insect Trap works and if you're not satisfied with it, and find that your trap isn't catching anything or it's not working for your particular needs, they will completely refund 100% of your purchase. So there's really no risk in buying the product!
Pros and Cons
Pros
Very easy to use
Produces no chemical smell
Dissipates quickly
Covers 5,000 sq. ft. of land quickly
Can penetrate deep into mosquitoes' hiding places
Cons
Effective for flying insects only
Clogs up when other insecticide products are used
Needs to be at the right temperature
What's In The Box?
​Dynatrap ​Insect Trap
​Bulb
​110V power cord for the outlet
​​​Insect Net
​Manual and Quick-Start Guide
DynaTrap DT1775 1 Acre XL Mosquito and Insect Trap | Amazon
This trap delivers three-way protection for up to an acre. It features an ultra-bright AtraktaGlo fluorescent UV bulb with a light-enhancing diffuser to attract flying insects, and a titanium dioxide-coated surface that releases CO2. 
Buy at Amazon.com
We earn a commission if you make a purchase, at no additional cost to you.
09/22/2023 08:28 am GMT
FAQs About The Dynatrap ​​Insect Trap
Q. How is this insect trap different from other products that are currently on the market?
Ans. First off, the Dynatrap does not utilize any chemicals, unlike other fly traps. This is actually good for indoor and outdoor use. It's extremely quiet as it does not use electricity to kill insects, so there's really no loud zapping noises, burning odors, or insect fragments that are scattered on the ground. It does not also use propane to manufacture carbon dioxide, so you don't have to purchase and refill propane tanks. All you have to do is to plug it in, turn it on and let it run for 24 hours.
Q. Can the DynaTrap be used outside of the house?
Ans. Yes! It works safely for outdoor and indoor use, too!
Q. Will it harm my family or my pets?
Ans. No, it will not harm either your family or your pets. This is because DynaTrap does not use or emit any chemical, radiation or pesticide.
Q. Should I leave the DynaTrap plugged in all of the time?
Ans. Yes. It is recommended that you should leave the DynaTrap plugged in 24/7 for effective usage. You should only unplug it when you're cleaning out the device or changing the bulbs. DynaTrap reaches maximum effectiveness in 6-8 weeks, but please continue running DynaTrap 24/7 after this period for the duration of the insect and mosquito season.
Q. When should I start using my DynaTrap?
Ans. It is recommended to set your Dynatrap out as soon as the weather warms up as mosquitoes hatch when the temperature reaches 45 degrees.
Bottom Line:
The DynaTrap Insect Trap works as how it is advertised. It's safe, secure and gets rid of mosquitoes. The great thing about this product is that it's safe for you, your pets and the environment, as well. All thanks to the toxic-free and odorless-free continuous operation of the device.
Recommended Reads: